Zhou's chilling accident at Silverstone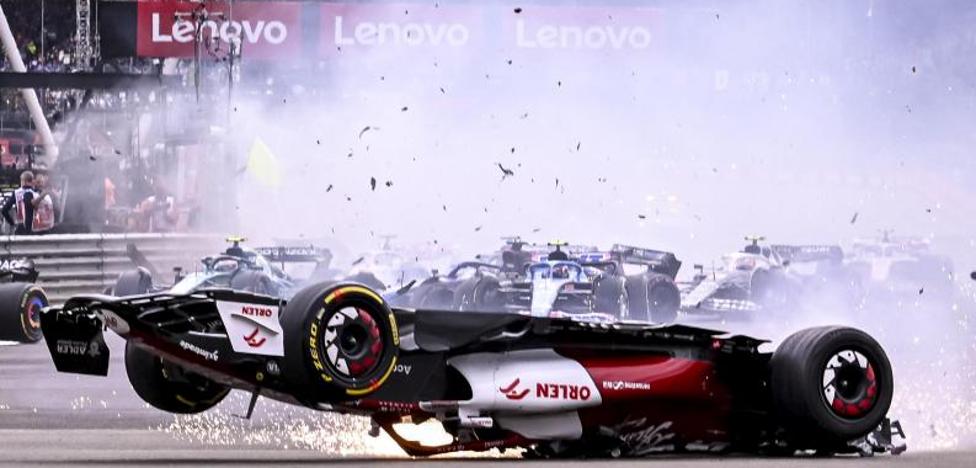 The halo saved the life of the Chinese driver, whose Alfa Romeo traveled at least 100 meters upside down before crashing into the fence
The British Formula 1 Grand Prix came to a halt on Sunday after a brutal multi-car collision just off the start left Chinese driver Guanyu Zhou's Alfa Romeo trapped between the tire barrier and the safety fence.
Minutes of restlessness and uncertainty were experienced, until the FIA ​​reported that emergency teams had quickly arrived at the accident site to extract Zhou, whose vehicle skidded upside down along the track at high speed before jumping the first barrier.
The Chinese driver, saved by the halo, that protection that cars have and that was criticized so much at the time for a design issue, remained conscious and was taken to the medical center to be observed in depth together with Alexander Albon, from Williams. Chilling footage from the car of him running upside down for at least 100 meters of track before crashing into guardrails was not broadcast until it was learned that Zhou was fine.
Britain's George Russell of Mercedes was also involved in the incident and had to retire, ending his streak as the only driver to finish every race in the top five this season. Russell appeared to have been cut from behind and then hit Zhou.
For his part, the Frenchman Esteban Ocon, Fernando Alonso's teammate in Alpine, limped back to the pits with three and a half tires and hitting the asphalt with the tire.
The Dutch Max Verstappen (Red Bull), leader of the World Championship, had taken the lead at the start from Carlos Sainz, who got the first pole of his career in Silvestone, while the seven-time Mercedes world champion, Lewis Hamilton, occupied the third place after a stormy start from fifth.