ZAR IMPERIAL, a "canary" caviar from all over the world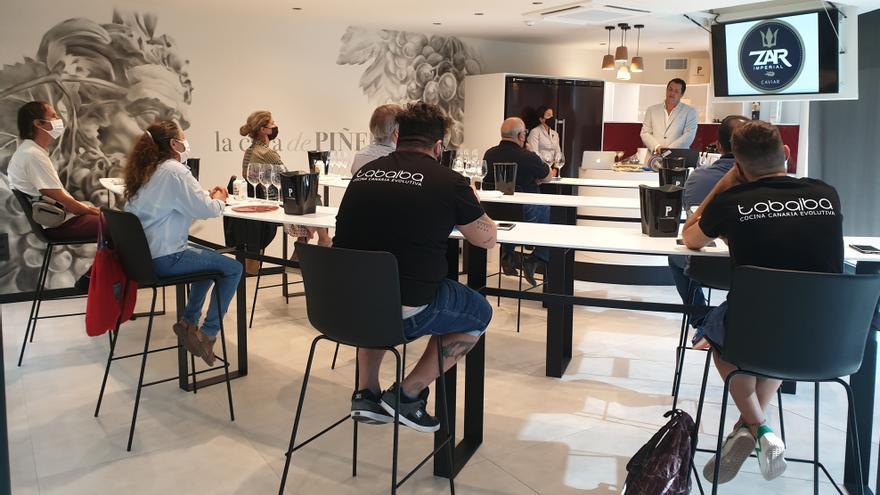 The Beluga caviar is obtained from the sturgeon of the spindle species spindle, a fish that can exceed a ton in weight and 5 meters in length, from which the most select caviar in the world is extracted. The female Beluga needs at least 15 years of life to start producing her roe, making this one of the rarest, most precious and exclusive cavians. Our aquaculture product has the same taste and appearance as its wild counterpart. The size of the roe is medium-large and its color varies between different shades of gray-diamond. The experience when you taste the BELUGA ZAR IMPERIAL caviar is a delicious burst of long and unctuous flavor, but at the same time smooth and powerful. An experience that you will want to repeat over and over again.
CZAR IMPERIAL OSETRA
Caviar Osetra can be obtained from two species: the Ascipenser Gueldenstatti or Russian Sturgeon and the Ascipenser Persicus native to the Caspian Sea. In our case we only work with Russian Sturgeon, resulting in an elegant, long and very unctuous caviar, thanks to its soft wrapper. Its color ranges from light gray with a golden mantle to gold. The roe are medium to large in size and the preparation method we use is the traditional "Malossol", which means "little salt".
IMPERIAL SIBERIAN CZAR
Siberian caviar is exclusively obtained from Ascipenser Baeri. It is the most cultivated sturgeon (Spain, Italy, Germany, Israel, etc.) given its good adaptation to different media and also its rapid proliferation. Its color ranges from dark gray to black and its characteristic nutty flavor makes this a truly exquisite specialty. Elegant flavor, not so intense, makes this caviar an ideal variety since it can be accompanied by other foods, providing differentiation and unique nuances. The size of the roe in the middle and the preparation method used is the traditional one called "Malossol", which means "little salt".
IMPERIAL CZAR is available online at: www.zarimperial.com and in www.lacavadepinero.es
And you can consume it in the following hotels and restaurants in Gran Canaria:
Grand Hotel Residence
Nelson Restaurant
Valle de Mogán Restaurant
La Ribera del Río Miño Restaurant
Rogue Restaurant
La Solana Restaurant
Poemas by Hermanos Padrón Restaurant
La Aquarela Restaurant
The Cava of PIÑERO
La Cava de Piñero is a family business that was born 26 years ago dedicated to the distribution of wines and food products exclusively for the catering and hospitality sector of the Canary Islands, currently managed by the second generation, the brothers Raquel and Raúl Piñero.
Two years ago they began to work, together with the prestigious designer and interior designer Sergio Macías on an innovative concept of an industrial design warehouse in which they have integrated the new offices and logistics warehouse with a wine cellar and tasting room open to the public, where they put within the reach of the private customer all the brands of products that they represent exclusively.
In this new wine cellar, in addition to the caviar of the Canarian brand Zar Imperial, you can find wines from more than 70 wineries, with more than 700 references of Canarian, national and international brands and other gourmet products such as Iberian BEHER, La Brújula preserves and Finca de Uga artisan cheeses from Lanzarote.
They have a tasting room equipped to carry out different activities such as tastings, tastings, training and other personalized activities tailored to their clients. They offer the possibility of renting the space to companies for meetings, product presentations, training, etc.
La Cava de Piñero is located on Calle Los Dragos, No. 39 Phase I. Polígono Industrial de Arinaga.
Hours from Monday to Friday from 10:00 a.m. to 6:00 p.m. and on Saturdays in December and January 2 from 10:00 a.m. to 2:00 p.m.