Zalakadula celebrates its 25 years of experience with 'Tuentifaif'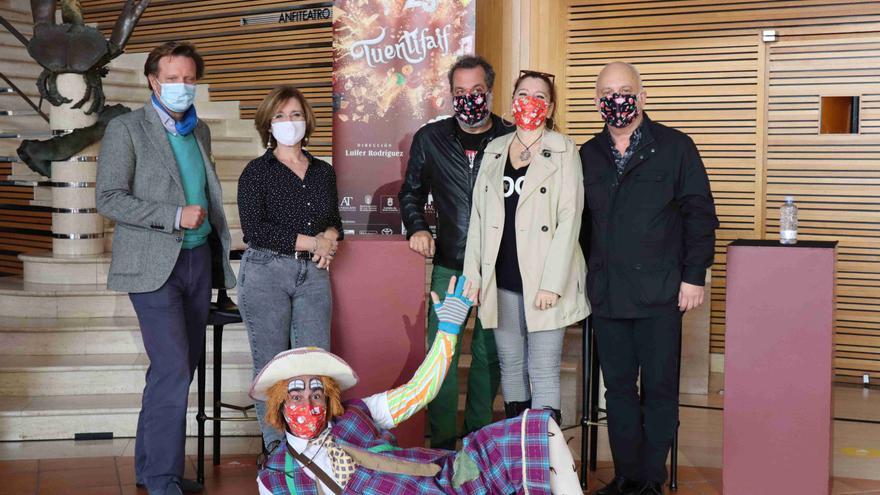 The Gran Canaria company Zalakadula come back this Christmas with Tuentifaif, a new musical show with which he commemorates his 25 years of experience. The performances will take place on Monday, January 4 at 5:30 p.m. and Tuesday, January 5, at 12:30 p.m. in the Alfredo Kraus Auditorium. This co-production by the Alfredo Kraus and Zalakadula Auditorium is part of the 'Culture in Action' program of the Las Palmas de Gran Canaria City Council.
At the presentation that took place this morning, the Councilor for Culture of the Las Palmas de Gran Canaria City Council, Encarna Galván; the actress Maricarmen Sánchez; the director of Zalakadula, Luifer Rodríguez; the producer and guitarist Antonio Lorenzo, and Tilman Kuttenkeuler, general director of Fundación Auditorio y Teatro. Both Encarna Galván and Tilman Kuttenkeuler have agreed to praise the commitment of companies such as Zalakadula to continue developing large-format and quality projects despite the adverse situation we are experiencing and took the opportunity to congratulate her on these 25 years of experience.
Zalakadula It has been linked to the cultural life of Las Palmas de Gran Canaria since 1995 as a benchmark for musical shows aimed at children and families to whom it offers a new proposal every year, around Christmas time. In Tuentifaif the public will find fairies, wolves, goblins, princesses, clowns and a myriad of characters created by the imagination of Luifer Rodríguez, director of the company, throughout these twenty-five years of scenic career. For him, it is very special to celebrate this birthday at the Alfredo Kraus Auditorium, where Zalakadula attends for the first time. According to the actor in Tuentifaif we are going to find "a summary of the best musical moments and our most endearing characters. It is an occasion to celebrate with our audience, to offer them a great show with a magnificent cast of actors, musicians and singers ". He also wanted to highlight the recovery of the timple in the Zalakadula shows, this time through Germán López and added that "there is no better vaccine than a child's smile."
The producer and guitarist Antonio Lorenzo highlighted the effort behind these 25 years when they started this project with great enthusiasm. "In these years there have been good moments and others very complicated, but the balance is positive. We have remained firm in our original idea of ​​making large-format shows, focused on quality and family audiences ". With a team made up of musicians, dancers and actors and a large team of lighting, sound, audiovisual, set design and costume technicians, Tuentifaif It will turn the Symphonic Hall of the Alfredo Kraus Auditorium into a world of illusion and fantasy to make the little ones laugh and excite and awaken in adults the child that we all carry inside.
For her part, the actress Maricarmen Sánchez wanted to thank the City Council for its commitment that culture continues despite everything, demonstrating that culture is safe and necessary. Regarding the show, he said he felt "happy to return to the cast of Zalakadula with a character, that of the Maga Luna, who has given me so much joy. A very special magician, very ours ".
Cast
The show has Maricarmen Sánchez, Alicia Ramos, Jennifer Artiles, Raúl Pérez 'Chichirito' and Luifer Rodríguez himself as main actors. Regarding live music, it will be performed by Antonio Brito (piano and synthesizers), Antonio Lorenzo (acoustic and electric guitar), Jaime del Pino (bass) and Roberto Alemán (drums). As special guests the timplist Germán López, Paco Marín (electric guitar) and the singers Alexia Rodríguez and Juanma Rodríguez will perform. In sound, Blas Acosta; lighting, Rafa Moya; costumes, Paqui Benavides; graphic design, Jorge Leal; makeup, Andrea López; choreographies, Alexia Rodríguez; production, Antonio Lorenzo; musical direction, Antonio Brito, and dramaturgy and direction, Luifer Rodríguez.
The show is sponsored by the City Council of Las Palmas de Gran Canaria and the collaboration of the companies Tirma, Eidetesa and Toyota. Tickets for this Christmas musical can now be purchased at the Alfredo Kraus Auditorium and Pérez Galdós Theater box offices; as well as on the Auditorium's website, www.auditorioalfredokraus.es, at 15 euros, a single price.
Tuentifaif is the proposal presented by the Zalakadula company, after returning to the stage in 2018 in a third stage of its history, with the success Clown and Pinocchio by Zalakadula, which were presented at the Pérez Galdós Theater.