Youth, divine temporary treasure | Canary Islands7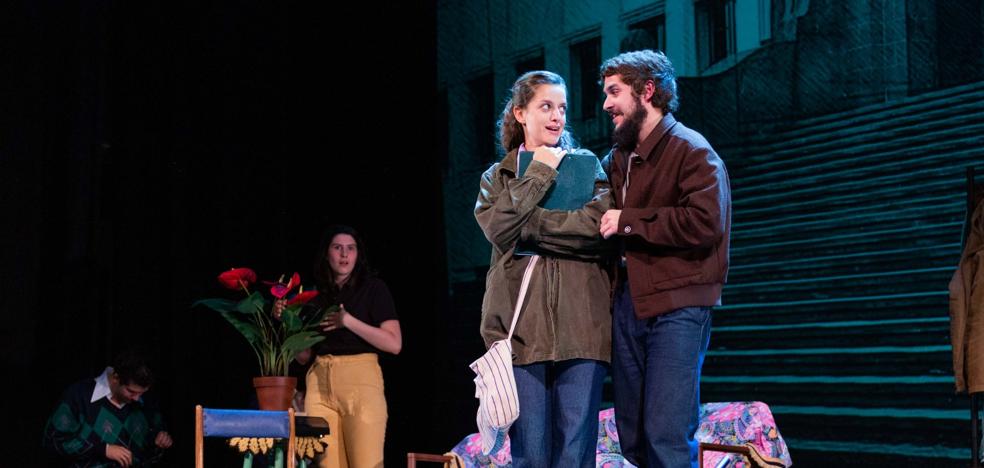 You think you already know everything. That dreams and desires will come true. That the academic and vital learning that you face every day will allow you to face with solvency all the setbacks that may come in the near and distant future. Some sticks have already been received, but the vitality of age means that they are quickly overcome.
Because you are young, you think you are immortal and if you make an effort, the world will end up at your feet. Political ideals begin to permeate your thinking and rebellion emerges from every pore.
This youthful reality comes to the fore during the development of the
theatrical production 'Immortality', by the palmero playwright
Anthony Tabareswhich this Saturday is represented, from
8:00 p.m., at the Insular Sports Center (CID) in the capital of Gran Canariainside the Maps Fest.
In this event he had his coming-out last day 3 in the
Auditorium of the University of La Laguna, in Tenerife. An enclave that is not trivial, since this fictional story by Antonio Tabares takes place in the 70s, precisely in the lagoon educational institution.
"I started writing it before coming to work in La Laguna," confesses Antonio Tabares, who has been working as a journalist in this city of Tenerife for a few years. «In La Laguna I finished giving it shape, but regardless of whether the work is located in a specific time and place, such as La Laguna in the years 76 and 77,
'Immortality' talks about what it means to be young. It is a very decisive stage of life, in which it seems that you are going to eat the world, where all your dreams can be fulfilled. But at the same time, young people are full of uncertainties, insecurities and weaknesses", explains the island playwright.
The transition

Tabares recognizes that "anyone who has gone through university" will be reflected in this work. During the development of 'Immortality', life emerges in the student flats, in the university itself and existence in the midst of «Transition,
a time as convulsive as promising», points out the author of such celebrated texts as 'The tip of the iceberg' and 'Canarias', among others.
«It is not easy to define this work. Many things come into play, many feelings. It moves us in the seat because it reflects what we were, what we are and what we can be or not be.
Many of those who lived through the sixties and saw the rehearsals went into 'shock', because they see their lives reflectedthanks to that old desire of the theater to be a mirror of reality", explains
Severiano García, staging director and head of Delirium Teatroa company that he heads together with Soraya González del Rosario.
A scene from 'Immortality', written by Antonio Tabares and directed by Severiano García. /

c7

«'Immortality' reflects loves and heartbreaks that are always eternal, as well as many emotional conflicts. Antonio Tabares handles them very well, he gives them a point of tenderness and charm, because it is a show that is enchanted.
It can seem at times like a seemingly naive sitcom that engulfs you, but then includes several plot twists that leave you surprised. In this way, he proposes an emotional journey to conflict, which provokes a roller coaster of feelings in the viewer, "adds the director of the work.
Ideology as an author

Antonio Tabares recognizes that when he writes his texts he has a clear objective. «
If the work moves me, I think it will also move others. I am the first reader and viewer of my works », he clarifies. Starting from that philosophy, it is easy to understand that from his point of view 'Immortality' is not expressly aimed at a young audience or at a mature one who passed through that youth in their twenties years ago.
"The stories that are told have many
points in common with all of us, because it reflects a time of life in which it seems that everything is possible, where we think that death is not part of our plans. The title itself refers to
that state of reverie in which one lives in that period of life», argues Tabares.
Although he reiterates that the work is
"purely fictional"Yes, there are two real deaths that frame it. «It is set in a historical period that falls between the death of the young poet
Felix Francis Casanovawho died in January 1976, and the murder of
Javier Francisco Quesada, in December 1977. They were two very striking deaths. Félix Francisco's full of romantic mystery and Quesada's so tragic, "says the playwright.
«In the work there is the taste and pleasure for the young poet who died and who becomes almost a common thread. It is a reflection of the love of writing. The work becomes at times
a hymn to youth through Félix Francisco Casanova and as a lesson in immortalitysince as an author he managed to be", adds Severiano García.
different sources

To bring to life the adventures of this fictitious group of young university students from La Laguna in the 1970s, Antonio Tabares drew on the memory that surrounds him. «I did not study in La Laguna, but my brothers and many friends did.
I don't know to what extent you imagine much from what you hear and they tell you. The Transition has always seemed to me to be a period very rich in stories and one that has been little treated so far. It seems that more perspective is needed, but we are still talking about stories of the Civil War and the postwar period, while almost 50 years have passed since the Transition.
It is time to reflect it, because it is a very rich part of our history", recognize.
Three of the performers of the montage, in a scene. /

c7

To these consultations and interviews carried out to get ideas for this project, the author from Palma added his own observation. «Being in La Laguna living, I have done a task of
observer of the young people I meet on the street, of my own children who are already reaching that same age. I find it very satisfying that the young people who have seen the play identify and recognize themselves in the stories that the protagonists live.
Many young people will go on a journey of discovery that will allow them to see that their parents were not so different from them. While those of us who are already an age will identify with that youthful time, without false nostalgia », he comments.
"The young people who have already come to see 'Immortality' come out wanting to fight and join something.
They have a feeling of convulsion when seeing the political struggles that are described and being able to verify that in some things nothing has changed, while in others it has, that thanks to those changes and deaths we now live in a time of freedom. The student movements of those years were linked to the workers and they did serve for many things, "defends Severiano García.
Quintet of young protagonists

The leading quintet is made up of:
Silvia Criado, Delia Hernández, Abel Moral, Daniel Sanjinés and Javier Socorro.
«The assembly has a double risk. Betting on such a young cast is always risky. Some actors have never even acted before, but I have to admit that they are splendid.
They pull it off with an outstanding. They have felt very identified with the characters themselves and they leave their skin, "says Antonio Tabares.
The director from Tenerife also recognizes the danger that this youth entailed. "It was difficult to find the five young people. Casting is always difficult and if it is looking for young people, even more so.
There are not many young performers on the islands. Any young person has to think about going abroad, because here there is not enough work and acceptable short-term possibilities. You have to look for them very carefully and dedicate time to them, because one of the strong points of Delirium Teatro is the acting work.
We bet on people who understand theater with a vision similar to ours. Not everyone is good for us. Understanding what we want requires a period of adaptation and inexperience also plays a role. But they have put so much effort into it that we have even fed each other", says García.
The other risk that Tabares alludes to is that it is not a "short work". «It far exceeds an hour and a half and every time the public is less accustomed to being that long without seeing the mobile. But
the play has a frenetic pacethe actors lead the spectators by the neck and there is no solution of continuity from tense moments to others that are dramatic, dreamlike and even humorous.
Do not forget that youth is a stage of life in which you laugh and cry a lot», he assures about a production that already has scheduled stops at the Leal Theater and La Palma, which they trust will be the first steps of a wide tour of the islands in the coming months.
The regional circuit is still not working

Both Antonio Tabares and Severiano García agree that it is a very improvable land. «The Canarian regional circuit continues to be an entelechy. It is not normal for a company from Gran Canaria to have a hard time and it helps to act in Tenerife or another island, and vice versa.
It is a foundation that must be laid before anything else», points out the clapper.
"We still do not have a regional circuit that works. The assemblies have to rotate in a stable way through the two provinces and not like now, barely surviving.
Delirium is one of the companies that works the most and we only do an average of 35 functions a year and with only one work, an average of 35 functions in four years. It is very little, "Denounces Severiano García.