Young tourists stay here | Economy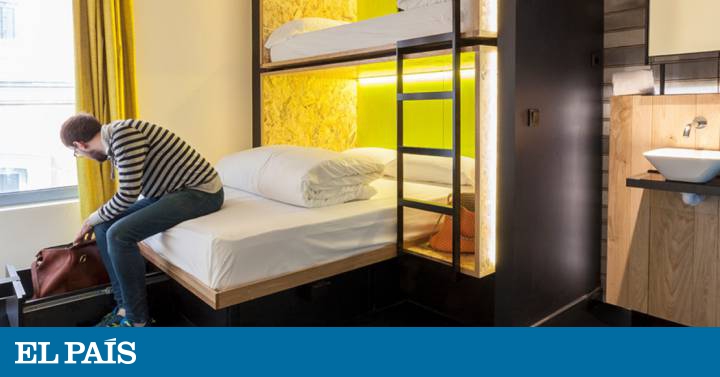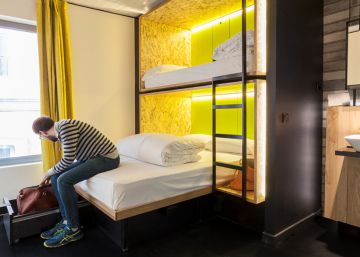 Don't call me shelter, call me hostel. It is the name of the renewed concept of accommodation that is being imposed among young people. The millennial and Z generations want to travel at all costs, but since the crisis they save on lodging. They seek to have fun and meet people, and invest their money in activities that allow it instead of impersonal hotels that are expensive. And they want to show their experiences on social networks. Parties, concerts, cinema, cooking courses, yoga classes, city tours, volleyball matches, bike rides … are some of the proposals offered by these establishments with shared rooms and also doubles in which large investment funds They are putting their eyes on their high profitability. Just a few months ago, heavyweights such as BlackRock or KKR gave wings to the business by blowing their capital into a landing that experts think has only just begun.
Without having completed a decade of life in Spain, this reinvention of the traditional shelters that goes through allocating complete buildings located in the center of the cities to the activity, with large spaces of common use; provide them with lower capacity rooms (from doubles up to eight people), incorporate bathrooms in them, air conditioning, as well as daily cleaning, security, free Wi-Fi, and fill activities and design establishments, does not stop growing and evolving much faster than any other category of accommodation, according to the consultant Christie & Co., which has developed a study to analyze this new format in view of its development potential. In the dozen cities of the Iberian Peninsula where hostels are concentrated, capitals where tourism is booming, some 350 establishments coexist, of which 222 are divided between Barcelona, ​​Madrid, Valencia, Bilbao, Seville, Malaga, Palma de Mallorca and San Sebastian.
Currently, says Joan Bagó, analyst of the firm, there are more than a fortnight of projects under development, most of the two most important operators in the market: Amistat Hostels, which with the support of BlackRock intends to take its three establishments already operational about thirty within five years, with an investment of about 300 million euros, and Room007, owned by the Requena family, which has five hostels and plans to move from 800 to 3,000 rooms with the help of the Smart Fund from Santander Bank. Although they're not the only ones.
In fact, listed real estate investment companies such as Azora or investors and managers such as Excem Real Estate (Hatchwell family) are wanting to develop the business. The first plans to launch a specialized brand, and the second, with two hostels in operation and three under construction, has an expansion project that will involve opening about 25 accommodations in Europe within two or three years and allocating about 300 million euros to its Cats Hostels brand. Its financial support is the KKR investment fund, which after the agreement signed last July with Excem will inject 125 million euros.
"The hostel sector has become a very attractive space for investors and banks. For the former, because it offers a return of a point or point and a half higher than any hotel and real estate product. And for financing banks, because it is still a crisis-resistant asset due to the type of client and its economic rates, "explains Natalia Zang, deputy general manager of Excem Real Estate.
"It is an unbeatable product because it offers prices of 20 to 40 euros per bed," says Xavier Batlle, director of investments and development at Amistat Hostels / BlackRock, which attracts a clientele between 20 and 40 years old, which is growing since Boom of the low cost phenomenon in the past crisis. Christie & Co.'s report reflects that 72% of users of these accommodations are under 40 years old and that 62% of them travel between two and five times a year. In addition, 6 out of 10 extend their business trips for tourism. And not only that. 70% of its spending goes to leisure, adds Batlle.
Income
More than half of the income of the hostels comes through online reservations, especially from Booking and the websites of the establishments themselves, where users usually reserve only the bed, which represents 80% of the sales of the hostels , while breakfast, meals and drinks and activities take the remaining 20%.
The optimization of space, says Bago, is the key to the success of the new shelters, which offer gross operating returns of over 50%, something unusual in the hotel business. In addition, they benefit from higher occupations, above 80%. And for now, says Ignacio Requena, CEO of Room007, the fear caused by the extension of the coronavirus has not been noticed in the reservations because young people have greater tolerance for risk than other customers. Although, in the opinion of Natalia Zang, "it will end up having some impact."
How much they cost and where are they
There are many cheap shared accommodations in the hands of independent entrepreneurs, especially when they are basic hostels, and are targeted by large international operators and investment funds, which are looking for growth throughout Europe. Until now, most of the investments (whether from operating establishments, buildings and hotels to convert) are concentrated in the most central areas of Barcelona, ​​Madrid, Malaga and Seville. Also in London, Porto or Dublin. Real estate with capacity for 200 or 400 beds is sought, for which 30,000 to 40,000 euros are paid, a figure that begins to rise, according to Christie & Co., and that in other European capitals reaches 80,000 euros. Profits of 6% and 7% are expected.