Young Europeans smoke and drink less but use medicine to get 'high'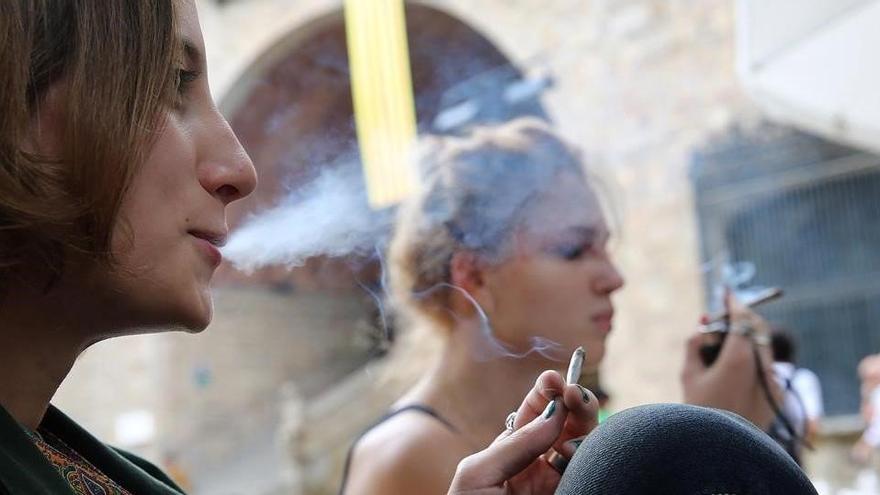 The tobacco and alcohol are still two of the substances easier to access for young Europeans. In general, however, 15- and 16-year-olds smoke and drink less than before, although the trend in using drugs and painkillers to 'get high' and new addictions to gambling and social media are "worrisome." These are some of the conclusions about which the report that publishes this Thursday the European Monitoring Center for Drugs and Drug Addiction on the experience and perception of the students on the diverse substances.
The document, which has been produced periodically since 1995, is based on the responses provided last year by 99,647 adolescents aged 15 and 16 from 35 European countries (3,557 of them Spanish), a key group for evaluating the beginning of young people in substance use. According to him, one in six European students (17%) report having used an illegal drug at least once in their lifetime, although the percentage ranges from 4.2% in Kosovo to 29% in the Czech Republic, 28% in Italy, 24% in France and 23% in Spain.
The cannabis it is still the most consumed in general. 16% of young people report having tried it at least once in their life (23% in Spain) and 7.1% in the last month. 2.4% also claim to have done so before the age of 13, with a higher proportion of boys than girls. In addition, three out of 10 think (33%) that it is an easily accessible substance, especially in Holland, Denmark, the Czech Republic, Slovenia and Slovakia, much more than other drugs such as ecstasy (14%), cocaine (13 %), amphetamines (10%) and methamphetamines (8.5%).
Sedatives, pain relievers and anabolics
Although there are important differences between member states Regarding the prevalence of drug use, the European Observatory considers this to be a worrying trend. "The use of pharmaceuticals for non-medical purposes -no prescription or medical recommendation- is considered worldwide as an emerging problem important that should be monitored, "warns the analysis.
According to the document, 9.2% of students claim to have used them, with a prevalence of 23% in Slovakia and 4.6% in Spain, half that of France, Austria, the Netherlands or Germany. In addition, 6.6% of young people -more girls than boys- have used tranquilizers or sedatives (4% in Spain), 4% (1.1% in Spain) have used analgesics to "get high" and 1% (0.4% in Spain) of anabolic steroids. Among the reasons, they point to a variety of reasons: from inducing euphoria, to improving the effects of alcohol and other drugs, self-medicating illnesses before an injury, mitigating symptoms of withdrawal from alcohol and other drugs, and improving school performance.
Betting and gambling on the internet
Along with this trend, there is also concern growing addition to the game in this collective. The survey reveals that it has become a very popular activity among schoolchildren in Europe. 22% of respondents have played at some point in the last 12 months -especially in the lottery but also in sports betting and horse racing- and it is estimated that 7.9% have gambled on the internet during this period, a practice spurred by the use of smartphones and tablets.
Among the countries where young people report having played more in the last year are Greece and Cyprus (33%), followed by Italy and Montenegro (32%) and Finland (30%). The use of social networks is also growing. On average, students of these ages spend between two and three hours connected between weeks and more than six on weekends. They also play more and more over the internet. On average, 30 minutes a day and between two and three days when they don't have school.
Consumption of alcohol and tobacco
Regarding tobacco, 10% of students report having smoked daily during the last 30 days (12% if electronic cigarettes are included) although with different realities ranging between 22% in Bulgaria and 1.9% in Iceland. In Spain, one of the few countries with a higher proportion of girls than boys who smoke, the percentage is 9%.
The report also points out that one in six students has smoked before the age of 13, that four out of 10 have done so at some point in their life, that two out of 10 can be considered habitual smokers and that six out of 10 consider that there is easy access. In the case of alcohol, the study indicates that a third of young people have tried it before reaching the age of 13 and that 6.7% have experienced alcohol intoxication. Danish, Norwegian and Dutch drinkers are among the heaviest drinkers, and it is generally the most accessible substance, according to students.