Young and old take their 'Intergenerational Decalogue' to Congress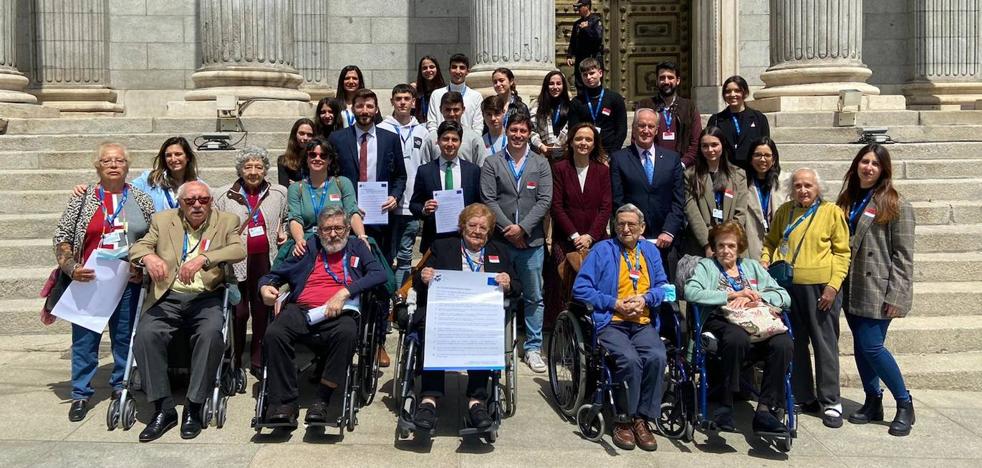 The initiative, presented on the occasion of the European Day of Intergenerational Solidarity, aims to achieve a more inclusive society with the elderly
Ten young people from the Madrid institute of Las Musas and ten seniors from Amavir group residences presented this Friday an 'Intergenerational Decalogue' in the Congress of Deputies. A proposal for actions that aims to help achieve a more inclusive society with the elderly.
This document includes measures such as "creating meeting spaces between young and old, in which to share time and company with them" or "promote activities that encourage an active life among the elderly together with young people, such as camps or cultural visits".
During the day, the attendees were accompanied by the deputies Omar Anguita Pérez (PSOE), Diego Gago (PP) and Alberto Asarta and Georgina Trias (Vox), in an activity that takes place within the framework of the celebration of the European Day of Intergenerational Solidarity, and which is promoted by Vocento, a communication group, and Adopta Un Abuelo, an intergenerational company program for elderly people in a situation of loneliness.
Alberto Cabanes, president of Adopta Un Abuelo, highlighted the importance of listening to the needs of young people and the elderly to build a future in which both generations live together and interact. He also thanked the Congress of Deputies for the opportunity to present the work done by young and old.
Ignacio Ybarra, president of Vocento, expressed his satisfaction at collaborating with the organization Adopta Un Abuelo. "In our commitment to the elderly, it is a privilege for us to contribute to giving visibility to their needs and to promoting integration with the youngest," he said.
Accompanying the elderly since 2014

Adopt a Grandfather is an intergenerational company program for elderly people who are in a situation of loneliness. The objective is to make them feel listened to, accompanied and loved while the volunteers learn values ​​and life experiences. Currently, thanks to their 'app', available on the App Store and Play Store, they connect young and old through calls and video calls.
The program was born in 2014 and, since then, it has become a social movement, being awarded more than 20 times in the field of entrepreneurship and social innovation at a national and international level. To date, they are present in more than 50 cities and have provided more than 46,000 hours of company to more than 3,500 adopted grandparents thanks to their community of more than 6,200 volunteers.