You who come to haunt me | Babelia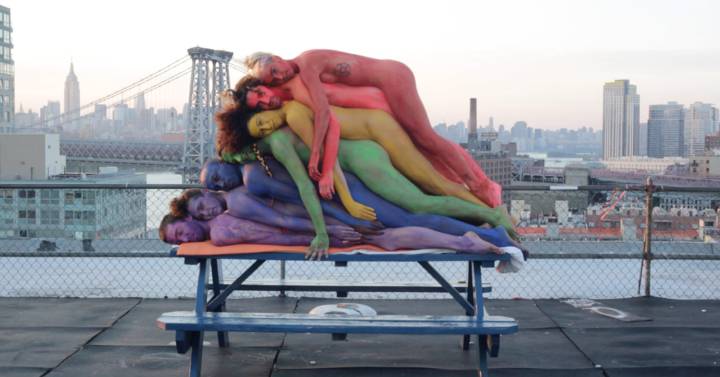 Lacan defined love as giving something you don't have to someone who doesn't want it. A double negative twist of what is commonly considered the most positive force in the world where fullness and infinite generosity is based on emptiness and lack, on mutual loss. Love as a promise turned into a curse turned back into a promise. Mass of irritable substance that is not far from viral. After all, love is about mixing genes and germs, sharing bacteria and viruses of all kinds. A demanding mix of charity, sex, tenderness, trust, lust, economics, genetics and cybernetics, where overinformation and the impoverishment of human relationships also seem to have fallen in love. Sometimes they stay on Facebook: a distant horizon across a flat landscape that turns work into love and this back into work, where everything that is capital merges into love.
None of this is new. In fact, it is incredibly old. The problem of affect has been entangled in a rich constellation of perspectives from various fields, including the artistic one. A study framework that encompasses very diverse ideas, not always harmonious, and which often border on disagreement. We have been talking for several decades about the "affective turn" in the field of the humanities, the intellectual project that seeks to problematize the role that affects and emotions play in the field of public life and their operation in the power structures that organize relationships social. The idea is to dismantle any hierarchy between reason and emotion and to give back to the affective a value beyond a mere emotional state. An indeterminate and political body, free of stigmas and capable of revolutionizing everything. In times of pressing political detachment, the management of love has grown increasingly savage and vindicates its ability to appear in the most unexpected place.
Like the humanities, art experiences an affective turn that invalidates the hierarchy between reason and emotion
In the work of Dora García (Valladolid, 1965), the look at Lacan is literal. In his psychoanalytic theories he supports his conception of the body in terms of affects, as space and in relation to other bodies and their environment. His latest project, Red love (2020), has a lot to do with all of it. A project that has led her to her first solo exhibition in the United States, Love with Obstacles, which opened at the Rose Art Museum in Massachusetts just before lockdown. The exhibition is accompanied by a new film with the same title, focusing on the legacy of the Soviet diplomat and feminist Alexandra Kollontai (1872-1952), who advocated for the sexual emancipation of women and equality. She did not limit herself to including women in the socialist revolution, but inquired into the type of revolution that women needed. One that went through a revolution in daily life and customs. One that would forge a new conception of the world and another relationship between the sexes. The stubbornness of the love of worker bees, the title of one of her works.
On the politics of desire Ingo Niermann (Bielefeld, Germany, 1969) also focuses his Army of Love, a collective of activists created to offer sensual love in its entirety to all those who need it, regardless of conventional canons of desire or physical or mental functionality. Surely the most radical response to neoliberalism and love capitalism that now dives into the deep sea looking for a soul mate with the biodiversity of Sea Lovers (2020), film included in the exhibition Countryside. The Future, at the Guggenheim in New York. It also has a counter-reply in book format, Solution 295-304: Mare Amoris (Sternberg Press, 2020), where Niermann proposes new metaphysical scenarios of how to fall in love with the sea and make things reciprocal.
The dilemma also comes to queer, where setbacks and setbacks spread. From the Institute of Queer Ecology, where the DIS artistic collective has just launched the project Metamorphosis, speak of a new term, queerness, a strategy as important as imagination, they say, with which to establish alternative worlds of support and mutual care. José Esteban Muñoz says in Queer utopia (Black Box, 2020) that everything is an ideality, that we are not queer yet, but that the future passes through there: queer as a structuring and intelligent way of desiring that allows us to see and feel beyond the quagmire of the present.
Barbara Hammer has long been talking about this anti-normative future ability. We see it in your Sisters!, the retrospective that La Virreina dedicates to him in Barcelona. And Mel also thinks about the idea of ​​comfort based on the future, the name Melanie Bonajo (Heerlen, Holland, 1978) uses to avoid any gender identity. In 2012 she started Genital International, a feminist collective event on participation and equality, and from 2015 it is her best known work, Economy of Love, an investigation on intimacy and group empowerment of sex workers in Brooklyn. We are looking forward to her representation of the Netherlands at the next Venice Biennale in 2022, which already announces that it will be outside the Giardini pavilion, in the Chiesetta della Misericordia, a 13th century church where it will remove the body from the clutches of.
With an open feeling queer The work of Francesc Ruiz (Barcelona, ​​1971) also runs. The stories generated from the comic as an aesthetic substrate generate endless possible events that reveal the gears through which individual and social identities, sexual identity or also the identity of the city are built. There runs Diaper, his exhibition at CA2M: a wide circulation of content and bodies (dissident or not) in space and networks full of interconnected themes, from urbanism to psychogeography, from homosexuality to social class. A landscape of the intimate, the playful and the political of pleasure that the artist amplifies from the Institute of Porn Studies, created together with Ona Bros and Lucía Egaña in order to critically analyze the explicit representation of sexuality in the multiple possibilities in which is presented. Or what is the same: why is lasting better than burning?
Love with Obstacles. Dora Garcia. Rose Art Museum. Waltham (Massachusetts). Until the end of 2020.
Sisters! Barbara Hammer. The Viceroy. Barcelona. Until September 27.
Diaper. Francesc Ruiz. CA2M. Móstoles, Madrid. Until October 2.