You must win to put pressure on and wait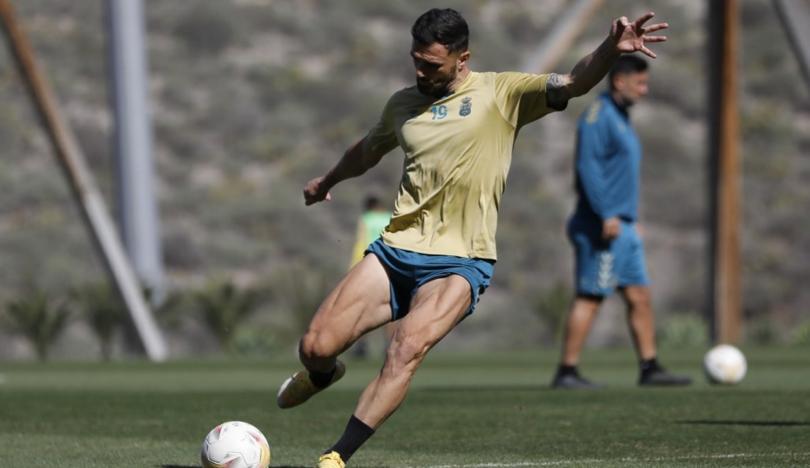 soccer
UD Las Palmas recovers Sadiku for this Friday's game (8:00 p.m.), but loses Coco. Fabio is running as the main candidate to fill the vacancy of the sanctioned Mfulu
UD Las Palmas starts another day at a disadvantage. The distance is still five points, and for the second time, it is his turn to open the day. Twelve points at stake and with a margin of error that narrows more and more. Tonight they must beat CD Mirandés to put pressure on their rivals: Girona, Real Oviedo and Ponferradina. Add three points and hope that the others puncture the weekend.
This is the script that the yellow players must follow, confident of completing a task that, based on courage, perseverance and determination, they have achieved in a month and a half of achieving unsuspected results that have opened
the appetite of the illusion to the yellow fans, that today must respond with its massive presence in the stands.
The trajectory of UD Las Palmas is impeccable since overcoming the disaster with Girona: Five wins in the last seven games. Some numbers to scare anyone. In football, no one beats García Pimienta's team, which dares to take on any rival. It is true that on occasions he had phases of imbalance in his game, but if something is characterizing this UD Las Palmas, it is that he has learned to overcome any unforeseen event.
The Barcelona coach is very likely to get Jesé and Sadiku back to complete the starting eleven and, logically, Fabio should be the substitute for the suspended Mfulu as a player in containment duties. The Franco-Congolese, in the last fifteen games, has been in the game with a remarkable performance. The game is lost due to accumulation of cautions.
Bad news was the injury of central player Saúl Cocoindisputable in the eleven with Pimienta and who will leave his position, probably to the veteran Raúl Navas.
The rival, CD Mirandés, is a team with vertical footballers, which means that the profile of Eric Curbelo fits more than that of Raúl Navas in the center of defence. In Anduva, the Castilian-Leoneses went over the Gran Canarians in that match of the first round with a fragile island defense that provided excessive facilities. For Mirandés, its tremendous irregularity in a specific section of the League has prevented it from fighting for higher levels.
The change of coach has allowed him to regain confidence and identity and the short-term objective is to certify his presence in the second division for another year. The full of victories is the only hope to which
Las Palmas grabs, which intends that this match against Real Oviedo, on the penultimate date, be the decisive one so as not to place the poster of the unfinished project ahead of time.