Yolanda Díaz proposes to intervene and cap the prices of between 20 and 30 basic products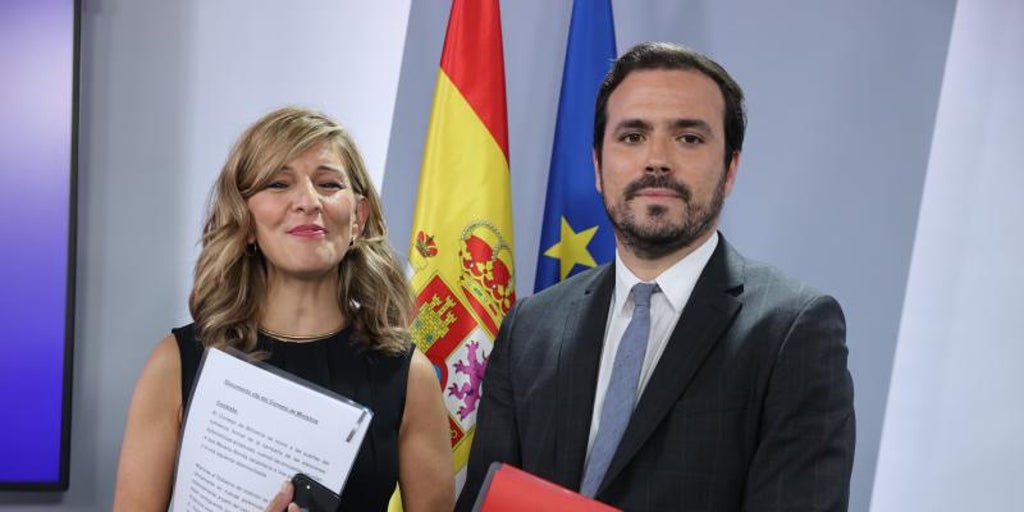 The First Vice President and Minister of Labor and Social Economy, Yolanda Díaz, has announced this Monday that she plans to meet, together with the Minister of Consumption, Alberto Garzón, with consumer associations and large distribution, with the aim of reaching a agreement between them to set a shopping basket "basic, absolutely legal and that does not violate the right of competition". In short, limit the prices of a series of products.
It would be, according to the second vice president, to set a series of products -between 20 or 30- that are guaranteed to citizens. Although it is still unknown what specific products the measure will contemplate, Díaz gave the example of "bread, eggs and milk" during the announcement.
"This is not a law, it is an agreement and it does not violate the right of competition", Díaz explained in statements to the media upon his arrival at the welcome ceremony offered by the State Attorney General, Álvaro García Ortiz, on the occasion of his inauguration.
«What we propose is that they reach an agreement between them and we establish a basic shopping basket, absolutely legal and without violating the right of competition, and we establish a series of products, between 20 or 30, that we guarantee to citizens« , explained the vice president.
According to the vice president, food is being a huge problem for the country today and not only for citizens, but also for small and medium producers in our country. In addition, she has warned that citizens they are not only losing purchasing power, they are also having difficulty maintaining a healthy diet.
Díaz has recalled that a maximum price has already been set for the butane cylinder because it was understood that it was an absolutely exceptional moment. "We are at war, we are unfortunately in a crisis and we have an inflation of 10.4%", argued the Minister of Labor.
Planas rules out a distribution tax
The Minister of Agriculture, Fisheries and Food, Luis Planas, in an interview with Europa Press, ruled out imposing a tax on the distribution sector, but asked for responsibility so that the rise in prices is "as limited as possible", while which considered that fixing a minimum price on essential goods and food products is neither legally possible nor »desirable«.
Regarding the possibility of a tax on distribution, as claimed by his government partner United We Can, Planas stated that the taxes applied to the financial and energy sector "are full of logic", although this is not the case for distribution.
«I don't think that is the case, at the moment, with distribution, at least until now, I mean that all the elements of the chain, including distribution, have behaved correctly. I hope to do so in the immediate future as well," said the Minister of Agriculture.