Yasmina Ortega and Chedey Díaz debut with a story at the Las Palmas de Gran Canaria book fair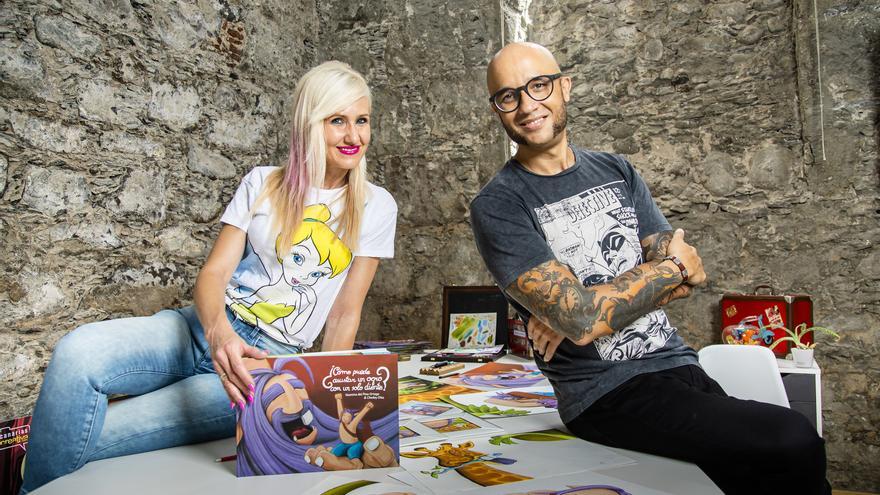 'How can an ogre with one tooth scare?' This is the title of the story written and illustrated by Yasmina del Pino Ortega and Chedey Diaz, Early Childhood Education Teacher, and Illustrator respectively. Both born and resident in Las Palmas de Gran Canaria and parents of a son, who was the accidental trigger in the conception of this story. This tandem joined forces with an original and fun result. "With the birth of our son and after rereading stories, we got excited about the idea. We put minds, hours and enthusiasm together and gave birth ".
The decisive moment to take the step came in the achievement of a vital experience and the result of two situations. The first event came with Chedey eating a sandwich and chipping a tooth from side to side. The dentist at the time of extraction called it "a cane break." The second scene was that same day, hugging her three-year-old son, who with a quick glance caught the disappearance of the molar and immediately asked with a start "Dad, why don't you have a tooth?".
To Yasmina, it seemed like a great start to a story. And with that idea they got down to work. Hundreds of "home brainstorming", structuring the story and the characters took as a reference the stories that your child liked the most. At that age (boys and girls from 3 to 6 years old) it is not easy to keep a child's attention, But thanks to Yasmina's experience as a Early Childhood Education Teacher at CEIP Hoya Andrea, and her own experience, this storyteller couple discovered how much fun a story can be and how many good family moments a funny story can offer.
"We still do not give credit to what extent it can make the little ones laugh. And that became the goal. In our story you can find values ​​and pedagogy, but above all it was thought and worked to amuse"These parents point out. "The first sketches in history led us to characters located in the stone age, then we even evolved to the possibility of Canarian aborigines (we even made visits to the Cueva Pintada, the Canarian Museum, etc.) and finally, although it is hard to believe from there we ended up in the ogres.
How is that jump possible?
We wanted the characters to be a bit barbarous, hence the idea of ​​cavemen or aborigines seemed great to us, because it gave us ease for the script we had in mind ", Yasmina and Chedey point out. Over time, this couple saw much more potential in a more universal type of character, "a very fairy tale creature, large, monstrous but that when presented in an everyday situation produced scenes that made us laugh. From then on, everything was getting down to work to make it happen ".
The story It is available in the main bookstores from the beginning of October, and will be presented by both authors in the Book Fair of Las Palmas de Gran Canaria, next Tuesday, October 12 at 6:00 p.m. in the Children's Zone of Santa Catalina. The final result is a story with colorful illustrations, 'super cute' characters, entertaining and fun reading with hand-made pattern letters, and at all times focused on the mind and perception of a child, thanks to Yasmina's daily experience. with their pupils. A work in which the photographer Nacho González and Isidoro De Vega, the illustrator Alberto Hernández, and the journalist Rubén Reja have collaborated. "Your help has been very valuable to complete this beautiful book," say its authors.
Initially, it was always planned to launch this story with a publisher, but in 2020, the story was selected through a call for grants from Promotion of the city of Las Palmas de Gran Canaria, to receive aid to the desktop publishing. This was a determining factor that encouraged the leap to desktop publishing instead of knocking on the doors of publishers. "Doing everything with our means has been a huge effort. And although the result has been incredible, working with an Editorial is a privilege that we hope to have in the near future. In fact, this story would never have seen the light without the support of many people who have helped us in all aspects and to whom we will be infinitely grateful ".