Yasiel Sotero, in the footsteps of Mario Pestano from Tenerife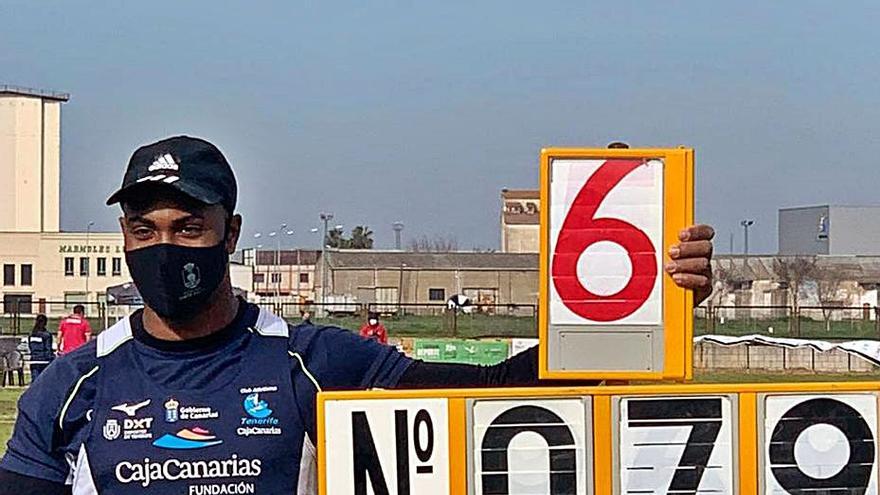 Yasiel Sotero is one of the fashionable names in Spanish athletics. Above all, after the great achieved this past weekend. With only 19 years of age – he will turn 20 at the end of the year -, he proclaimed himself on Saturday, in the Extremadura town of Montijo, absolute champion of Spain in discus throwing with a mark of 60.12 meters. Born in Cuba on December 28, 2001, but from Gran Canaria by adoption, his progression marks him as a worthy successor to Mario Pestano from Tenerife, the great national reference in launch modalities. His next challenge, to obtain a place in the Summer Olympics in Tokyo.
Everything is going very fast for this young pitcher. He settled with his family in Vecindario, in Santa Lucía de Tirajana, when he was 14 years old. There, he was looking to get started in soccer and knows athletics. Soon he opted for pitches and began his progression under the guidance of coach José Ríos. In 2018, already with Spanish nationality, it already harvests brands of continental size. Titles begin to fall within their categories.
The absolute Spanish record held by Mario Pestano, now 42-year-old retired, who achieved a mark of 69.50 meters in La Laguna (2008) is still far away for him.
The trajectory of Yasiel Sotero is very similar in young age to that of the master, but he has a more outstanding record at the national and international level since he has been breaking all the records of the Tenerife native. Given his youth, the expectations placed on this 1.89 meter tall pitcher are enormous.
Both Canarian discos know each other personally. "When we met, he told me how his entire sports career was. I am one of those who thinks that records are there to be broken, that's why they are records, although I don't have national records in mind, since I only think about beating my own, my own records, and surpassing myself every day ", he says.
Regarding his next challenges, the Cuban raised in Gran Canaria points out that he will first face the matches of the Division of Honor league with his club Tenerife Cajacanarias in April. From there, a non-stop. The month of June can be key for him, with different relevant national and international events where he will try to "improve my marks and my score in the world ranking, and thus score points to be able to be in the Tokyo Games".
Yasiel Sotero knows what he's up to. "I always want to improve myself and evolve as much as I can. My goals are ambitious and I work every day to achieve them, with humility and perseverance ", he points out.
When it comes to analyzing his pitcher profile, he tells us that "right now everything is focused on my technical evolution, my learning and my physical improvement; I'm training to get where I want to go. What makes me evolve is my ability to learn and want to do things well ". These are the ambitions of a young man who came to the world of athletics only five years ago, and almost by chance.