Xavi: "We have overcome the complexes"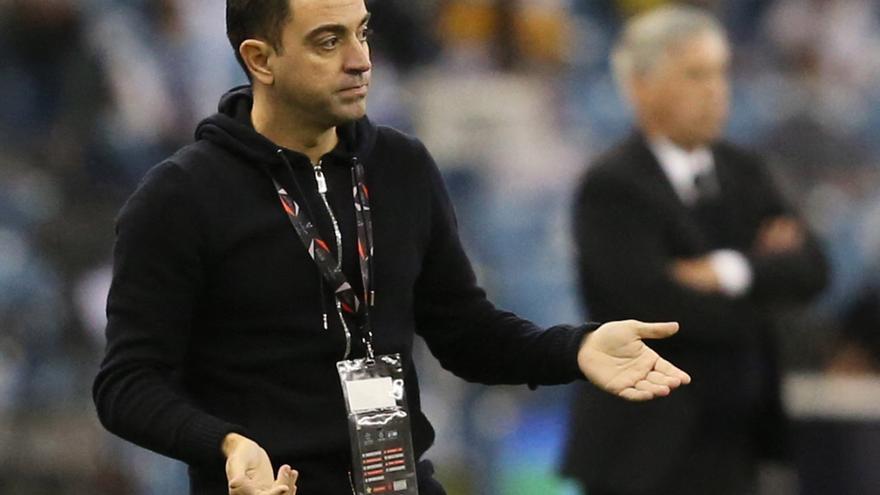 "Today was a day of courage, of responsibility with the ball, that is what I asked of the players. We leave sad because we have lostWe're enraged, but we have overcome the complexes, this Barça can compete with anyoneAlthough the result is not useful to us, "Xavi told the media at a press conference.
"We had to risk, it was time with Madrid 2-1 and in the end we got extra time with the risk that Benzema, Asensio, Rodrygo or Vinicius would catch a ball and score us. We had the 3-2 in favor ", lamented the Blaugrana coach.
"In the end, the summary is this, Real Madrid or Barcelona could have won, we have dominated them in many phases of the game. We have played some phases with complexes and some fear, but it has been because of our mistakes. Then we have taken many risks and have been taken advantage of. It is a strong Real Madrid and we leave in a way proud of the result"added Xavi.
"They are contrary sensations. In the end it is a very bad feeling for the defeat, but -on the other hand- we can go away proud of the game, of having dominated them in many phases of the game. We lack patience, experience, responsibility with the ball but this is the way. We have been working with them for two months and we are on the right track. We need that victory or that turning point to go up but we have to keep believing it and keep trying, "he said.
"Today they we have equaled (Real Madrid). If we speak at a general level, no, because we are 17 points away in the league. Today we have competed, but if we toss a coin and we pass, nothing happens. We deserved to go to the final. We have competed against the fittest team from Spain right now, "added the one from Tarrasa.
In addition, Xavi underlined the possibility of having scored the third goal in extra time. "They have the feeling that we have had a place in the final, we have had Madrid dominated in their field and we have had the victory. This feeling is one of anger and powerlessness. Tomorrow we will see it a little better. somehow it's like today, "he said.
Finally, asked about the future of Luuk De Jong, the Blaugrana coach repeated his message from the last few days. "He is part of this squad. We are Barcelona, ​​no one is going to play by name, he will play for performance. Meritocracy is very important to me. He is scoring goals and makes a difference. How was I going to get him out of the team? example and if he continues to perform, he will continue playing, "he said.