Xavi: «I want the market to end»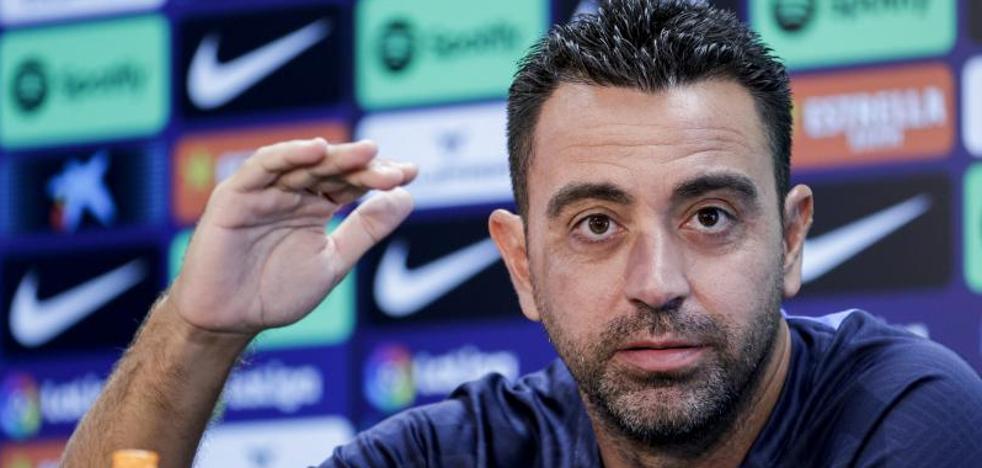 Matchday 3
The Barça coach recalls the need to sign a right-back given his firm posture of not having Sergiño Dest in that position
The transfer market is entering its final stretch to the relief of many coaches, who are willing to turn the page on the transfer market to definitively outline their squads and focus completely on the purely competitive aspect. This is the case of Xavi Hernández, whose press conference prior to the duel against Valladolid at the Camp Nou was once again marked by speculation about joining and leaving.
"There are different scenarios. I'm looking forward to the end of the market to find out the squad we have. There are four or five days left and many things can happen. We have to adapt and manage this situation, "acknowledged the Barça coach, waiting for the signing of Marcos Alonso but especially a right back, given the shortcomings of his squad in the lanes.
«Seeing Balde's projection we have the left-back position well covered, on the right-back we have Sergi and Dest, but he already knows the situation of the club and my position towards him. They will have to play Sergi, Ronald or Jules », he detailed.
The Catalan coach avoided putting hot cloths on the situation of Gerard Piqué, a heavyweight in the Barça dressing room who for now has not played a minute in Barça's two official games. «I spoke with Gerard, before we went on vacation. I was clear, I told him that we would strengthen ourselves and that it would not be easy for him. He can help us in another type of role. There is competition for everyone. I try to choose the best to win matches. It depends on your feelings and mine. And how he competes when he has opportunities », he pointed out in relation to the role of the center-back, relegated by the signings in the defensive plot.
Everything seems to indicate that Koundé's registration will arrive in time for the Frenchman to make his debut for Barça against Valladolid and Xavi is optimistic in this regard: «We are optimistic. We are convinced that we can register it. It is a matter of squaring numbers.
The culé coach does not even rule out the long-awaited signing of Bernardo Silva, an issue that seemed definitively parked due to the limitations of Laporta's economic levers to deal with all the issues of the Barça market. "Hope is never lost, but it is difficult. It's complicated. We are a few days away. There must be ways out, "explained the Catalan coach, still leaving a halo of hope for the desired incorporation of the Portuguese midfielder from Manchester City.