Xàbia, from the hippie commune of the 60s to the TikTok mansion of the influencers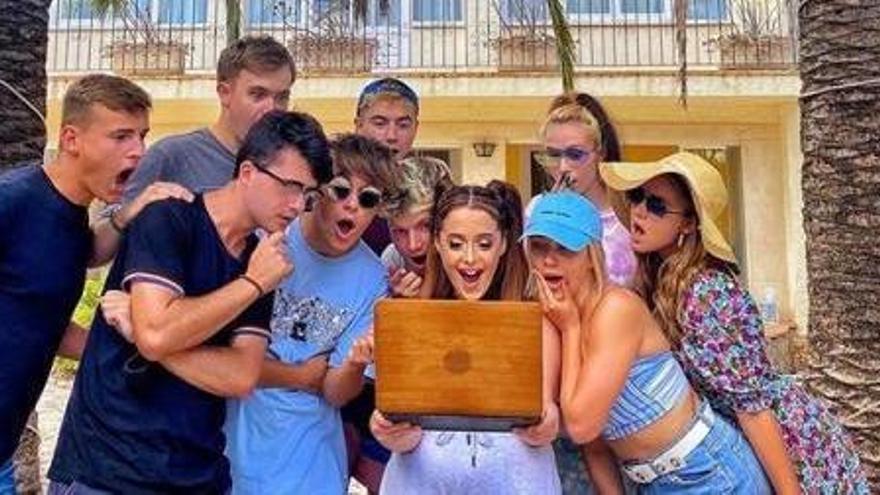 Xàbia is a pioneer in cultures of coexistence. In the 60s, hippies discovered the Plana del Montgó, a place with a special telluric force. It has always been said that this countercultural and libertarian movement He arrived at La Plana de Xàbia earlier than at Ibiza. In 1966, Harries Sportes opened Hacienda, the first nightclub in Spain. It picked up the hippie effervescence. That spirit revived every summer with the parties «flower power». Now, in the 21st century, a "commune" of a very different nature has arrived in Xàbia.
Make it up ten young british, six boys and four girls, in their 20s. They have rented a large case with ten rooms, a swimming pool and a bar in the garden. It is also in the Montgó area. Maybe hippies lived in the clouds. These kids live in the networks. They are influencers. They add up to more than eight million followers on TikTok, the short video social network that is causing a sensation. These young stars of the networks have baptized their TickTock mansion in Xàbia with the name of The Jet House. The house has its own account.
This coworking experiment (the thing is full of neologisms) is not new. In Los Angeles, there is the Hype House, a sumptuous and enormous villa shared by 19 very young (15-21 years old) influencers. The kids from The Jet House They record videos of their day at home and of some adventures in Xàbia (they have got tattoos on the Arenal beach) and hang them on the nets.
The mansion generates content. Hence, they did not settle for just any ziquizamí, but instead sought and rented a luxury villa with a garden with palm trees and a swimming pool. They needed different domestic locations to show the world the busy life of the influencer. This is one of the first houses of «tiktokers», a new tribe of social networks, which open to the virtual world in Spain. Short videos are coexistence pills. At least the reality binge is avoided. Young people also upload videos to YouTube and photos to Instagram. They have thousands of views.
Not just anyone can enter this community of successful influencers. It takes a myriad of followers. Networks are exponential. If two or more stars in this virtual universe come together, reactions are triggered. These kids make their living in the influencer marketing industry. Brands look for them to give visibility to their products. Its potential market is the United Kingdom. There are her millions of followers. From the hippie commune to the TickTock mansion there is a stretch. The meeting point is Xàbia, a "secret paradise" with a lot of pull in the networks.