X5 Retail, the Russian Mercadona in which Dia looks to recover the course | Companies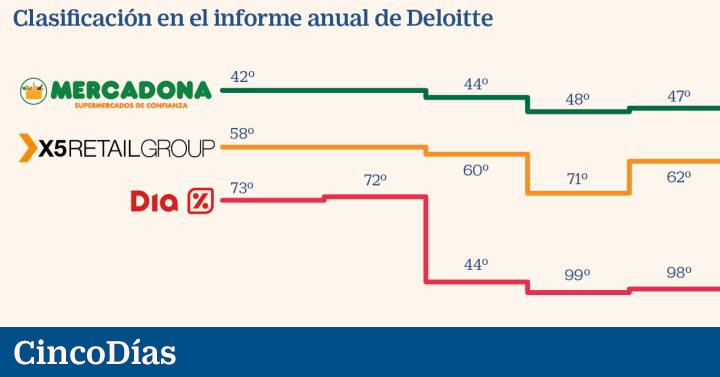 Dia will present tomorrow its third quarter results. An appointment in which the attention will not be so much on its net result, which will remain negative after recording losses of almost 420 million in the first half, but in the evolution of its comparable sales, the obsession of the current team that Karl commands -Heinz Holland.
These fell 7.8% in the first six months of the year, bottoming out in June with a 15% drop, and softening in July and August to 7%. Still worrying figures since without customers and without sales there will be no recovery for Dia.
However, his current management team hopes to turn the situation around. And they go to Russia to prove their credentials. This has been made clear in the presentation he has made to investors on the occasion of his capital increase, and published in the CNMV last Wednesday. In it, the last slide was dedicated to an almost unknown company in Spain: X5 Retail, the Russian Mercadona for its leadership in the food distribution of its country, although it could well be assimilated to Carrefour: the X of its name represents an intersection, meaning from the French term carrefour.
The choice was not casual. This company is Dia's older sister, although it was founded 30 years later. Both share owner, Mikhail Fridman, in the case of X5 through Alfa Group, the holding company with which he does business in Russia. They also have the same chairman of the board: Stephan Ducharme, the gray mass behind Fridman's retail investment strategy, which was also its CEO between 2012 and 2015. And finally, Dia's CEO Karl-Heinz Holland , is also a member of its supervisory board.
Although the differences are also great. Today, X5 is a group that bills more than 21,000 million euros a year, triple that of Dia; its network of stores exceeds 15,000, more than double that of Spain; and X5 operates in three different segments: the proximity, through its Pyaterochka chain, stores of around 400 square meters; Perekrestok supermarkets, about 1,000 square meters; and hypermarkets, Karusel, although the company is undertaking its transformation to a super modern concept.
Model
But its main focus is on the proximity business, present in 94% of its stores. This is what explains the vertiginous growth of X5 Retail in recent years: since 2013 its revenues have tripled to over 21,000 million euros last year and its network of stores has grown 250% since then. Profits have been reinvested in growth every year and have not given dividends until 2017 for the first time since its foundation.
That has allowed him to invest about 1,000 million euros per year in openings (2,000 this year) and store renovations, in which he now applies his new concept, with greater technological presence, of fresh, pastries and convenience products, and where nothing is leave at random: from the type of pro zone lighting to the colors of the products. They apply it progressively: if the model works in 10 stores they test it in 100, and if it is confirmed as successful, they extend it to the rest.
The recipe he has applied in these years is similar to what Letterone now wants to apply in Dia, especially, as Russian tycoon Mijail Fridman explained in his interview with CincoDías, with the focus not only on Spain, but also on Brazil, which considers a market with many similarities to Russian.
At the product level, with a strategy focused on frescoes and convenience, prioritizing sales density, or revenue per square meter, compared to other variables such as growth at all costs of ebitda. This is only possible in stores where lack of stock is detected almost instantly, and where the presentation of the product and the general hygiene of the establishment are a priority.
All this through an efficient operating model, one of the concerns that have dominated the first months of team management that form Ducharme and Holland. This translates into a supply chain that avoids stock shortages and also leftovers, which in both cases result in losses.
Another key is powerful leadership, with a CEO in each branch of the business. The search for a first executive who dedicates himself exclusively to the Spanish market is one of Dia's objectives, as this newspaper published last Thursday, it goes in that direction. And also a robust corporate government, something that Letterone understands that Dia suffered.
But there is something in which the Spanish chain beats the Russian: the white mark. Around 12% of current sales of X5 are of this type of teaching, a percentage that you want to double. In Dia it reaches 42%, with 6,660 references, as detailed in the capital increase booklet reaching 48% in Spain. Dia achieves that a can of tuna has a rotation 25 times greater than a brand, details the brochure. A lesson that, in this case, X5 can learn.
The technology and purchase binomial, increasingly present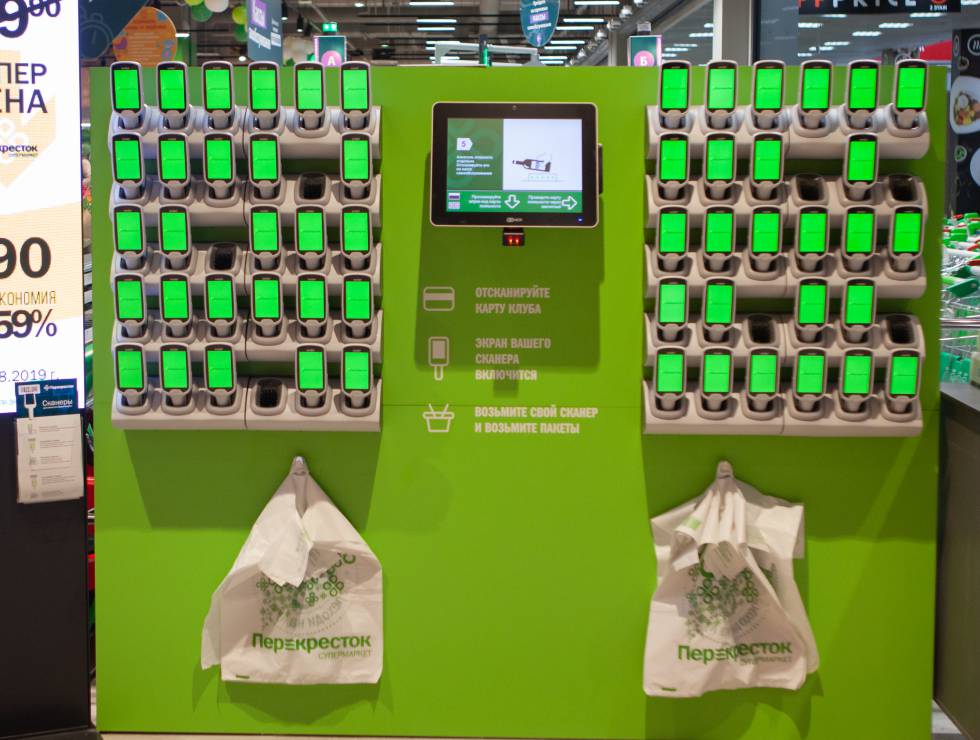 Innovation. At the entrance of one of the Perekrestok supermarkets that X5 has in Moscow, a wall full of electronic guns is presented to the customer. With them, the user scans each product that he puts in his basket, and through the mobile application, makes the payment without having to go through the box. This is one of the solutions that X5 has developed through its own technological laboratory, as a terminal also located at the entrance and that delivers personalized discount coupons to the holders of its loyalty card. According to their calculations, this device increases sales by about 3,000 euros per month for each terminal.
Box. The company has also developed its own automatic boxes and a system of cameras scattered around the stores, which focus the shelves and detect immediately when an area has become empty of products. The next step is an ambitious big data project with which it intends to adapt almost the millimeter the offer of its stores and their prices to the customer profile in each of them, which, in theory, will increase traffic and sales density . Solutions that Dia could also access.
. (tagsToTranslate) x5 (t) retail (t) mercadona (t) Russian (t) look (t) day (t) recover (t) course (t) be (t) leader (t) food distribution (t) ( t) food (t) fridman (t) owner



Source link