Would you like to go with your dog to the beach?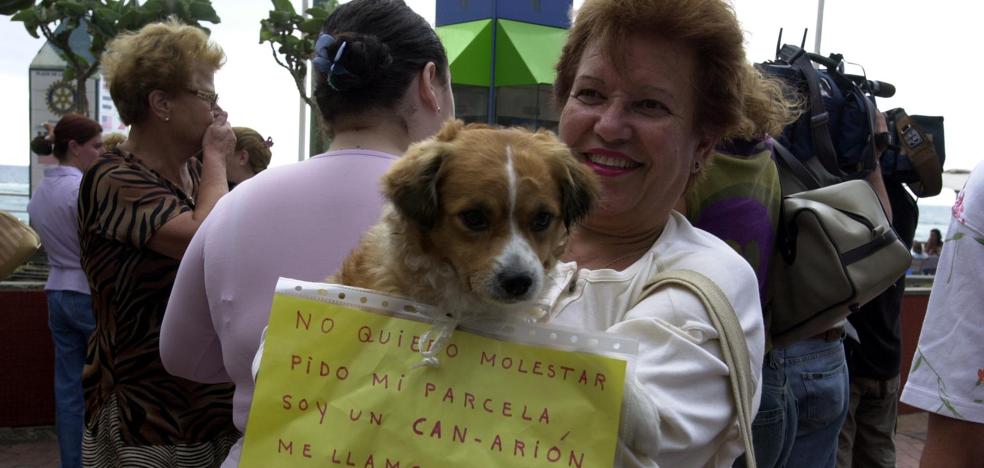 Pacma calls meetings in six cities, one of them Las Palmas de Gran Canaria, to claim access for these pets
Cooling off in summer with pets can be a difficult task on the islands. Of all the beaches that surround the archipelago,
only eight allow dog access: three in Gran Canaria, three in Tenerife and two in Lanzarote. At the national level,
barely 100 of the 3,000 Spanish beaches The entry of animals is regulated.
With these data, the Pacma Animalist Party has called six rallies in different cities over the next week to claim access to the beaches. Gijón, Rota, Cádiz, Coruña and Barcelona will host their respective demonstrations, in addition to Las Palmas de Gran Canaria, where it will be on Friday, August 19, at 6:00 p.m., in the Santa Catalina dog park.
"More and more people decide to share their lives with dogs, so the administration should adapt and expand the possibilities so that they can also accompany us in our leisure time," explains the member of the Pacma board of directors, in a statement.
Javier Sanabria.
In this line, CC has also recently demanded from the Cabildo de Tenerife a plan for dog beaches on the island to respond to the growing demand for leisure spaces for animals and their owners.
Historical claim

It is not the first time that the capital of Gran Canaria has raised its voice to expand canine spaces. In 2009, a concentration of
a hundred people in Mesa y López He called on the City Council to enable areas for the transit and the deposit of excrement of the then 47,300 registered dogs.
The dogs wore bibs that read "Momo does not pamper me", in allusion to the mayor, Jerónimo Saavedra, who maintained the electoral commitment to modify the ordinance that regulated the transit of dogs.
Two years later, the owners of these pets
they stepped on Las Canteras Beach again against the prohibition of the walk for reasons of «hygiene». A rule that the City Council of Las Palmas de Gran Canaria maintains today. For these users, the debate is "prehistoric" compared to other points in Spain, where the possibility of access is not discussed, but rather the hours to do so.
In this line, Pacma points out that "there is no hygienic-sanitary report that links the presence of dogs on the beaches with risks for people or with health problems." Thus, they assure that the few coastal areas that admit their presence have shown that a "harmonious and respectful" coexistence is possible and, therefore, they continue to claim free access without restrictions or time slots. "It is time that the beaches are for everyone," they conclude.
Six demonstrations in six cities
Gijón: August 14, 1:00 p.m. to 2:00 p.m., Paseo del Muro de San Lorenzo, Staircase 4 (La Escalerona)

Rota (Cádiz): August 14, 8:00 p.m., Plaza de España, in front of the Town Hall

Coruña: August 15, 12:30, Riazor Esplanade, Route: From Esclavas esplanade to the surfer fountain

Cádiz: August 15, 10:30 a.m. to 12:00 p.m., Paseo Marítimo (in front of the Hotel Playa Victoria)

Las Palmas de Gran Canaria: August 19, 6:00 p.m., Santa Catalina Dog Park

Barcelona: August 20, 7:00 p.m., Plaça del Mar