Works, signings and pandemic shoot up the debt of Real Madrid and Barcelona | Companies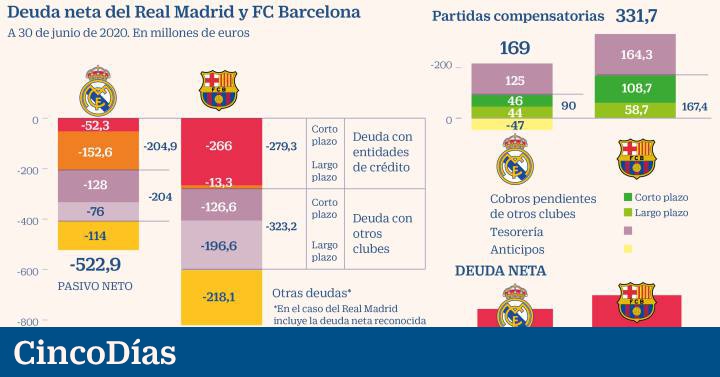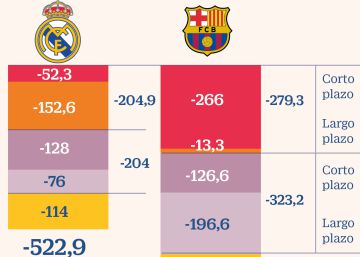 FC Barcelona and Real Madrid, the transatlantic ships of Spanish football and leaders in billing at European levelSee how the pandemic tests your financial foundations. The accounts of both show some similarities and quite a few management differences, but reflect balances stressed by the situation.
Both have shot up their net debt: Barcelona has doubled it to 488 million and Real Madrid, which had zero debt, has increased it to 354.
There are shared factors in this: both have resorted to bank financing to alleviate the fall in income and cash. The white club has multiplied it by four to 205 million, of which 153 are long-term. In its economic report, it recognizes that it does so to "compensate for the cash losses caused by Covid-19."
Barcelona already had bank debt, but the Covid has increased it and anticipated its maturities, placing itself in a more stressed position. If in 2019 this liability was 72 million in 2020 it touched 280, after having 117.7 million of a credit policy, in addition to other loans for your project Espai Barça remodeling of the Camp Nou environment.
Precisely the works are shown as a burden for both. Madrid recognizes a debt for which it undertakes at the Bernabéu of 114 million, which it does not include among its net debt. This article does take it into account for comparative purposes, since Barcelona does include the works of Espai Barça in his, valued at 110 million.
Maneuver funds
The situation in the Catalans is more problematic when it is observed that 266 million of their bank debt expire on June 30, and that their working capital is negative at 602 million. This "could raise doubts about the application of the going concern principle," reads his report. Real Madrid also has it negative at 112 million, 50 more than a year before, due to investments in stadium, players and treasury losses. But his memory points out that the loans without having and the treasury forecasts "mitigate all doubts" about the future of the club. Barcelona also includes mitigating factors, but while it claims to have 28 million unused credits, its white rival has them for 328.
Another important item in both is the debt for the signings. This is higher, again, in Barcelona, ​​with 323 million, of which 126.6 are short-term. In Madrid there are 204 million, of which 128 are due this year.
With all the concepts added, the Catalans have a net liability of 820.6 million, 57% more than the 523 of the Madridistas. To calculate the net debt, other liabilities are not included, such as commercial creditors, and mitigating factors such as pending collections from third clubs or the treasury are taken into account. With all this applied, the 488 million net debt of FC Barcelona and 354 million of Madrid result.
But the situation will get a little worse this season. Real Madrid, which last won 300,000 euros, expects losses of 70 million. Barça, in the hands of the management board and in an extreme situation, has not budgeted the result of this year, but losses of more than 33 million would put its own funds in negative. The future board of directors, which will have to come out of the next elections, will have an urgent task to solve.