Workers and companies affected by ERTE in one week exceed those of the last six years | Economy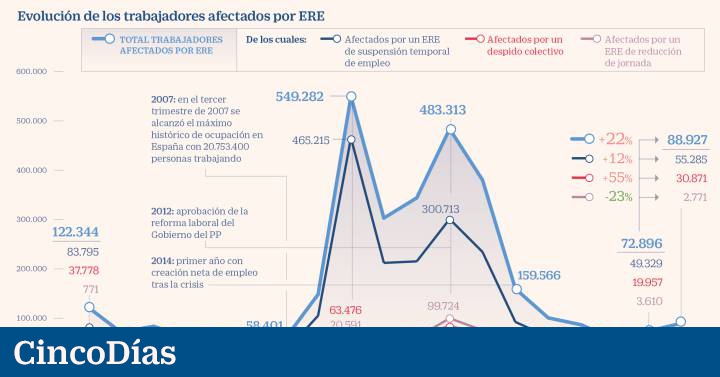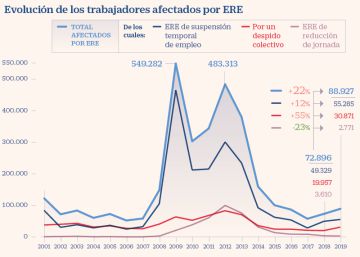 The economic crisis in which Spain has been immersed last week by the scourge of the coronavirus is leaving dramatic figures for history. One of these black data is that of workers who are seeing how their jobs are temporarily suspended.
Until a week ago, few Spaniards knew what a Temporary Employment Regulation File (ERTE) was. Hardly the workers in the motor industry, who have spent decades using this route to adjust their workforces to production, knew this figure of labor regulations. Now, according to a first estimate made on Friday by the Economic Prediction Center (Ceprede) of the Autonomous University of Madrid for employers Cepyme, between two and 2.5 million workers could be affected by an ERTE in the next three months. .
And, since part of the wages of these workers while the adjustment lasts is paid by the State through unemployment benefit, the figure of the two million affected is compatible with the budget that the Executive has for labor measures that exceed the 5,000 million euros, including aid to employees and the self-employed.
Many large companies have announced ERTE immediate or if the period of confinement is prolonged. This is the case of Inditex (25,000 workers if the State of Alarm follows from April 15); Zena Alsea (VIPS, Starbucks or Domino's Pizza), 22,000 workers; Seat, 14,812; Burguer King, 14,000; or Iberia, 13,900 are just a few examples.
At the moment, there is a certain fact: the companies and workers involved in an ERTE requested or already granted over the past week outnumbered those registered during the past six years added together.
Specifically, since the recovery of employment began in 2014 after the 2008 crisis, until December 2019, this is in the last six years together, there were 27,171 companies that applied 36,141 ERTE in which 409,548 workers were affected. These data include temporary job suspensions and adjustments to temporary workday reductions.
Well, although there are still no official or coordinated data from all the communities, it is evident that the ERTE requested or already authorized throughout Spain during the past week exceed the accumulated figures between 2014 and 2019.
Only in Catalonia, until yesterday Sunday, 25,160 temporary employment adjustments had been requested, affecting 247,690 workers. In Valencia, they would have counted almost 10,000 files for 73,961 workers. And in Andalusia, they had received 20,000 registrations requesting ERTE, whose resolution still affected only a small part, but on average involved 7.4 workers, so extrapolating this amount could mean waxing 150,000 affected workers. In Madrid, until last Thursday 13,390 ERTE had been presented. Although the region did not provide the number of workers affected, everything indicates that it will be even higher than the figures for Catalonia. Only with these communities would the cumulative figures of the last six years be exceeded in a week. But, in addition, we should add those of the rest of Spain. For example, on Thursday the Basque Country had received 3,382 requests for almost 30,000 workers, while, on Friday, in Galicia they had multiplied by seven in 48 hours to add 4,239 requests from ERTE.
Even more striking is the ERTE data only due to force majeure. These types of adjustments, which are the ones that will now affect mainly the employees and that have a faster processing (5 days) and do not require negotiation between workers and the company (although they do have administrative authorization), were used in a very restricted way, only for catastrophes, such as fires or floods. Thus, in 2019 only 139 companies resorted to an ERTE due to force majeure, and affected 1,203 workers. And in the last six years, just over 815 companies resorted to this type of adjustment for just under 6,500 employees between 2014 and 2019. But, in addition, those affected could now exceed even those of the previous crisis, which added 1.8 million between 2008 and 2013.
Salary. Those affected by an ERTE collect unemployment benefits during the time of the suspension of employment. But companies like Nissan in Catalonia, will complete this aid up to 85% of the salary.
Recognition. The law indicates that ERTE due to force majeure must be authorized or rejected within five days. But communities like Castilla y León have promised to do it in 24 hours.