Work seeks a legal change to end the false self-employed | Economy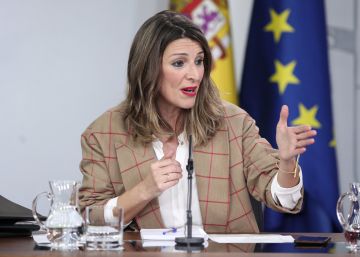 The Minister of Labor, Yolanda Díaz, has broken down her plans in the Congress of Deputies. In addition to its already known projects to repeal or substantially change the labor reform, Díaz has announced that it will prioritize the fight against false self-employed by a double route, more Labor Inspection and a legal change that clarifies the distinction between employees and workers by own account. Another legal modification has also been made: the regulation of part-time employment.
In his speech, Díaz has drawn a labor market in which precariousness is a widespread evil. For that, he recalled the high numbers of unwanted temporary and part-time employment. The words of the minister have pointed to the fight against this situation in 10 areas in which the role of "decent" work despite the "job creation" of previous department headlines.
"A young man on a bicycle with a mobile phone is not a self-employed worker," Díaz said to point out one of his next priorities. "I announce that the next initiative of this ministry will be to address the false self-employed," he had pointed out in his previous sentence. He has not given more details in that first speech. However, official sources of the Ministry of Labor specified that it would be a two-way action: on the one hand, the General Directorate of Autonomous Labor would be preparing a legal change that clarifies the distinction between a self-employed worker and an employee and, by another, a greater inspection action.
False freelancers, probably the lowest link in job insecurity, have become a focus of attention for the Labor Inspection in recent years. The courts, also in the Supreme Court and in the higher courts, have hardened jurisprudence as the phenomenon has grown with the crisis.
Regarding the changes in the regulation of part-time employment, Díaz has not presented details beyond the announcement. "Throughout this year we will proceed to the co-responsible labor law, which includes the reform of the part-time work regime," he proclaimed. "In the current situation, a good part of the workers have lost the right to their own time, with unpredictable schedules that mix personal and work time, where availability and connection is permanent," he described to show the problem.