Work justifies diverting training funds to the unemployed to pay benefits: "Our jobs collapse"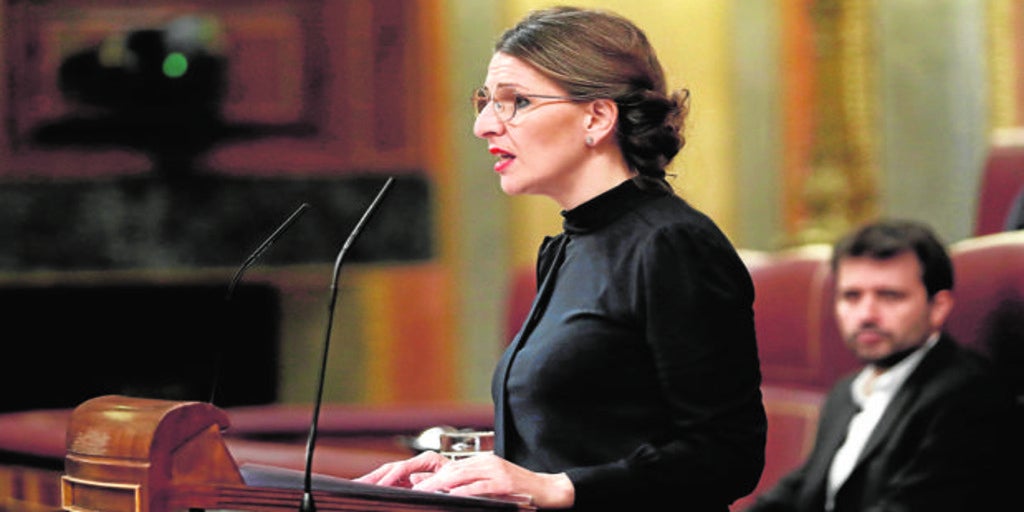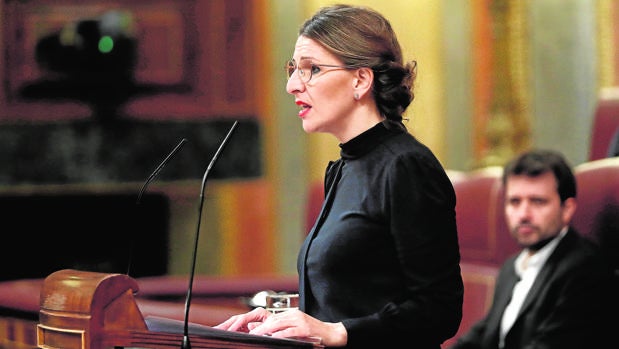 The Minister of Labor and Social Economy, Yolanda Díaz, justified on Wednesday the diversion of more than half of the funds provided for training, managed by the autonomous communities, to meet the social protection needs derived from unemployment: «We are employment is collapsing, "he acknowledged in Congress.
Thus, in the session of control of the Government held by the Lower House, he assured that, in anticipation that these funds "were not going to be able to be executed", the Government's options were to direct them to the remaining treasury of the State Employment Service (Sepe) – «as it happened during the 2016-2018 financial years», he recalled-, «or feed people».
"Maybe we have been wrong, but we think we have chosen well," Díaz said, noting that this decision, "difficult as all", was made when warning "many regional councilors" that "they were not going to be able to execute the policy of formation »due to the« final character »of these games.
In any case, he pointed out that the Ministry also does not know "what the collection will be in training", so the forecast of some 2,232 million euros did not have to be this way. "It is not 2,000 million, we do not know, because we are collapsing employment and, therefore, we do not know what the distribution will be," he explained.
He also pointed out that the funds for training that have remained, 1,048 million euros, have been directed this week to the communities and, in addition, may be used "with a flexible character". It has also made clear that the items budgeted for active employment policies "exceed 5 billion euros and remain as is."
All this in his response to the PNV labor spokesman, Iñigo Barandiaran, who thanked him for his "tone" and "the always active collaboration of the PNV." The deputy 'jeltzale' has made him ugly that the final transfer to the communities has remained at 47% of the funds that were initially included in the extended budget.
Granting that allocating them to unemployment benefits "has, to a certain degree, some logic", he believes that it is "a serious mistake" to pose this decision "as a disjunction" and to withdraw funds from active employment policies to direct them towards active policies, since he believes that "It makes little sense to decapitalize" these items, "essential" for economic recovery.
In this sense, although he anticipated that a "not very successful" simile would do the same, he has compared this situation to obtaining research funds to direct them to pay for masks or respirators.
Thus, he has argued that the higher the unemployment, the more investment the policies for employability need, and he has urged the Government to take these funds "from other places, but not from active policies, immediately linked to the recovery of jobs. and, therefore, to the recovery of the economy ».
Before, Díaz has confronted political positions with the PP Health spokesman, José Ignacio Echániz, who has criticized how the Government can defend that it has acted in labor matters "with due promptness", when workers affected by ERTE or self-employed workers sheltered of activity «today they have not received for their incompetence».
Echániz has accused the minister of "folly", "continuous improvisation", "incapacity", and suppose "a true calamity and disgrace", in addition to accusing the Government of not caring "about the anxiety" of workers and employers in the face of economic difficulties of the Spanish, assuring that the 'popular' feel "shame, pain and anger at irresponsibility, ineptitude and negligence."
Lastly, he has been accused of "not knowing what an ERTE is", and he has blamed the responsibility for this management on President Pedro Sánchez himself: "The fault lies with a president who appointed her without knowing what an ERTE is or named to a health minister without knowing what an effective diagnostic test is, "he said.
Faced with this, Díaz has regretted that Echániz's intervention was limited "more to a series of insults than to a proposal", and recalled how the PP assured that the Government accused "in a hasty manner" when days before the State was decreed On alert, on March 4, his Ministry released a guide for companies on how to deal with this disease.
He also regretted that the PP began its management in 2012 facilitating "cheap and flexible" dismissal, thus turning the country "into a precarious lot and wage devaluation", while his Government has now limited the dismissals, with the response of the PP to reject this measure, as well as other social protection measures.
Lastly, Díaz has asked the 'popular' party to "be responsible and save the future" together with the Government and the communities "of the country. "They are playing and they believe that what is at stake is the Government, and the Government believes that what is at stake is the future of the country," he concluded. .



Source link