«Work is a toxic space loaded with ideology»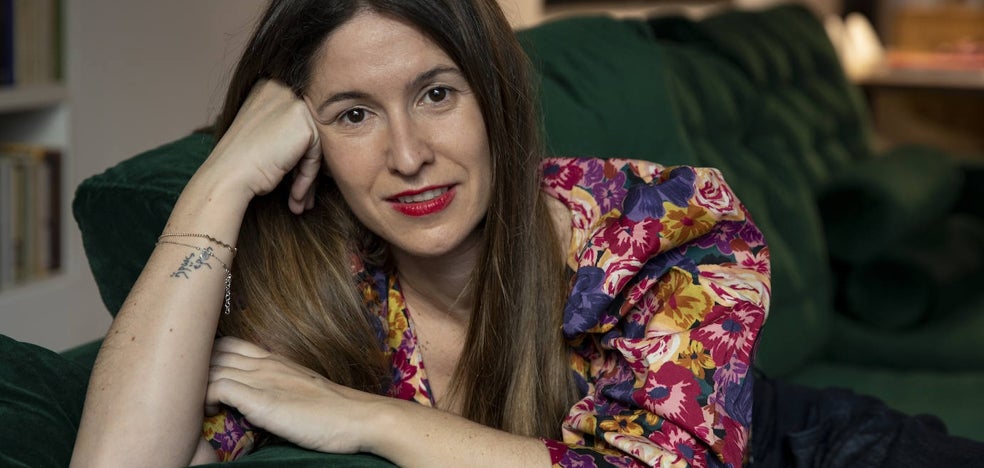 Nuria Labari x-rays and satirises inequalities in the world of work and denounces its "new forms of slavery"
"The world of work annihilates feminine and masculine identity." Says it with a serene smile Nuria Labari (Santander, 43 years old), writer, journalist with a long career, today director of an audiovisual production company, and author of 'The Last White Man' (Random House Literature). It is a satirical x-ray, as crude as it is funny, of the oppressive and demanding world of work and a denunciation "of its inequalities and of work understood as a new form of slavery."
"Work is the last God. We get rid of the myth of romantic love, but we don't talk about what happens at work, which is a toxic space loaded with ideology that nullifies our desire", Labari adventures. After each forceful statement, he assures that this is his third novel, starring a successful woman in her forties, "doesn't propose that from below work." She admits that work "is a cage" but believes that "we can change it and demand that it be an accomplice of our desires."
Written from a gender perspective - "it could not be otherwise" - and narrated by a winner in the competitive masculinized world of work, its author maintains that "work is designed for a male biology." She celebrates that, according to statistics, "there are 35% of directives" but criticizes "that none of them impose their rules". "What these women do is adapt to a masculine world even when they come to power," she denounces.
She criticizes women in command for "replicating patriarchal structures" and regrets that "equality ends up being a form of obedience that makes women think that they should be the same as an uncle, which is another form of submission."
It recognizes the "enormous advantages" of men in the fields of power "because they have been trained in docility and the trade of obeying for millennia." "They come naturally in an environment where you have to turn everyone into a bloody white man," he says, justifying the title. "They're all ready to jump into the fire and yell, 'I'm finally one of them! I have succeeded! I am a success story!" reads the novel. But immediately it is specified that "success was invented by them and they are the ones who distribute it." "The success of the white man is to make us believe that we can all be part of his club and that we want it. Equality has long gone out to hunt new prey and women are the most coveted.
Dissociation

Labari believes that "the culture of effort has no reward in the world of work" and that, deep down, it is based on a falsehood "because the best do not always win, far from it, and the social elevator does not work." She estimates the writer that "modern work has reinvented slavery" and that its demands "dissociate the body from the mind." "Of course, it is a slavery with graduations, so there are much more slaves who work for hours, such as 'riders' or assistants," she points out.
The job insecurity that crushes young people "has a point of rebellion" for Labari. «There is a 'millennial' generation that is no longer ready for everything. His sentimental revolution collapsed the myth of romantic love and young people today think of other labor formulations, "says Labari, who debuted in the novel with 'Things that shine when they are broken' and surprised with 'The best mother in the world'.
I haven't thought about quitting Labari's job. "We'll see what happens when this book is released, which has a bomb inside, and which is none other than the claim that work has to do with our desire," he ironically reiterates that his novel "is not an allegation against work nor does it call for its abolition'. "I plan to continue doing my job, if they let me, to be able to change things," he insists.
For the writer, technology is the penultimate threat in the world of work "in which there is a rampant loss of prestige of the human, and as it happens in other areas, the algorithm will end up prevailing." So much so that she does not rule out that in the field of creation "it is an algorithm that ends up creating songs, poems and novels." To avoid this, she advocates Labari "for imagination and its devastating power."