Woody Allen gets fed up with San Sebastian at 'Rifkin's Festival'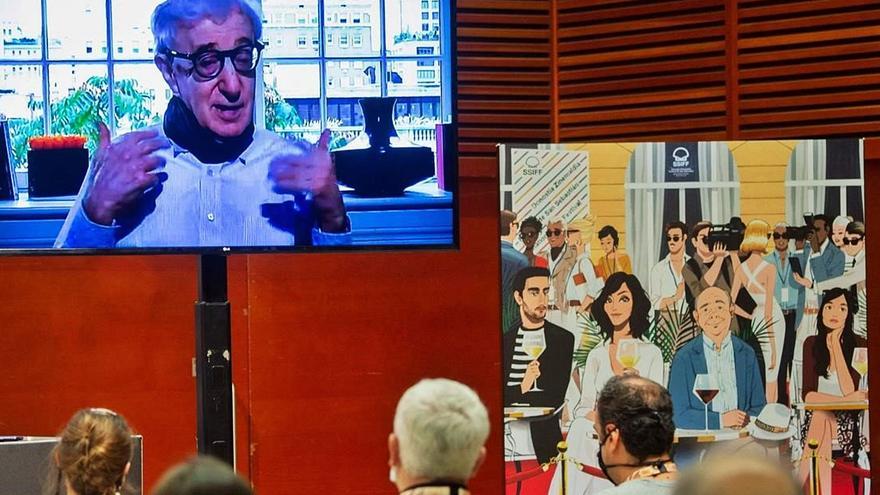 In fact, it is such an ideal opening film that it is tempting to suspect that it was designed expressly to enjoy that privilege despite the explanation that the filmmaker himself offers about it. "The Spanish producers who have financed it wanted me to shoot it in Spain, and I had already made a film between Barcelona and Oviedo," Allen recalled today in reference to Vicky Cristina Barcelona (2007) during his appearance before the press at via videoconference. "Then I remembered San Sebastián, a city to which I had traveled years ago to collect an honorary award and which had amazed me by its beauty. So I decided to tell a story around the festival ". Either way, Rifkin's Festival would be a perfect promotional video for the Basque Department of Tourism. That it has any other use, yes, it is more questionable.
Empty drawer
In a scene from Woody Allen: The Documentary (2011), the New Yorker showed the pile of crumpled papers that he seems to be accumulating in the drawer of his nightstand, containing hundreds of ideas for future projects. The new film confirms that at this point the drawer has been empty for some time. The problem is not that Rifkin's Festival places the same kind of neurotic and pedantic protagonist at the center of the same kind of romantic entanglement as almost all the rest of its cinema – after all, the same can be said of Annie Hall, who is a masterpiece–, but does not seem to know very well what to do with that attempt at a premise other than to use it as a vehicle on board which to repeat the same handful of jokes several times, not especially good ones. Through them, it is true, the director carries out a critique of the film scene – populated by egomaniacal artists, superficial publicists and slimy journalists – that in any case is too obvious and simplistic to be considered a true idea.
It is questionable whether the film has any other use than being a tourist video
The presence of veteran actor Wallace Shawn at the center of the plot doesn't help. It is no accident that almost all of Allen's best films are starred by himself; none of the actors who have tried to be his on-screen alter ego has emerged from the challenge. If anything, Shawn may be the most squeaky of them all, largely because of his decision to overreact like his life depended on it. The most histrionic performance of Rifkin's Festival, however, is not offered by him; Sergi Lòpez is in charge of this, who spends his only scene in the film screaming at such a volume – as he already made clear in Vicky Cristina Barcelona, ​​Allen thinks that we Spaniards always talk to each other loudly – and shaking so uncontrollably that it is easy to imagine him seeing himself on the screen, and asking the earth to swallow him.
Love to the cinema
Ultimately, the most relevant thing that can be said about Rifkin's Festival is that it exists, and that its director has managed to continue making films when it seemed that the sexual abuse allegations that he had been pursuing for years would have finally ended his career. Some will wonder what need Allen will have to keep shooting so long after inspiration left him, but the answer seems clear: the guy loves movies, and in this film that love is demonstrated through a succession of scenes in the titles such as Citizen Kane, Persona, The Seventh Seal, The Exterminating Angel, At the End of the Getaway and 8 1/2 are parodied. The authors of these classics – Welles, Buñuel, Fellini, Godard, Bergman – are Woody Allen's heroes, and throughout his career he has always regretted not having been able to shoot anything that would put him, even for a moment, at its same level. It is ironic that the film with which he tries to resemble these masters more explicitly is precisely one of the ones that further distances him from them.A year after presenting his first images at the San Sebastián Festival, Patria, the long-awaited series of HBO, returns to the Donostia contest already finished. Its creator, Aitor Gabilondo, assures that this story about terrorism and violence in Euskadi does not constitute "the only and definitive story" of that troubled time. Not so long ago that the young people of the so-called kale borroka burned buses and that ETA killed, although some, especially the youngest, may feel Patria as a journey to remote times when everyone knew it was better not to approach the Boulevard San Sebastian on days of demonstration. The power of the image is erected with this series, available on the platform on September 27, in a complement to the novel on which it has been based, that Country by Fernando Aramburu. | Ana Burgueño
'Homeland', the power of an image
One year after presenting its first images at the San Sebastián Festival, Patria, the long-awaited HBO series, returns to the Donostia contest already finished. Its creator, Aitor Gabilondo, assures that this story about terrorism and violence in Euskadi does not constitute "the only and definitive story" of that troubled time. Not so long ago that the young people of the so-called kale borroka burned buses and that ETA killed, although some, especially the youngest, may feel Patria as a journey to remote times when everyone knew it was better not to approach the Boulevard San Sebastian on days of demonstration. The power of the image is erected with this series, available on the platform on September 27, in a complement to the novel on which it has been based, That Country by Fernando Aramburu. | Ana Burgueño