Witsel: «I want to meet the fans on the good side»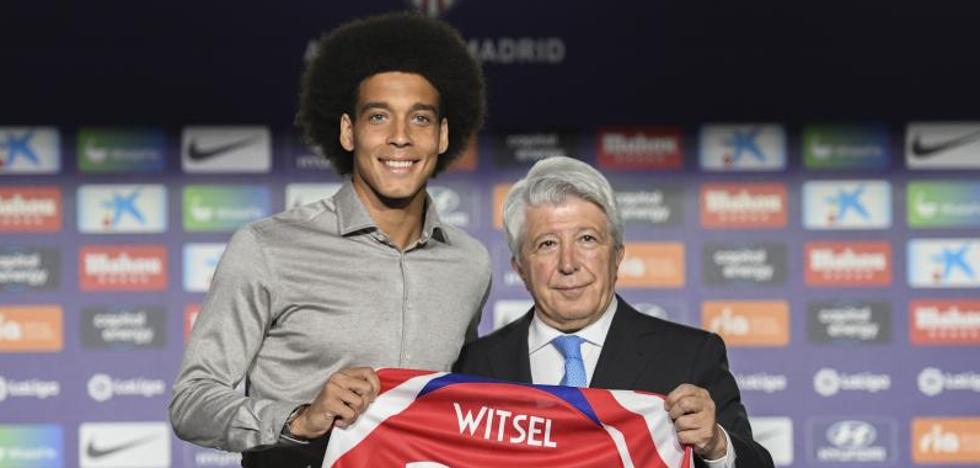 Presentation
The Belgian midfielder is ambitious in his staging at the Metropolitano as an Atlético player and points to Cholo Simeone as one of the reasons for his signing
Axel Witsel already works as an Atlético player. His staging as a mattress footballer, together with the president of the club, Enrique Cerezo, did not leave the rojiblanca fans indifferent, whom he began to win over from the first moment with a nod to those controversial statements by Courtois about his former team in the previous of the Champions League final.
«I remember that they were tough, here they were very hot games. With Borussia we played well in Germany, but here it was very difficult. I really want to get to know the atmosphere and the fans, this time on the good side", said the Belgian midfielder during his presentation at the Metropolitano, a stage that he already knows as a visitor, since he started in the duel between Atlético and Dortmund in the group stage of the Champions 2018-19.
Witsel was full of praise for what will be his new coach, Cholo Simeone, whom he said is one of the reasons for his signing: «He is one of the best coaches in the world, one of the reasons why I am here. In recent days we have focused on the physical and I have not been able to talk much with him, but I am very proud to work with him. No matter the age, with 33 or 23 you can always learn something, and you can always learn with him».
And it is that age and some physical problems in recent times, including a ruptured Achilles tendon in January 2021, seem to be the main handicap of a player who arrives at Atlético after four seasons of maximum demand in the Bundesliga and the Champions League in Borussia Dortmund, still a pillar of the powerful Belgian team led by Roberto Martínez. He previously went through Standard Liège, Benfica, Zenit Saint Petersburg and Tianjin Quanjian of the Chinese league, in which he tried his luck at just 27 years old in a rare move for a European player.
"I was free and I chose Atlético because I wanted to continue at a high level, I know I don't have ten years left, but I want to take advantage of my last years to play at the highest level, Atlético is at that level and that's why I'm here," he added. a reference to the moment in his career when he arrived in the League, convinced that he could still offer a level in line with the demands and be the ideal companion for Kondogbia as an athletic defensive midfielder after the departure of Mexican Héctor Herrera to the American MLS.