Without incidents in the entrances to the massive Love of Lesbian concert in Barcelona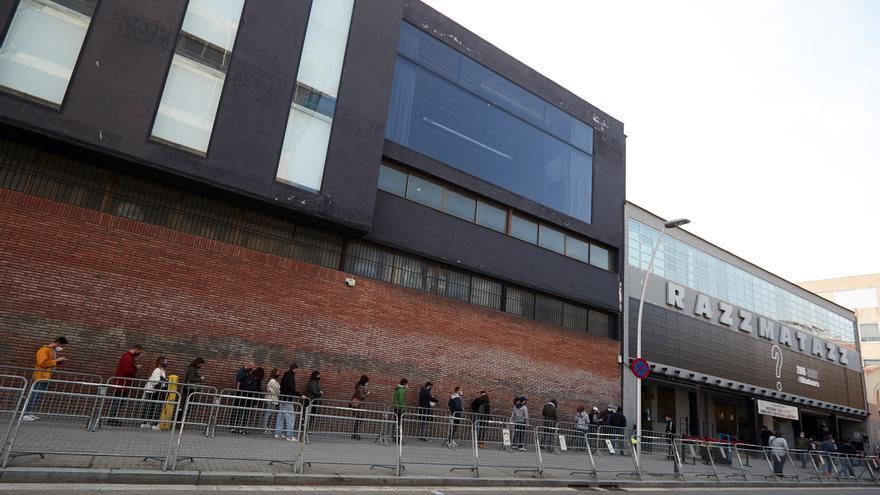 Several hundred spectators are already taking a place in front of the stage, while outside the queues are lengthening at the entrances to the palau Sant Jordi, without any security incidents for now, to see Love of lesbian in it first massive concert in pandemic.
At the entrance, which is being carried out gradually and through four access points, a FPP2 mask of the organization that must be placed instead of the one they bring from the street and also pass through a hydroalcoholic gel.
Most of the 5,000 attendees took place between 8 a.m. and 4 p.m. today an antigen test in the three rooms arranged for this (Luz de Gas, Razzmatazz and Sala Apolo), while the furthest behind can take the test in Sant Jordi itself.
Until 2:00 p.m., in these tests four positives for coronavirus have been detected.
All ticket control and negative evidence is channeled through a mobile application, almost more important this time than the concert ticket itself.
The recital will begin at 7:00 p.m. and the organization has proposed that everyone is out of Sant Jordi at 9:45 p.m., in order to comply with the curfew.
Experts from the Germans Trias i Pujol Hospital in Badalona have supervised all the sanitary measures for the safety of the event, as happened in December with another small-format pilot concert, 500 people, in the Apolo hall.
At the initiative of "Festivals for Safe Culture", of which this Saturday's concert is the litmus test, all the directors of the Primavera Sound, Sonar, Cruïlla, Canet Rock, Vida or from the promoter The Project, and they have had the support of the Generalitat and the Barcelona City Council.
Two of the organizers, Jordi Herreruela and Ventura Barba, have explained to Efe that the Sant Jordi public will be divided into three sectors, although they will all form part of a safe bubble, to the point that "it will be safer to be inside than outside walking through the street or on a terrace ".
Tickets for the Love of Lesbian recital this Saturday they sold out in eight hours, which for the organizers shows the "desire and enthusiasm" of the public to enjoy live music again.
Love of Lesbian, the indie band led by Santi Balmes and with more than 20 years on stage, will take the opportunity to play their latest work "VEHN (Epic Journey to Nothing)", and will foreseeably also recover their classic songs, although this Perhaps the followers will have to chant them with a mask on.