With whom can UD Las Palmas play in the first match?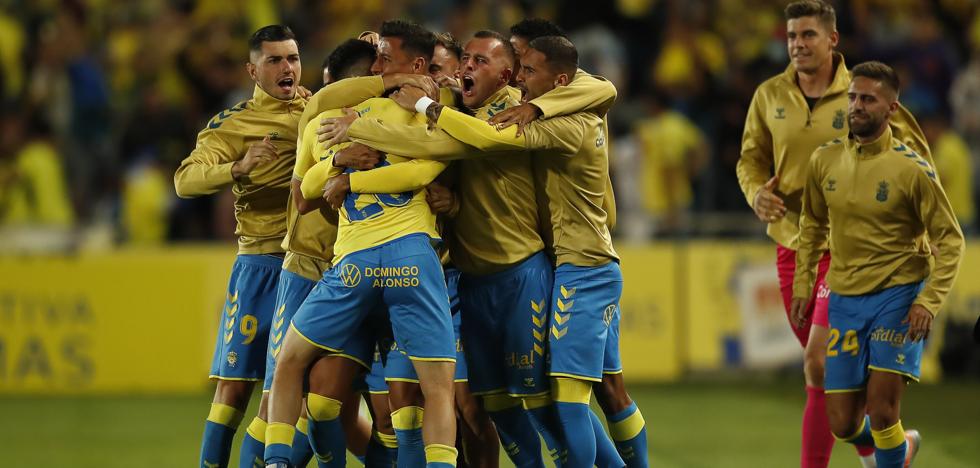 The last day, open to many combinations
The victory of Unión Deportiva Las Palmas by 2-1 this Saturday against Real Oviedo makes the yellows depend on themselves to sneak into the playoff fight for promotion. But against whom? Today there is no clear answer.
If the UD is sixth, it's his turn against the third. But the first three in the standings are in a handkerchief, so that, according to Sunday's results, UD could face each other with
Eibar, Valladolid or Almeria (first, second and third, respectively, at this time).
Given Eibar's 80 points and Almería's 78, anything can happen on the last day, which decides the two teams that are promoted directly.
The fourth is currently
C.D. Tenerife, with 69 points, so he has no chance of finishing third. And it should be remembered that fourth and fifth face each other.
But everything gets even more complicated because with 67 points and sixth now, UD could finish fourth or fifth without puncturing Tenerife and
Girona (this is fifth, with 67 points too).
The six teams face on the last day teams that are no longer at stake.
All matches will be on Sunday 29 at 8:00 p.m.
UD pays a visit to Sporting de Gijón, whose historic rivalry with Real Oviedo (still with options if UD fails at El Molinón) increases the curiosity.
Girona visits Burgos and Oviedo receives Paco Jémez's Ibiza. For its part, CD Tenerife plays at home against Cartagena, led by Rubén Castro, who has scored 20 goals and has just scored a hat trick, in the middle of the fight for top scorer.
Eibar fights for promotion at Alcorcón's home; Valladolid does it at home against Huesca and Almería hastens their options for direct promotion at Leganés' home.