"With this volcano on La Palma, what is today is not worth tomorrow"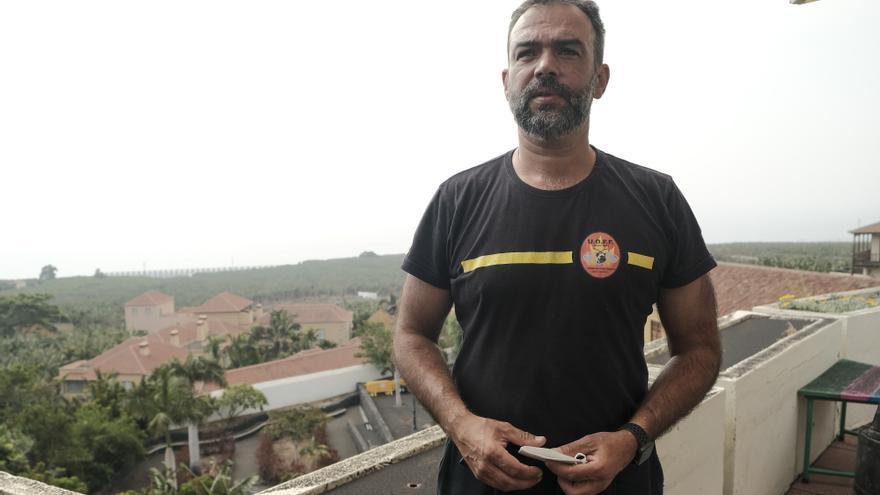 The La Palma eruption is subjecting the entire system of Canary Islands Civil Protection to an "emergency never seen before", with a volcano of "changing" behavior, that every day "moves tab" and that does not allow the strategies that have worked one day to be used for the next.
They are the reflections that he makes for Efe the Director of Emergencies of the Cabildo of Gran Canaria, Federico Grillo, one of the most respected voices in the sector, after leading the operation that fought the great forest fire on the island in 2019, when there were nights that he told the citizens that there was no way to contain the fire, that it was only possible to protect oneself. As is happening now in Cumbre Vieja with an even greater force, that of a volcano.
Grillo is currently on La Palma helping in an operation that mobilizes a thousand troops from different bodies of all administrations. He does not direct it. He only coordinates the Gran Canaria firefighters displaced to the eruption, those who fought with the lava flow that devastated Todoque, knowing that they were going to lose.
"This eruption is revealing many things," he points out. On the one hand, solidarity; on the other, the coordination of so many media; and above all, the entry of a group with whom we are not used to working, scientists. No is that it is extraordinary, it is an emergency never seen before for an operation ".
"Exceed the limits"
Grillo is well aware that only ten years ago the Canary Islands faced another eruption, that of El Hierro, but stresses that that one was underwater, with a much smaller impact. What is happening on La Palma, he says, "exceeds the limits of any operation", is "an enormous destruction", which he had not witnessed even when he took some of his teams to train in the 2014 eruption in Fogo, Cabo Green.
"In addition, on the ground there are many troops who have ties to the property, colleagues who have lost their homes or their relatives. It represents a significant degree of stress for the Civil Protection system and for the intervention itself," he adds.
Fourteen days after the eruption began, Grillo defends that the work of the emergency teams deserves at least an approval, because there is not a victim to regret before a natural phenomenon that exceeds all capacity for reaction and that made the entire island You will literally "go into shock," remember.
"We have been taking measures against the different risks, gases, ashfall, pyroclastic fall, movements of the laundry … But this volcano is characterized because it is changeable, it does not have a continuous behavior that allows you to experience what happened yesterday. It is worth today. What happened yesterday changes and you have to reorganize all your forces, generate new plans of operations, "he explains.
And everything changes so much and so quickly, he emphasizes, that "at the level of Civil Protection, emergencies, we still cannot say that we have entered a calm situation, that we know what we have to do, because when you are more or less calm, a new mouth appears, the laundry comes out more liquid, an explosive phase begins or you enter a period of gas emission ".
"It is a continuum, like a chess board. The volcano moves token, you move token; he eats you three pieces and you have to rethink your strategy again," he says.
Federico Grillo recognizes that every day he fears suffering a victim among the emergency forces or among the population, because the risks are different, although they always try to anticipate.
The head of Emergencies of the Cabildo de Gran Canaria does not doubt that the entire system will learn from the experience of these weeks in La Palma, but he is also realistic: "It is true that the Canary Islands must think that it will have an eruption at some point, but How are teams trained for situations that occur once every 50 years or more? "
"No operation can be 50 years in preparation. The emergency can come when all the people you have trained have already retired. Like it or not, this is an emergency that does not depend on the ability to organize in the face of a volcano, but in general, response of Civil Protection and emergencies, "he defends.