Winner MasterChef: Who is Tamara Falcó? | TV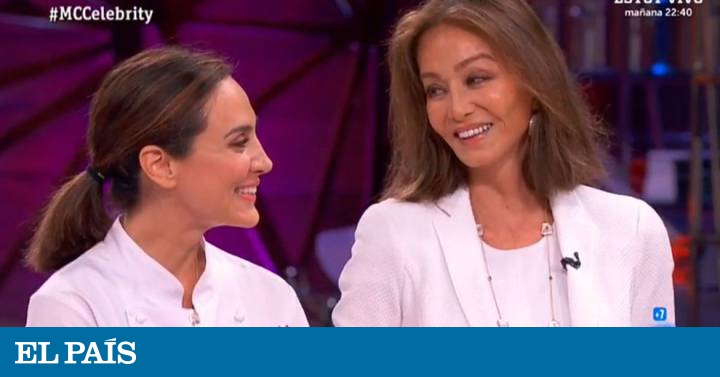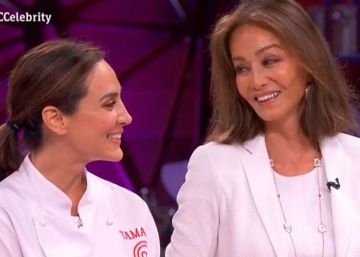 "It's another Tamara! It's another Tamara! " Isabel Preysler exclaimed that without leaving her astonishment while her daughter cut off pigeon heads and legs from an ax that startled each pit. Tamara Falcó focused on it imbued in its Zen side but also centered within the menu that has made it the winner of this latest edition of MasterChef Celebrity. His mother witnessed it. on-site, along with Mario Vargas Llosa. Both saw how Falcó was crowned in the final test against Félix Gómez, the other contender.
Just as Isabel Preysler verbalized, all of Spain thought it. We have attended for a few months through the talent show gastronomic to the transformation of Tamara Falcó. And just today, on the morning of the hangover of the grand finale, we really wonder who it is: The spontaneous and unprejudiced fashion designer who until now did not know how to cut an onion before Bertín Osborne? That woman who at 38 has not left the house of Mommy? A successor of Pitita Ridruejo delivered to Marian fervor with the prayer of the rosary as a method of infallible concentration? The good girl who has attended that kind of expensive schools in which they do not teach you to finish the sentences (I mean, it's like … you know?) And the family girl who to all her mother's ex, well be singers or the economy's forefathers calls them Uncle Julio or Uncle Miguel? Or instead that portent of rigor and the measures that now nail avant-garde recipes provided with fumes, emulsions, multi-spherical and presents the dishes with a touch of decoration whose best ingredient is fantasy? Who the hell is Tamara Falcó today?
That surplus machiluro named Jordi Cruz, the bad cop of the program, fell from the donkey and recognized him before the cameras. "I thought at the beginning: now comes the little girl who doesn't stick to the water. I was wrong. Do you know what that is called? Prejudice…". The cook released him when he had already presented the Miraflores Salad, a tribute to his mother, the pigeon with a multi-spherical corn and chocolate air, dedicated to his father and the peach pie, inherited from his Filipino maternal grandmother.
"You are the most transparent and noble person I've ever met," Cruz finished. For such a hard maromo, that sign of weakness was the best snap for all that unresolved sexual tension he has planned throughout the entire program between Tamara (Tami) and him. An agreed script? Perhaps, but without dissimulation and with advice from Boris Izaguirre, that for avant-garde cuisine is not valid, it is clear, but to keep the show high and at the level of a sophisticated comedy, there is plenty of talent.
It was the Venezuelan who advised the cook how to dress the day he went to dinner at Isabel Preysler's house: "American, without a tie and some good shoes," he said shortly after qualifying the chemistry that they both fired in the preparation of the second test as something worthy of a song by Julio Iglesias.
Boris handled the axis of Show during the first two hours. If it is not for him, no one reaches the final from the living room of his house. They were, in contrast to their Palestinian arts and their perpetual messing, a potato roll within this mixture of genres that combines gastronomy with the confectionery of fame without anyone getting their eyes out like a reality.
He had hardly any grace in the first section, delivered as they walked to greater glory of Cruz to prepare an absurd recipe that consisted of destroying a piece of good tuna based on bathing it in gold. Vacuum gastronomic engineering available to anyone. A dizziness that only served to meet the first finalist of the night: Felix Gomez, a noble and well-planted lad who left a constant flirtation with Izaguirre for the archive. Peaks in the mouth in bulk with the cathodic divo and an atmosphere of polyamory that surely confuses the voters of Vox with a strong message: Spain is especially good vibes, do not get confused.
The second tie served for Tamara to pass the last test. But also to reveal a crucial fact about the recent history of this country for those who did not know. Isabel Preysler and Julio Iglesias were married on their penalty day and the bride did not stop crying. In Illescas … The town of Pepe Rodríguez Rey, the good cop of the program. That anecdote was crowned after Preysler with a joke that assured Mario usually spends when he told her that she had married there. "With which of all your husbands?" The Nobel asked.
It was she who next to her daughter focused all the attention of the final part, which incorporated the grand Joan Roca to the jury. His amazement, his panache, his filial maternal complicity, his magnet, that knowledge of being out of place. "Who are the Chunguitos?" He asked when they rebelled volunteering as godparents for Tamara's first son. Preysler is more of the cover of ¡Hello! that of sets, more of posed for exclusive of paper cut that of television action, more of discretion in view of the dentist's office, than of rating of audience.
On that he bases his mystery and a continuous pedestal on fame for five decades without us knowing very well what he does. "My mother, if there is something she likes, is winning," confessed Tamara Falcó at the end of the program. She looks like that too. The 75,000 euros prize were the least. You have donated them to Messengers of Peace, of Father Angel, as stipulated in the rules of Show. But at this point, she knows that she has produced a lot more juice: shedding her disturbing frivolity and showing Spain that something she knows how to do and who she is when she really intends.
. (tagsToTranslate) be (t) tamara falcó (t) contestant (t) win (t) masterchef celebrity (t) mother (t) isabel preysler (t) vargas llosa (t) animate (t) set



Source link