Wimbledon 2019: The refuge of Roberto Bautista | sports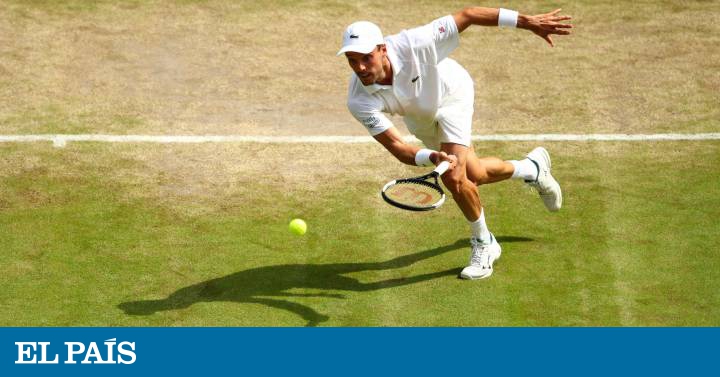 Each racket of Roberto Bautista sounds like the hole in a clock: ticking, ticking, ticking … It's midday in London and the hammering of the Spanish marks the rhythm as time progresses towards the most important day of his sports career . At least until this Friday, appointment with Novak Djokovic (13.00, #Vamos and Movistar Deportes) in his first semifinal of a grand slam. "It may be that the emotional issue influences. For me all these are new situations and moments that I had never experienced. I must go out to the track to enjoy and he is the one who defends the title. I'm going out to win the game, "he said two days ago, having broken his roof in a major.
The Castellón, a regular and model tennis player, is in front of a new stage, and he has sneaked into a poster in which the four semifinalists are over thirty. He already has 31, but sportingly it seems that the best is yet to come, because Bautista wants to be something more than a meritorious one. It is silent and does not like the spotlights, but wants to make noise. For this, he works by piecework and for this he has prepared, after a complex process of maturation in which his trainer, the Valencian Pepe Vendrell, has played a fundamental role.
"Roberto is a very simple person, very stable and very focused on daily routines because that is how he feels comfortable," the trainer describes him after the session, spicing up the discourse of spiritual brushstrokes. "He had to believe more in his possibilities, because it is very easy to doubt oneself. We have worked on the idea of ​​acceptance, because perfection does not exist. From the positive thinking and not to fail yourself has been realizing that everything is possible. He has the level, and what makes the difference is the mind. All these guys are special with the racket, but even more at the mental level ", contributes Vendrell.
The trainer speaks of a smiling present, preceded by a recent past very adverse personally due to several family mishaps such as the sudden death of his mother, last year. "Tennis has been a refuge for him, because this is a world in which you have to be very focused. It has allowed him to escape from those extreme situations that he has had to live (his mother died suddenly last year). We tried to use all that to grow in tennis and turn that story around, "he says before going directly to the analysis of the duel with Djokovic, whom Bautista has already managed to defeat the two times they have crossed this season.
Play without ties
It is number one a major test, maximum, but says Bautista that will play without ties. "He is the favorite, even to win the tournament. I'm happy with the tournament I've done so far, "he explained and with a good game argument to give the bell. "He has blows that are grateful in the grass. The ball goes down and strong, and feels comfortable, "says Vendrell and corroborates himself:" My shots are very flat. As a result of coming here for many years I have learned to move well in the grass. Djokovic likes rallies, and I like to play against opponents who like that kind of game. "
The circuit admires the solidity of the Spanish, his know-how and his commitment to the racket. And Djokovic distrusts greatly, he always finds problems in these face to face. "We have to try to lead him to a feeling of discomfort. We must prevent him from leading the games, as he has done in the last two rounds. When it takes cruise speed it's very difficult to stop it, "concludes Vendrell.
"Roberto is incredibly consistent"

In the middle of his explanation, Vendrell values ​​the two victories against Djokovic this year, in Doha and Miami. However, he points out: "They serve, yes, but they do not add up. They serve to have confidence that you can compete. "
Meanwhile, the Serbian (32 years old) has always confessed a fervent follower of Baptist. "He has the ability to continue at the point despite appearing to have taken a step back," said the Balkan, four times Wimbledon grass champion.
"Roberto has very flat punches, both with the right and with the reverse, and is incredibly consistent. They are semifinals of Grand Slam, so I will try to use my experience ", indicates the current governor of the circuit. Nole fell the last two times they have faced, but in overall balance of the crosses sends to the Spanish 7-3.
You can follow EL PAÍS Sports in Facebook, Twitter or subscribe here to the Newsletter.