Wimbledon 2019: Rafa Nadal is already wearing green | sports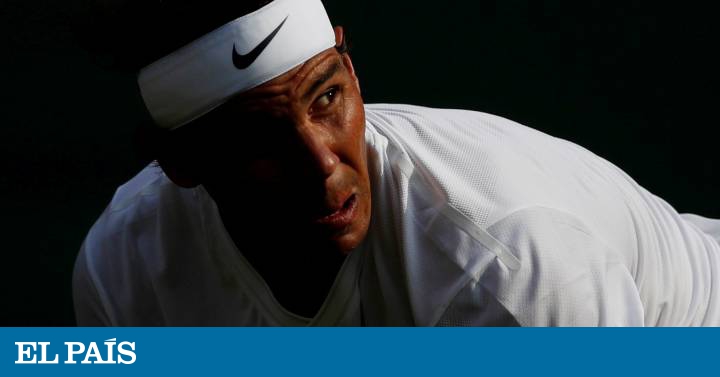 – Rafa, how was the training?
– Well well. And if not (says after the training Rafael Maymò, the physio of Nadal), ask Tomeu …
And a couple of meters behind Salvá walks, one of the best friends of the champion of 18 great and integrated into the team from this season, dripping sweat and taking a breath after an hour and a half of session in which Nadal squeezed like an orange juice. Balearic does not skimp on a single bit of effort in the daily routine, not even though it has this Friday – after the Bautista-Djokovic, this match at 2:00 pm, # Vamos and Movistar Deportes – a challenge as immense as it is devilishly attractive : Roger Federer, grass, The Cathedral.
They are reunited the two eleven years later in the frame of that unforgettable final that the Spaniard won in 2008, then being a young hairy and contestatario that enshrined his first Wimbledon title with a compendium of electric shocks that ended up consuming the king of the grass , today very close to 38 years. Nadal will attend the semifinal this Friday, after a passionate trip of both, forced one and another to renew to continue leading the reins of a sport that refuses to part with them, because there are very few sports events comparable to the rivalry Nadal-Federer.
The two have evolved, especially that of Manacor in a land that despite having conquered it twice (2008 and 2010) it was strange, being as the boss of the masters on clay and a renowned competitor in synthetic surfaces. Nadal won then, but that boy has little to do with the tennis player now, who not only masters the mechanics that the grass demands but also enjoys it. At this point, he is already an illustrious member of the club of the swordsmen, dressed elegantly in green, being able to draw chest and say that he is the eighth player with the most triumphs (53) in the history of major British. Above, even, from Björn Borg himself (51).
In the two previous editions, Nadal already exhibited a magnificent version that collided with an unfortunate outcome against the specialist Gilles Müller and the expertise of Novak Djokovic in another resolution to head or tail. And this edition, again without having had more preparation than the one carried out in Mallorca, has impressed again. "If this is the best Rafa on grass? Yes, "says technician Francis Roig. "It does not mean that Rafa today will beat the 2008, but to be here I needed to make a change and not rely on the wear of the rival. Today is a much better player. He knows how to do many more things and has more control in different areas of the track, "adds the Catalan coach, which affects a conversion reflected in the determination of the points to three or four shots and the mastery of a tool kit that makes years was too heavy for Nadal.
"Rafa gets better, better subtraction, has a much more varied backhand, better slice… Possibly he does not have the displacement of then, but he is very well of legs ", prolongs Roig. "This is about playing tennis very well, the rest … Just as on land you can speculate more and apply more tactics, here you have to play the ball well and be aggressive. You have to look for solutions through good play, not speculation or think about how I can win, "adds Nadal, who during these two weeks has taken like the angels, in a sense reinforced by the figures.
The serve, the volley, the 'slice' …

The five previous matches indicate that the Mallorcan has been at the height of Federer. Sum more aces that the Swiss (47-42), a higher percentage with first (83/82%) and one very similar with the second (64/67%); and has obtained, in addition, a record practically calcado in what has won games with the service refers (95/96%).
Nadal has grown on green as foam, and this is what his adversary of today knows and recognizes. "He's playing in a very different way than he used to. He's pulling out in a different way and finishes the points very quickly, "Federer admitted a couple of days ago. "Now I run less, so I have to serve better," notes the Spaniard; "I hit better backhand, and maybe I'll volley and cut better. Despite all this, I do not know if my current level could exceed that of 2008. In terms of readjustment, both Roger and I have been finding things to remain among the best in the world. "
In this way, the great modern classic of tennis now proposes its episode 40, with a global statistic (24-15) favorable to Nadal. It will be the fourth time that both have been measured at the Wimbledon plant, with a much more open forecast than might have been expected. "I see it difficult, in the same way that Federer will find it difficult," says Roig; "It is the game par excellence, on a surface that a priori may favor him a little more, but Rafa has shown that he has got used very well. He is enjoying and playing well. It's going to be matched, I think it's going to be decided in small differences. "
You can follow EL PAÍS Sports in Facebook, Twitter or subscribe here to the Newsletter.