Wimbledon 2019: Nadal hunts Borg at Wimbledon | sports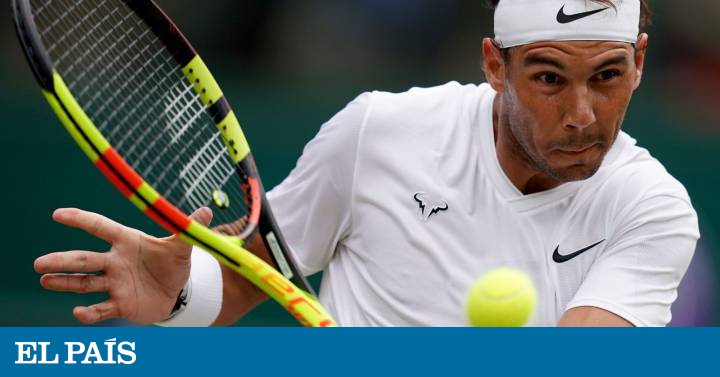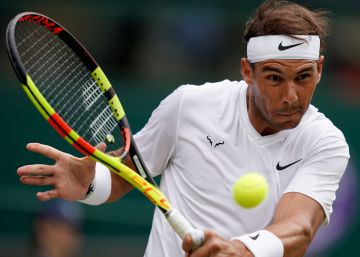 A seemingly routine triumph – the good old days of Frenchman Jo-Wilfred Tsonga were already behind, far, far behind … – suddenly discovers a double treasure. Expires Rafael Nadal (6-2, 6-3 and 6-2, in 1h 48m) and plans on the eighth with a magic number in the pocket, because not every day equals the record of triumphs of the legendary Björn Borg in Wimbledon. There are already 51 celebrations on the lawn of the major British, and the latter also provides a historical fact: with the Mallorcan there are already four Spaniards – he, Carla Suárez, Fernando Verdasco and Roberto Bautista – who access the fourth round in this edition, something that had never happened.
Nadal solved the crossing with Tsonga via the trade and the good game, again, and as the ramps of the tournament begin to tilt he is acquiring better color and more edge, especially because the victory in front of Nick Kyrgios supposed a psychic high which now makes him an absolutely intimidating opponent. It was before, but now it is more. And on the way, he makes a nod to the story this Saturday and paired him with the Swede Borg, another predator who just by putting the first foot on the track had almost been awarded the initial game. So different and equal the two; ice on the outside one, fire on the other. Be that as it may, two monsters.
He already shares Nadal step with Iceborg, five-time champion in London (from 1976 to 1980, continuously) and who must always accompany the precision that hung the racket with only 26 years. That is to say, if he had continued he would have celebrated much more, and the number for which the Spanish has invested 14 participations, the Nordic obtained it in only nine. In any case, Nadal continues to win and win games as a cash register, and this season already adds 35. In this way, he is already the player with the best index ahead of Roger Federer, although the Swiss can balance again if he overcomes the pulse that closes today the program of the Cathedral, before Lucas Pouille.
Tsonga was a candy, a very soft opponent and propitious to continue fine tuning weapons. The 34-year-old, very good-looking Gaul became number five in 2012, but his injuries have tormented him in recent times – in April 2018 he underwent surgery on the left meniscus and was out of the circuit for seven months – and barely he has a pair of victories in 2019. He undid from the other side, and demolished the devastating Nadal, with an overwhelming percentage of services: he only gave five points with the first (88%) and five with the second (74%). He left, smiling as he is after overcoming the cumbersome crossing with Kyrgios, with only 12 errors and 34 winning shots.
That is, it is like a bull Nadal, who was a tris to equal his most bulky marker in Wimbledon, achieved in 2017 against John Millman, who delivered only six games. "Today I have done many things well, today was my day," he said in the mouth of the dressing room, present for the ninth time in the eighths of the great Englishman. There the Portuguese Joao Sousa or the British Daniel Evans, with a stormy history of cocaine and depressions on their backs await. "Fantastic playing today, well done", The interviewer congratulated him. Nadal gave a firm handshake and retired to savor in intimacy the last exhibition. Already, by the hand of Borg.
MALE PICTURE: Rafael Nadal, 6-2, 6-3 and 6-2 to Jo-Wilfred Tsonga; Kei Nishikori, 6-4, 6-3 and 6-2 to Steve Johnson; Sam Querrey, 7-6, 7-6 and 6-3 to John Millman; Tennys Sandgren, 6-3, 7-6 and 6-3 to Fabio Fognini.
FEMALE PICTURE: Carla Suárez, double 6-3 to Lauren Davis; Serena Williams, 6-4 and 6-4 to Julia Goerges; Petra Kvitova, 6-3 and 6-2 to Magda Linette; Ashleigh Barty, double 6-1 to Harriet Dart; Johanna Konta, 3-6, 6-4 and 6-1 to Sloane Stephens; Elise Mertens, 6-2, 6-7 and 6-4 to Qiang Wang; Alison Riske, 4-6, 6-4 and 6-4 to Belinda Bencic; Barbora Strycova, .7-5 and 6-1 to Kiki Bertens.
You can follow EL PAÍS Sports in Facebook, Twitter or subscribe here to the Newsletter.