Wimbledon 2019: "I wish Kyrgios pulled a lot down!" | sports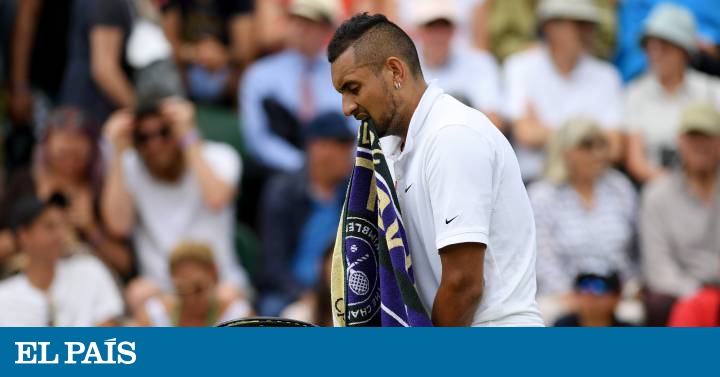 At twelve o'clock, while Rafael Nadal He was still getting ready before going out to the training track, he appeared Nick Kyrgios He wore a Chicago Bulls sweatshirt, with his desidios and huge hooves that abstracted him from the hustle and bustle of Aorangi Park during this first week of Wimbledon. At that moment, just take a seat with apparent carelessness, a row of cameras focused on the Australian because this Thursday he and the Spaniard will measure themselves (towards 18.00, #Vamos) in a second volcanic round, proposing two deeply antagonistic styles: Nadal always it will be Nadal, and Kyrgios will always be Kyrgios.
That is, day and night.
Everyone agrees on the extraordinary potential (wasted) of the Australian tennis player, and there are also many who agree that continuing on the same line will end up becoming sooner and later a cause definitely lost. They are known bad ways and infinity of grotesque episodes that have earned him numerous sanctions: insults, teasing, ugly gestures … And a string of dialectical stings against rivals, with special emphasis lately on Novak Djokokic – "will never be the GOAT (Great Of All Times), I can not stand his way of being "- and Nadal himself. "I do not know if I would have a beer with him," he said after winning in the first round.
Always guarantees Kyrgios (24 years) the controversy. Without going any further, before disembarking in The Championships He was sanctioned for his behavior in the Queen's tournament, where he accused the judges of manipulating the game he played against Felix Auger-Aliassime and then threw a racket into the air that fell near the fans, to whom he also dedicated a few bad words . Also, without the cameras registering this, he blew his nose on a towel that he then handed over to a member of the track staff.
"It's true, the track is transformed," he explains to this newspaper Carla Suárez, moments after sharing preparatory session with the Australian, with whom he has made good friends. To the point that Kyrgios, asked about who is the player or player that he likes, recently pointed to the Canary Islands. "I like him and I like him too. We have seen each other many times in the tournaments and we have talked about playing mixed doubles ", says the Spaniard, quoted with Pauline Parmentier (14.00, Movistar + D) and who introduces a striking nuance:" On the track she loses control, but outside of it, Nick is a very kind and calm boy, and even shy. "
Carla Suárez: "He's kind and calm, even shy"
In any case, Kyrgios is almost at the forefront of change a major challenge for Nadal. "If we had met him in the quarter he would have more confidence … The important thing is that tomorrow (on Thursday) Rafa can play his game and be calm, he will be safe", responds to this newspaper the coach of the Mallorcan, Francis Roig; "I can assure you that he will go out on the track as if he were playing against Sugita. What he looks at is the other player's potential, what he can do. Do not look at the past, or if there is a good relationship or there is not. He does not have any problem. He's just going to play and he's not going to be more motivated by the fact that Kyrgios is the rival. "
The coach insists that Nadal will be at his own, and that in no way will enter the game proposed by the Australian. "If Kyrgios wants to take it down, take it out … I think it's much better taking it up than down, but if you want to do it the other way, do it … I imagine that changing it from one day to the next is complicated, because they are automatisms that come to you, but he is free to do what he likes, "he says; "Rafa must go to play his match, and I'm sure he will, I have no doubt. It will not affect you at all. "
The amplifying effect of social networks
Kyrgios usually poses a compendium of eccentricities that are not easy to abstract, from the attitude and gestures, to the maneuvers during the game. "As long as I do legal things, there's no problem. Everyone who takes advantage of their weapons. I hope he hits him many times underneath and on one side, and he's not hitting right-handers and strong serves! I have not seen any champion do these things, but everyone can do what they want, "adds Roig before a training that runs overlapped to the adversary, on the attached track. Not a single cross between Nadal and Kyrgios.
Before closing the conversation, and asked if the Australian (43 of the world now) has exceeded unsuspected limits, as far as concerns, the Barcelona Roig concludes: "Today, with social networks everything multiplies. I think McEnroe was shows, but did not mess with the rival. Today, social networks give you that option. I think you can talk about the rival, but always with respect. He who speaks badly of others is the first to be harmed, because in the end people realize everything. "
RESULTS WEDNESDAY, JULY 3
MALE PICTURE: Fernando Verdasco, 4-6, 4-6, 7-6, 6-3 and 6-4 to Kyle Edmund; Roberto Bautista, 6-3, 6-2 and 4-2 (ret) to Steve Darcis; Karen Khachanov, 6-4, 4-6, 7-5 and 6-4 to Feliciano López; Reilly Opelka, 7-5, 3-6, 4-6, 6-4 and 8-6 to Stan Wawrinka; Thomas Fabbiano, 6-3, 6-7, 6-3, 6-7 and 6-4 to Ivo Karlovic; David Goffin, 6-2, 6-4 and 6-3 to Jeremy Chardy; Milos Raonic, 7-6, 7-5 and 7-6 to Robin Haase; Daniil Medvedev, 6-7, 6-1, 6-4 and 6-4 to Alexei Popyrin.
FEMALE PICTURE: Simona Halep, 6-3, 4-6 and 6-2 to Mihaela Buzarnescu; Maria Sakkari, 6-4 and 6-1 to Marie Bouzkova; Elina Svitolina, 5-7 and 6-5 (ret) to Margarita Gasparyan; Victoria Azarenka, 6-2 and 6-0 to Ajla Tomljanovic; Karolina Pliskova, 6-0 and 6-4 to Monica Puig; Dayana Yamstremska, 7-5, 4-6 and 6-3 to Sofia Kenin; Anett Kontaveit, 7-5 and 6-1 to Heather Watson; Shuai Zhang, 6-3 and 6-2 to Yanina Wickmayer.
You can follow EL PAÍS Sports in Facebook, Twitter or subscribe here to the Newsletter.