Wimbledon 2019: Beating of Nadal, jump of Baptist and goodbye of Carla | sports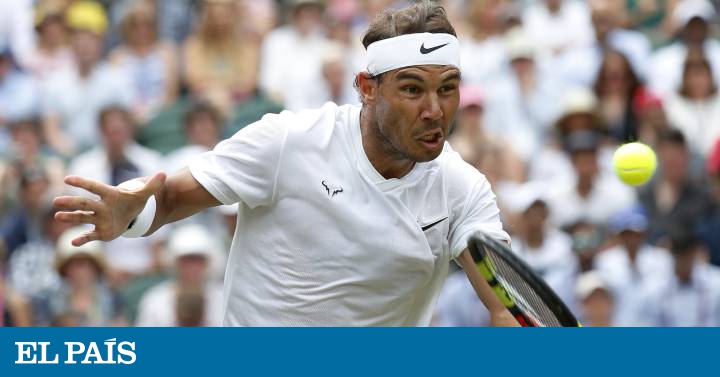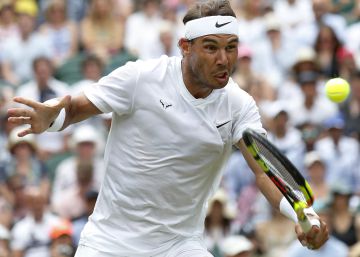 "But have you seen that?"
It is pure vertigo. Francis Roig is open-mouthed at the box why Rafael Nadal has just met a ball at pleasure, half-height and tame, slightly heeled but perfect to apply a violent impact and draw a crossed back that starts a oooooohhhhhhhh endless of the steps of the Cathedral. Precede the scene to another victory, but not just any: the triple 6-2 to the Portuguese (in 1h 45m) automatically equalizes the most bulky score of the Spanish in the major British, the one who inflicted John Millman a couple of years ago; then, same figures and same time.
Nadal continues offering arguments and a magnificent tennis to postulate as one of the firm candidates for the title in Wimbledon. Balearic continues to progress, adopting day after day and round after round better color, showing the fang and dispatching the rivals as if they were flies. He continues to do many things well and, until now, practically no evil, so that he no longer only opposes but points to the golden cup with a firm gaze and offering samples scale to scale: Nadal, at this stage of the tournament, is immense.
Raffled the tricky pitfall of Nick Kyrgios in the second season, the Spaniard has taken off the other three adversaries with a triple test of reliability, without a single start. He's already in the quarters and barely took a scratch from the Australian and little else. Joao Sousa, the last to pass through the dentist's chair, did not tickle him. Portuguese is an applied and methodical boy, good friend of Nadal, deferential and educated (he speaks six languages), but bonhomie also translates into his tennis. In excess.
Sousa does everything well, but it is difficult to get anywhere. In the same way that has physical, legs (is very fast) and technically admits few reproaches, it falls short in everything. It does not have a definitive shot. It takes a lot more argumentation to bring down a Nadal than in this Manic Monday -The 'Monday of crazy' that concentrates all the crosses of eighth, male and female-signed his triumph 70 in London and enjoyed the central court, which is beginning to sharpen the baldness of the funds.
The first service and intimidation in the network
This adds the odd slip of more, case of Sousa this time. He put everything on the table the Portuguese, but his famished right did not disturb the Mallorcan, who took the opportunity to sharpen the knife thinking about more committed encounters; the next one, by the way, against gunner Sam Querrey or the supremacist Tennys Sandgren. Sousa was desperate (toads and snakes for that mouth …) and Nadal tormented him, which as I did against Jo-Wilfred Tsonga again left a very remarkable statistic sheet.
Again, he gave up only five points with the first services and intimidated the network, with 16 hits in 19 approaches; He left, in addition, 30 winning shots and reduced the quota of own errors to only 10, without offering a single option of break to the rival.
Suarez and the 'Williams Wall'
With those numbers, Nadal is already in the quarterfinals, to which he was accompanied by Roberto Bautista. The Castellón got rid of the Frenchman Benoit Paire (6-3, 7-5 and 6-2) and reached for the first time such a high level in Wimbledon. In it will face the winner of the duel between Milos Raonic and Guido Pello. The two advanced, but could not do Carla Suárez, who again ran into the gigantic opposition of Serena Williams. The American, 37, beat her by a double 6-2, without opening the slightest crack to hope.
"It accelerates me a lot, it makes me play very fast and I can not be calm. I make more mistakes than I normally do. It is something of mine, but I must have more tranquility. It makes me throw many more balls to the net taking, and it can not be that I play a good point and five bad … The only one that causes me this is Serena. I think the score has been more bulky than what has been seen, "said Suarez. "You can do more damage, but for that you have to have peace of mind. She has the same hunger and goes for the tournament. Every time I play against Serena the same thing happens to me and they are already many times ", lamented the Canarian.
MALE PICTURE: Rafael Nadal, triple 6-2 to Joao Sousa; Roberto Bautista, 6-3, 7-5 and 6-2 to Benoit Paire.
FEMALE PICTURE: Venus Williams, double 6-2 to Carla Suárez; Alison Riske, 3-6, 6-2 and 6-3 to Ashleigh Barty; Elina Svitolina, 6-4 and 6-2 to Petra Martic; Barbora Strycova, 4-6, 7-5 and 6-2 to Elise Mertens; Shuai Zhang, 6-4, 1-6 and 6-2 to Dayana Yamstremska.
You can follow EL PAÍS Sports in Facebook, Twitter or subscribe here to the Newsletter.