Wimbledon 2019: Baptist earns respect | sports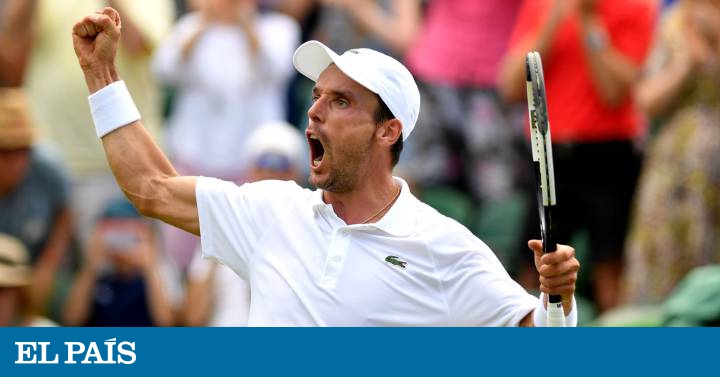 It is not Roberto Bautista a man excessively detached in the dialogue. Usually you have to extract the words with toothpicks and this Monday, despite getting rid of the unpredictable Benoit Paire (6-3, 7-5 and 6-2, in 1h 52m) and broke for the first time the barrier of the eighths in Wimbledon to access the quarters of a big one second time, there was no exception either. "Maybe if I acted differently I would have another image, more fame, but I do not want that," reasons Castellón, a survivor of a Manic Monday (crazy Monday) in which Rafael Nadal returned to show muscle (triple 6-2 to Joao Sousa) and in which fell Carla Suárez (double 6-2 against Serena Williams) and Fernando Verdasco (7-6, 2-6 , 6-3 and 6-4 against David Goffin).
Nadal was exhibited again, ascending and imperial, but in the other zone of the picture the rivals attend with distrust to the silent progression of Bautista, the adversary that nobody wants to see even in painting. "You have to beat Roberto all the points," says Toni Nadal, in an idea underlined by Novak Djokovic (6-3, 6-2 and 6-3 to Ugo Humbert) last March, when the Spaniard beat him in Miami, for the second time this season after a first pitch in Doha. "He is one of the strongest players on the circuit," said the Serbian, supported by Swiss Roger Federer, also ahead by beating Matteo Berretini (6-1, 6-2, 6-2, in 74 minutes): "I have Much respect for him, he's a hard guy. "
A member of the second-tier squad that succeeds the elite, Bautista has been competing for years to make the big leap to finally filter into the top 10. However, he has never achieved it. Three years ago he reached the thirteenth step of ranking, but since then it has not been able to confirm that last stretch. It counts nine titles of the ATP and this course started with force, when obtaining the trophy of Doha and to disembark in the quarters the Open of Australia. There he yielded against Stefanos Tsitsipas, but now he has a golden opportunity to break his roof in a Grand Slam. The Argentine Guido Pella will face in a duel that is expected to be a lot of rally, and more because the grass has slowed down due to the sun.
"He is a very hard player," describes the South American, executioner of Milos Raonic (3-6, 4-6, 6-3, 7-6 and 8-6). "Roberto is one of the most difficult players that I have faced in my career because he is very solid. He does not get tired, he likes that running game … and he has very good shots. I respect him very much, because he has been at this level for many years. That he is here means that he is playing very well, "continued Pella, another secondary actor (he is 26 in the world, and his top is set by 21 obtained last May) that says he feels important for the first time.
Animalist and exemplar in the preparation

"Last year I felt terrible watching the tournament from the TV, from the couch. I really wanted to come here and enjoy this tournament, because I like it a lot, "he said to the special envoys, pointing out that he feels ready and that he considers himself already a tennis player sufficiently set (he is 31 years old) to give a noteworthy blow in the London sanctuary. "Last year I was also very well on the grass, but unfortunately I was injured and could not come. The first week has been very complete and I have played at a great level ", appreciated an athlete who draws a very painful recent past, because last year he lost his mother Esther suddenly and found in his profession the perfect refuge to try turn page
Lover of the animals – he has two mares and a horse with which he crosses regularly -, Bautista is an exemplary professional who takes care of the details to the extreme. It does not consume dairy products or soft drinks, much less sweets, and it is reflected in a fibrous body in which a single trace of fat does not appear. "It's many hours of dedication, physical preparation and sweat," he said. "I try to have the same habits and the same routines, and I think that now I am a more complete player and with more variants", extended the one of Castellón, that unlike the historical Spanish prototype develops with expertise in fast surfaces.
"This year, my goal has been to make our pillars strong, what I do best. Do not try to take 220, because in life I'll get that way, but I'll improve in what I do well, and that costs a lot of work, "he remarked after recalling that in the Wimbledon anteroom he played a notable role in Halle and had there to Federer against the ropes, and who came to the present tournament with the previous duties well done. This is confirmed by the results, having left behind Peter Gojowczyk, Steve Darcis, Karen Khachanov and Paire without delivering any set.
Discrepancies on the grass

One was left Nadal before Nick Kyrgios, but not one more concession. The double champion of the tournament continues to offer arguments and a magnificent tennis to run as one of the firm candidates for the title. Balearic continues to progress, adopting day after day and round after round better color, showing the fang and dispatching the rivals as if they were flies. Keep doing many things well and, until now, practically no evil. "Later, if things are going to go well or less well … I do not know. Every day I have taken steps forward and, honestly, I think I have played some very good games, "said Manacor, quoted on Wednesday with gunner Sam Querrey.
Nadal does not hide his admiration for the respected Bautista, a tennis player who continues to earn the appreciation of the costumes year and year also, regardless of success. Now, both differ in the state of the tracks this year in London. "The balls are always heavier here at Wimbledon. That is, in my opinion, the key that makes the parties sometimes a little slower, not the surface. But sometimes it's normal, because we play on grass and the balls catch moisture, "he proposed on Saturday.
"You ask me about this almost every day … Honestly, I do not think they are slower than in 2003", when I came here for the first time, "he settled, counting later that during the Sunday break Middle Sunday I had enjoyed watching TV, watching the final of the Women's World Cup and the triumph of golfer Jon Rahm in Ireland.
MALE PICTURE: Rafael Nadal, triple 6-2 to Joao Sousa; Roberto Bautista, 6-3, 7-5 and 6-2 to Benoit Paire; David Goffin, 7-6, 2-6, 6-3 and 6-4 to Fernando Verdasco; Roger Federer, 6-1, 6-2 and 6-2 to Matteo Berretini; Novak Djokovic, 6-3, 6-2 and 6-3 to Ugo Humbert; Sam Querrey, 6-4, 6-7, 7-6 and 7-6 to Tennys Sandgren; Kei Nishikori, 6-3, 3-6, 6-3 and 6-4 to Mikhail Kukushkin; Guido Pella, 3-6, 4-6, 6-3, 7-6 and 8-6 to Milos Raonic.
FEMALE PICTURE: Venus Williams, double 6-2 to Carla Suárez; Simona Halep, double 6-3 to Cori Gauff; Alison Riske, 3-6, 6-2 and 6-3 to Ashleigh Barty; Johanna Konta, 4-6, 6-2 and 6-4 to Petra Kvitova; Karolina Muchova, 4-6, 7-5 and 13-11 to Karolina Pliskova; Elina Svitolina, 6-4 and 6-2 to Petra Martic; Barbora Strycova, 4-6, 7-5 and 6-2 to Elise Mertens; Shuai Zhang, 6-4, 1-6 and 6-2 to Dayana Yamstremska.
You can follow EL PAÍS Sports in Facebook, Twitter or subscribe here to the Newsletter.