Will we have a holiday in the "mask summer"?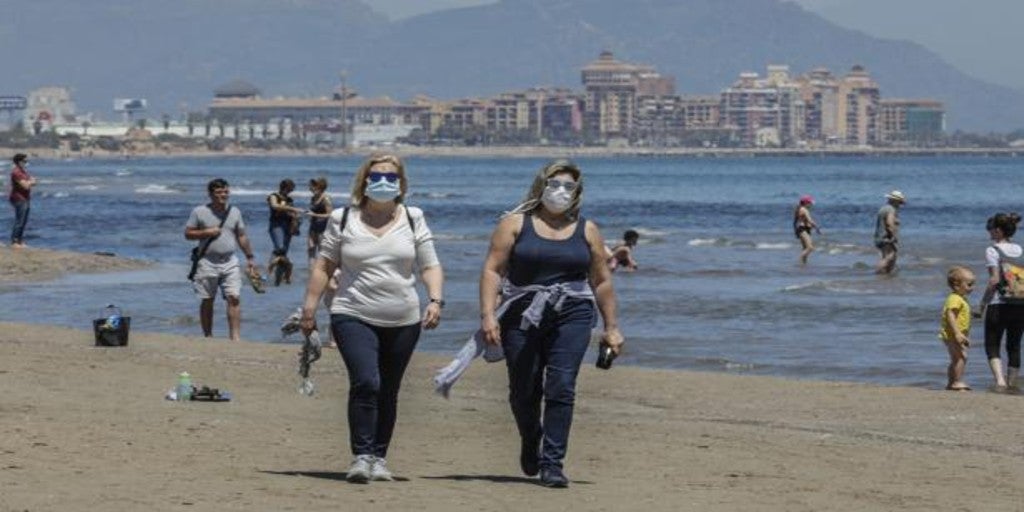 MADRID
Updated:
save

After more than 28 thousand deaths due to the health crisis of the new coronavirus Covid-19Spain is on its way towards a misnamed "new normal" in which, with the due sanitary guarantees, there are certain hopes for the economic recovery phase. The tourism, key piece of the national muscle with 15% of GDP, faces this phase with concerns. Citizens, in turn, also have uncertainty about what the summer period will be like. Pedro Sánchez, Prime Minister, has announced this Saturday that from July the borders will be opened to attract international tourism and it has guaranteed the Spanish that there will be vacations.
Reception of tourist spots
Reception of tourist spots It is an important announcement. It comes at the behest of national tourist groups, which have seen large investments in danger in recent weeks. The Alliance for Tourism Excellence (Exceltur) has assured Europe Press that this is "a very positive sign" that international tourism can be reactivated in July, as this would reduce the sector's losses by some 20,000 million. The tourist employers welcome this announcement by Sánchez, which is a "precise" staging of how international tourism will be reactivated in the short term. Above all, taking into account that in the press conference offered by the
Appeal to "homeland" tourism
Despite the opening of foreign tourism, Sánchez has called on the Spanish to "discover" Spain this year. In other words, do national tourism. Italy announced last week a 500 euro "tourist check" so that Italians can cover expenses on their summer trips around the country. "There will be a tourist season this summer, with the purpose of reviving national tourism, so I invite all establishments, bars, restaurants and all tourist destinations in the country to resume their activity," said the president.
Specifically, Sánchez has set the date on which "national tourists will be able to recover their vacations" for the end of June, which is why he has encouraged citizens to start planning them now. The president has insisted that in the middle of next month "some territories" will already be able to recover this type of tourism, with the aim that in July there may already be a "summer program" throughout the country. In this sense, he has referred to going to the mountains, the beach or visiting historical monuments, encouraging citizens to "take advantage of the great advantages that the country has in tourism, this being a good year to get to know our great country."
What controls should foreigners do?
Regarding foreign tourism, the President has announced that Spain will resume the entry of international tourists from July, although he has not specified a specific date, but he has indicated that this will always take place in "security conditions", although he has not specified the details of possible controls planned to prevent the entry of new infections. "Spain needs tourism and security in origin and destination, so we will guarantee that tourists do not run any risk or bring it to our country," he said, at the same time that he mentioned that he will base its plan for the resumption of tourism in two main hallmarks, that of security and that of sustainability. There are still many questions about it.
Can you then go to the second homes?
One of the concerns of many Spaniards with second homes, mainly in coastal regions, is whether they can move to these destinations to enjoy a vacation period. Although it has not been confirmed, it is assumed that, for July and August, the epidemic has subsided and the vast majority of regions have moved on to the more advanced stages of the de-escalation plan proposed by the Government.
Phase 2, which will enter Galicia, Navarra, Aragon, the Balearic Islands, the Canary Islands or Murcia from next Monday, establishes that, among other things, meetings of up to 15 people (with family or group of friends) in homes, private premises will be allowed and in open spaces for public use. And, also, interurban displacements, but you will not be able to leave the province. In such a way that a citizen of Madrid, a region that enters Phase 1 on May 25You will not be able to travel to Alicante although it is in a more advanced stadium. In the best case, it is expected that from the end of June it will be possible to travel between provinces. The president's promise already points directly to July.
What about swimming pools?
This is a key issue to which no clear answer has yet been given. Sánchez has not mentioned, but measures will be finalized in the coming days. Scientific studies have found no evidence that Sars-CoV 2 is transmitted by water, but the accumulation of people in a small area such as a pool can be a focus of undoubted infection.
Urbanizations of more than 400 neighbors, which generally have a private pool guarded by lifeguards for several hours, they can establish capacity controls, although in many places it can be an insurmountable logistical problem if it were indispensable in this case. Until this week, it was on the air. In fact, the General Council of Colleges of Property Administrators (CGCAF) considered that the order published last week in the BOE is unrealistic with the possibilities that neighboring communities have to control and manage compliance with the regulations.
What health guarantees will the «summer of the mask» have?
On a private initiative, many hotel companies have been designing their own internal plans to guarantee adequate sanitary measures. Safety, social distancing and the use of masks will be a constant this summer season. During his speech, Sánchez has guaranteed that there will be a tourist season this summer and that all tourist destinations in the country will be able to resume their activity "in the coming days" to start welcoming Spaniards who are ready to enjoy their holidays. At the moment, it is unknown whether new changes will have to be made in urbanizations and coastal areas, the preferred destination for many Spaniards.
On this matter, Sánchez advanced that "in the next few days" the heads of the ministries of Industry, Trade and Tourism and Transport, Mobility and the Urban Agenda, will be specifying, in collaboration with the autonomous communities, all issues related to the entry of foreign tourists.