Will Francis resign the pontificate? | Canary Islands7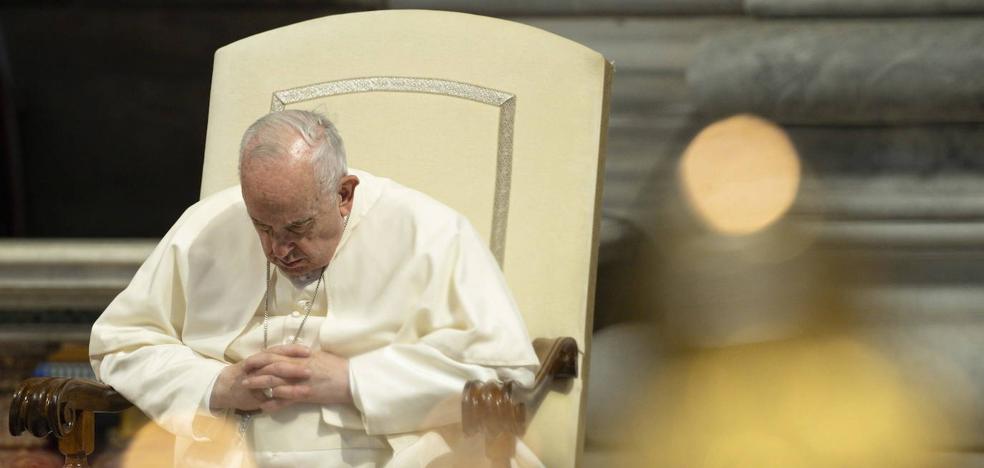 His mobility problems, together with an upcoming visit to the tomb of Celestino V, the Pope of the "great rejection", unleash rumors about a hypothetical resignation of Bergoglio
«I believe that Benedict XVI is not a unique case. We will see him as someone who opened a door, the door of the Pope Emeritus." It was Francis himself who, in May 2014, a year after his election as bishop of Rome, laid the groundwork for rumors to arise from time to time about his possible intention to resign from the pontificate. Speculation about his alleged willingness to take advantage of the 'open door' left by Joseph Ratzinger in 2013 has returned strongly to Rome these days, echoing several Italian and international media. Although it seems unlikely that Jorge Mario Bergoglio will decide to take that step before Benedict XVI dies, aged 95, since it would be time to choose a new Pontiff with two popes emeritus still alive, the coincidence of several elements have led to reactivation the rumors.
The first is Francisco's mobility problems, who at 85 years old suffers from severe knee pain that forces him to use a wheelchair. Doctors have recommended surgery, but Bergoglio has so far only resorted to local infiltrations, which have achieved a slight improvement in recent weeks. The Pope does not want to undergo an operation that requires general anesthesia, since not a year has passed since, last July, they removed 33 centimeters of intestine in an operation on the colon.
"At his age and given the problems he also has in the hip and back, it is not clear that the knee operation is a good option," says a Vatican source who, demanding anonymity, rules out that it will occur in brief a resignation of Francis. He excludes him both because of the complications that would entail having two Popes Emeritus and because of the commitments that Bergoglio already has scheduled. In addition to several apostolic trips, such as the African tour next month and upcoming visits to Canada and Kazakhstan, the Synod on Synodality stands out, already begun in its diocesan phase and which will be held in its Roman phase in October 2023.
his successor

Despite these events, there are two other elements that have contributed to revive rumors about a hypothetical resignation of Francis. First of all, there is the announcement that he made on May 29 that he will preside over a consistory on August 27, an unusual date for these ceremonies, to create 21 cardinals, of which 16 are under 80 years of age, so they can participate in a conclave to elect a new pope. With them, 83 of the 132 cardinal 'electors' will have received the biretta from Francis, so it seems likely that, when it comes to electing his successor, the College of Cardinals will not stray too far from the idea of ​​the Church embodied by Bergoglio.
Just one day after the consistory, the Pontiff will travel to the Italian city of L'Aquila, where he will visit the tomb of Celestine V, whom Dante cites as the "great rejection" because at the end of the 13th century he left the apostolic see in anguish for the weight of the office and the Vatican intrigues. Benedict XVI also prayed at his tomb in 2009 in a premonitory gesture that few knew how to interpret then. On his return to Rome after his visit to L'Aquila, Bergoglio plans to meet for two days with the cardinals to explain the details of the new apostolic constitution 'Praedicate Evangelium', which entered into force this Sunday and culminates the reform process of the Roman Curia where he has worked since the beginning of his pontificate. Having finished that project he adds one last ingredient to the speculation about his hypothetical resignation.