Will banks charge individuals for deposits if the ECB cuts rates again?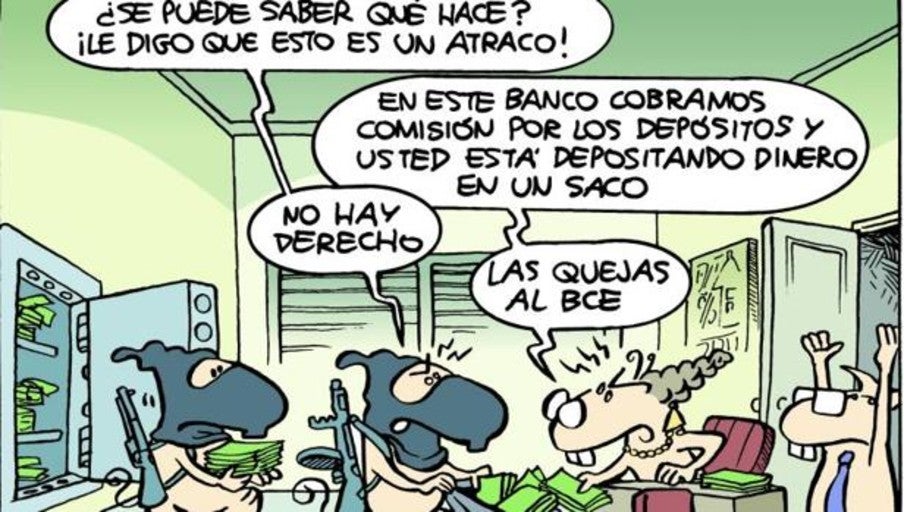 Updated:
Although analysts expected a cut in the rate of bank deposits up to -0.50%, the European Central Bank (ECB) decided to leave all types unchanged at its last meeting held last Thursday. However, the European central entity left the door open to make new chip movements Starting next September. Thus, in the statement sent to the media, the institution chaired by Mario Draghi indicated in writing that he expects official interest rates "Remain at current levels or at levels below at least until the first half of 2020". In addition, the ECB prepared the markets for new measures that could include this reduction at the interest rate charged to entities for excess reserves. However, Draghi, unlike the president of the Federal Reserve, has little scope for action since this rate has been negative since 2014 and at -0.40% since March 2016.
How would possible rate cuts be transferred to consumers? On the one hand, those mortgaged at variable rates would be the most benefited, but conservative savers would be harmed with the consequent decrease in profitability of Spanish deposits, which currently stands at an average of 0.05% APR. Some go further, such as Bankinter analysts, which they suggested at the end of June that Spanish banks should start charging private customers For your deposits. «That the raw material of the bank is worth zero is not a reasonable scenario. Measures of cost control or restructuring are already being observed to alleviate, to a large extent or partially, the damage caused to income by such low rates, "said Bankinter's analysis department, whose experts they accounted for the cost of banks to these negative rates at 7.5 billion euros per year. "It makes no sense to penalize the financial sector in this way and that the sector does not transmit this cost. It will end up happening, "they stressed.
As Bankinter herself has recognized and as ABC already published, the banks they already charge large corporations for saving their money. In other countries such as Luxembourg, Germany and the Netherlands, there are medium surcharges ranging from 0.01% to 0.04% to companies for their one-day deposits. «If Draghi lowers official interest rates, especially the deposit facility, which has been negative since 2014, there is a possibility that Spanish banks will end up charging depositors in general. Although companies and institutional clients are more likely to be harmed first, "confirms Javier Mezcua, spokesman for the HelpMyCash financial portal.
However, during the last results presentations, banks such as Bankinter, Santander, Caixabank, Sabadell or the Spanish Banking Association itself (AEB) have refused to charge individuals in the future, not even in the event that the ECB returns to hit a snip at the rate of bank deposits. «If finally the banks end up charging individuals, the question is who would dare to do it first, since the rejection by the savers would be great. In any case, if the cost goes up for the banks, the most probable thing is that it ends up moving the individuals in some way, what will have to be seen is how: if it is charged for deposits or also for accounts and in what way », Adds the same spokesman for HelpMyCash. In this line, from the financial portal they bet that the cost will be transferred in a "more discreet way" in the form of «maintenance commission on accounts or deposits ».
In iSavero they believe that events will evolve based on the next decisions of the ECB, since the central entity itself "has recognized its concern about the impact on banking and has advanced that it will study measures to soften this impact." "We will have to wait for their next meeting on September 12 to see if these ethereal measures discussed these days are concretized in actions," said Lucia Veiga, spokesperson for iAhorro.com
«The possibility of charging individuals for deposits is on the table, although for now the entities do not dare to admit it and according to their official statements this option is ruled out. The truth is that with such low rates, and below zero, it is something that could happen in the future, "argues Veiga.
Surcharges to inactive accounts
In addition, it is possible for entities to start charging customers for inactive accounts. In fact, some analysts believe that in the event that they begin to directly punish customers, "The immovable amounts" would be the first harmed. «The possibility that entities charge for deposits exists, but I don't think it will happen, at least for now. We would have to go to a phase of chronic japanization, lasting, in which no measure of any kind takes effect. Banking would probably enter a trade war, since positive rates are still being offered. Is it possible to punish those immovable amounts in more bank accounts in which the entity does not return any type of income such as cards or receipts? It could be, one would start with it, "explains the founding partner of Evolutio Capital Investment, Pablo de Vicente.
However, De Vicente acknowledges that the ECB is almost forcing banks to transfer costs to small savers. "I think this ECB measure is counterproductive given that it is pushing banks to transfer costs to the citizen. Again, the pedestrian is paying the excesses that do not apply to him. And it may even happen that these amounts are channeled to risk assets, such as investment funds, where there are clients outside their risk profile ».
Although there is nothing clear, at the moment, all the experts consulted agree that banks have a difficult time making money with such low rates and that it is normal to speculate on the possibility of surcharges to customers. «It remains to be known whether it will be through its non-operational accounts as mentioned by Banco Santander or otherwise, the most predictable is that each bank chooses to take its own measures based on its strategy, the volume of its products and the profile of their own customers, "says Veiga.
. (tagsToTranslate) deposits (t) customers



Source link