Wilco relives the legacy of Daniel Johnston | Babelia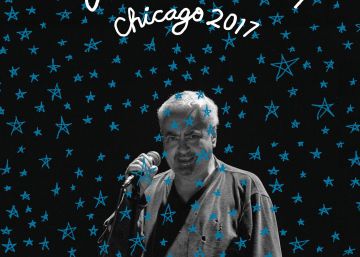 Almost like a self-fulfilling prophecy, the legend of Daniel Johnston grows, as the American artist always claimed throughout his career, although sometimes it was difficult to get recognition for a bipolar creator who started with the cassette and bet a music lo-fi Not intended for all audiences. It has only been four months since he died of a heart attack and Wilco has not waited for a symbolic date to revive his legacy with Chicago 2017, a posthumous disk that dBpm, the band's label, goes on sale on January 31. It's something like his contribution to one of Austin's artist's obsessions, fame. "Hi, I'm Daniel Johnston and I'm going to be famous," he used to say remember those who knew him.
Chicago 17 It brings together songs from the concert that Wilco and Johnston shared on the artist's last major tour of the United States. It also includes pieces that rehearsed a day before the recital at Wilco's studio in Chicago, a version of The Beatles (Everyone wants to be like The Beatles, / I also", Johnston sang already in 1983) and unpublished arrangements of 14 other themes of the artist. "We were offered to be his companion band in the last two concerts he gave in Chicago and we recorded them. Between the concerts, we had the opportunity for Daniel to come to our studio, "recalls Jeff Tweedy, singer of the band, Javier Lafuente informs, hours before his concert in Mexico City.
"His family, through its foundation, thought it would be a good idea if we could share all that material," he recalls. The proceeds from the sale of the discs will go to the Hi how are you foundation that manages the author's family and is dedicated to the treatment of mental illnesses – such as Johnston's bipolar disorder – and all kinds of addictions.
Wilco's decision to publish this posthumous album adds to a long list of collaborations and gestures by other artists that contributed to the dissemination of Johnston's work, especially since the 1990s. The creator underground obsessed with love, drawing and fame ended up becoming something like a "musician of musicians." That is, without disregarding the value of his musical and comic work, every mention that another author, producer or member of the music industry with a certain prestige and relevance made him serve as a speaker for his work to reach a wider audience.
The most effective example of that marketing industry that was created around it was the appearance of Kurt Cobain, Nirvana leader, on American public television with a work shirt Hi How are you with the drawing of the frog Jeremiah, one of the symbols of Johnston's disease and genius. It was 1992 and by then the artist's career was going through its best moment. Still, as Jeff Tartakov, former Johnston manager, explained by email, it was "a decisive moment." "It seemed that Daniel was everywhere because Kurt put on a shirt with the frog," says the representative and friend of the artist.
In those years, the groups I Have and The Pastels versioned their songs and the ballet of the opera of Lyon interpreted a piece with music of Johnston. "Everything is relevant, but with the exception of the shirt, I have always believed that Daniel's music was above all these gestures. In the nineties he published great works, "he says in reference to 1990 Y Artistic vice. "At that time I was prepared to be a star, but unfortunately his mental problems and a change of manager resulted in a delay of almost 10 years in his career," he recalls and does not place until the premiere of the documentary The devil and Daniel Johnston (2005) another resurgence in his career.
Tartakov does not criticize the edition of Chicago 2017, but defend other collaborations to try to explain the trajectory of Daniel Johnston. "Before arriving in Chicago to participate in the concert I had never seen Jeff Tweedy," he says. "In fact, on most of his tours the same thing happened: he didn't know the musicians he played with. You can't deny that they were a great help. Even that they just mentioned him in an interview like Jeff Tweedy did, "he concludes and then points out that Ni Wilco, I don't have it, and in the following decades other artists like Lana del Rey, Firehose, Beck and Toma Waits – who also sang for Johnston-, were his godparents. Not even Sonic Youth were able to maintain a stable relationship with Johnston as the documentary portrays. That fateful night in New York in which the artist ends up hitting the group's drums and, despite the violent moment, the rest of the members try to help Johnston by putting him on a bus to his parents' house.
The Wilco leader confirms this to Babelia: "Daniel was a genius, but, to be honest, the relationship I had with him was complex. He was a very complicated person to know, his illness made him quite unrecognizable. He in fact did not remember my name or who it was even from one day to another, this was a difficult point when dealing with him. "
Real friends
In the list of friends, those who for Tartakov were next to Johnston, are, according to the manager, singer Kathy McCarty, producer Brian Beattie, Bill Anderson, Jad Fair, singer and composer of the band Half Japanese, and guitarist and singer Wayne Kramer. To reinforce his argument – and try to separate him from any sentimental and, therefore, unimportant link – the manager remembers that the same day he leaves Chicago 2017 the reissue of a record that Johnston made with Fair, Its spooky. Of this work, from 1989, only 1,500 copies will be released on vinyl. This 2020 is also published on vinyl Fun.
Fair and Johnston met by letter in 1985, after the Half Japanese singer saw him live in Austin. A few years later, his friendship began at Kramer's recording studio in New York. "When they recorded that album, Fair and his band were better known than Daniel, so it became a great opportunity for their music to reach a much larger audience," says Tartakov as another example of a true influence of another creator in the Johnston's work. And to feed his long-awaited need for fame.