"Who will score Messi's 30 goals?"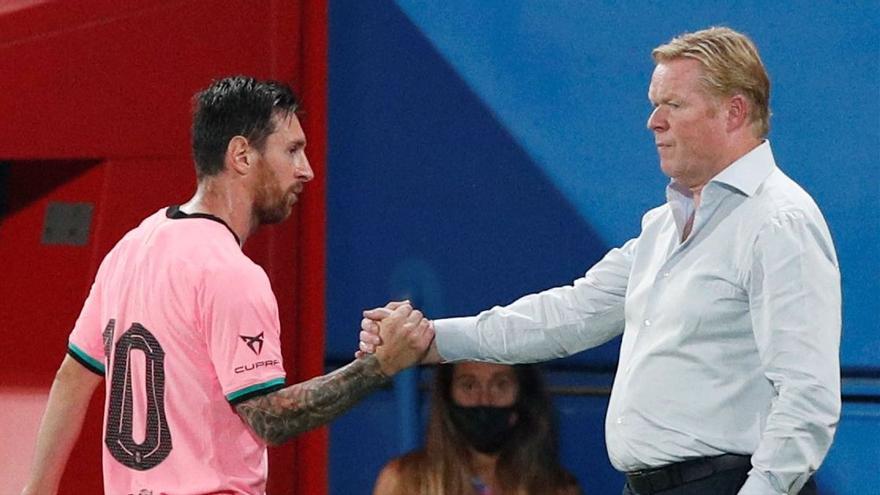 Nobody at the Camp Nou wanted to think that Celta's would have been not only his last game this season but his last meeting with him. Barça. But that's how it was. We saw his last pulse as a Barça player without knowing it. After that sad clash, in which Barça said goodbye to the League in an empty Camp Nou, Ronald Koeman was the first to ask a terrifying question. The question that millions of Catalans had asked themselves more than once since August, when they learned of the existence of a burofax, which they never wanted to ask and to which they have not yet found an answer because perhaps it does not exist: "Who will score the 30 goals for Messi? "
Leo finished Pichichi of the last League with 30 goals. His eighth top scorer trophy in 16 seasons (since 2005-06) who had been playing in the first team and the fifth in a row. After Joan Laporta certified the beginning of the post-Messi era and ruled out a twist in the script like last year, Barça set out to find the lost goal. "I spoke with Ronald yesterday and today. He is a club man. A great professional. He is not for romance. He has the ability to adapt quickly to circumstances. It will not be easy to replace a player who scores 30 goals, but I have seen him very motivated", explained the president, who before the press conference has met with the staff to explain the beginning of a new era.
The Barça is now in the same situation lived by the Madrid after the departure of Cristiano Ronaldo: After scoring 94 goals in the last Portuguese League (with 26 from CR), in the last three league seasons the scoring records have collapsed (63, 70, 67). Florentino hoped that Bale, Benzema and Vinicius would take a step forward to jointly cover the absence of the Portuguese star, something that did not happen. Now Laporta hopes that the transition at the Camp Nou will be different.
Leo only scored more goals last season than the other six forwards (29). With Dembélé and Ansu Fati still injured, the responsibility for the moment will fall on everything on Griezmann's back. The French striker, whom the club was looking for a way out to lighten the wage bill, now has an important role in the new ecosystem. The Little Prince, with a tendency to move through the same areas as Messi, had been far from his best version with the Argentine. Now without him he will have to try to recover the version he offered as rojiblanco. In preseason he has shown good harmony on the field with Memphis Depay. The Dutch striker, Koeman's express request, now becomes the main offensive asset. Less clear is what role another of the incorporations will have, a Kun Agüero who signed for Barça to share a dressing room with his friend Leo. It remains to be seen what role Coutinho and Braithwaite have if the club does not manage to give them an exit.
The big question is knowing when will he be able to play again and how will he be after his injury Ansu Fati, who was the team's top scorer when he got injured last season. If the injuries respect them, he and Pedri should command the Barça of the future.