Who is the driving force behind the success of Carmen Mola's books before knowing her identity?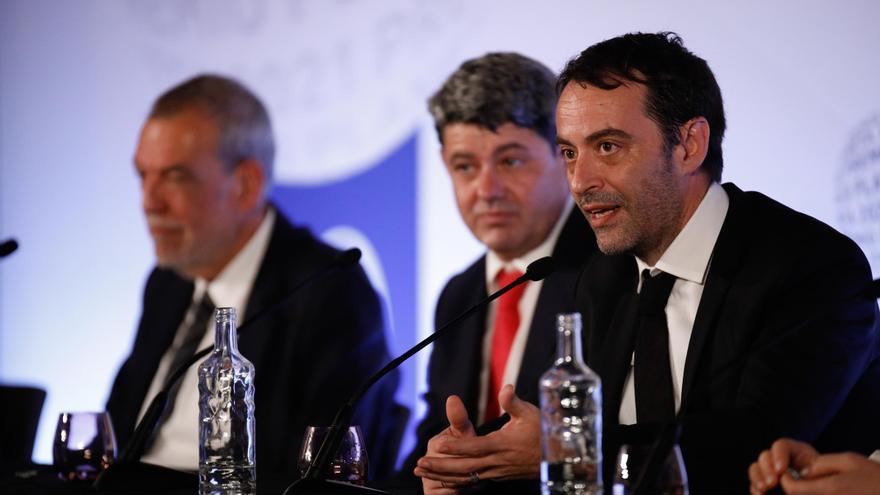 In the center of controversial march of Carmen Mola -actually, three male authors- at Planet Group, there is an agent from Barcelona of Polish origin, Justyna rzewuska, which in 2017 was set up by Hanska, a small literary and audiovisual rights agency that, according to its website, has 25 authors as clients. Precisely, the three most popular of them – the one known until now as Carmen Mola; Antonio Mercero, part of the male trio that makes up the alleged author, and Alaitz leceaga– have recently passed from Penguin Random House (PRH) to Planeta through juicy prizes, in what seems like one more episode of the cold war that the two giants of the Spanish book have maintained for years.
In this new case, the loot was very sweet, because Carmen Mola has sold more than half a million copies of the books of his trilogy and there are some juicy audiovisual rights to turn it into a series with which Planeta has also been made through its conglomerate Atresmedia. A movement that justifies the investment of one million euros, that highly commented endowment that the Planeta Prize will have from this year.
To Leceaga, who already had the Critical Eye award and sales of approximately 80,000 copies of his two previous books, Planeta awarded him the Fernando Lara Novel Prize a little over a month ago, with a value of 120,000 euros, and has just published his winning title, To where the sea ends.
One thing that has made many suspicious of these latest 'transfers' from PRH to Planeta is that Rzewuska worked for almost 20 years as director of the Department of International Rights at Penguin Random House in Spain. There are those who have wanted to see some kind of labor spite in these movements, but the truth is that from that editorial group they maintain that the relations with the agent are "excellent" and they play down the importance of this latest march of one of their star names.
Agents typically take around 15% of the revenue they generate, including prizes
In fact, it was the representative herself who placed Carmen Mola in Alfaguara. This is how he recalled it in an article published in the online magazine Zenda Maria Fasce, which was his editor at the time. "On September 29, 2017, at 8 and 26 in the morning, as soon as I arrived at the office, I received a mail from agent Justyna Rzewska: 'I am sending you a detective novel set in Madrid that I hope you like'. This was followed by a very intriguing description of the plot, and an even more intriguing biography of the author: "Carmen Mola (Madrid, 1973) is a university professor. She lives in Madrid with her husband and their three children. The gypsy bride it is his first novel. "
An international rights specialist
In the environment of Rzewuska, who did not want to answer the questions of this newspaper, they define her as "a person who is very concerned about literary creation. I don't just know occupies to sell, as is often said of her union, but she is very careful with her authors ". Despite the success of Carmen Mola's novels in the last three years, Rzewuska continues to have the same office and handles herself with the same care and closeness to the rest of her clients. The agents they usually take around 15% of the income they generate, including prizes. In fact, they are the ones who get paid from the publishers, and the ones who later pay the publishers. authors.
Those who know her say that Rzewuska has a great literary nose and that she is not intrusive with her clients. They also praise her special ability to negotiate international rights – her long experience doing it at Random supports her – and that she is very effective in dealing with publishers, because they respond quickly to her proposals, faster than usual.
From the side of Penguin Random House they say that these are things that happen in the literary market. "We understand that editorial changes are a possibility within the sector's own dynamics. It has happened other times and it has nothing to do with any war ". Although some of these sources also say with some sarcasm that "Random discovers and builds successful authors and then Planeta takes them away."
The truth is that Random also seems to have responded to these movements. I recently signed Santiago Posteguillo, a great historical novel bestseller that began publishing in Ediciones B -when the seal belonged to the Zeta Group-, then he has done it for almost a decade in Planeta – in fact, Posteguillo won the Planeta Prize in 2018 with his novel Me, Julia– and that now has just returned to Ediciones B, a brand that PRH acquired in 2017. "It is the return of an author to stamp where it began and of which it has never ceased to be a part. We have a million and a half sold copies of the trilogy Africanus", They say from their old-new label.
The confrontation between these two giants of the edition comes from behind. Penguin Random House (PRH) is the largest publishing group on the planet. As a result of the merger that took place in 2013 between the literary division of the Bertelsmann group and Penguin Books, it owns more than 250 stamps in the world and achieved a profit of 3.8 billion euros in 2020. However, there is a stone in his shoe: in the Spanish, a juicy potential market made up of 591 million Spanish speakers, they are second, behind Planeta. Despite the progressive purchase of emblematic stamps and with significant sales volumes – such as Salamander or Alfaguara– Over the last few years, you have not succeeded in unseating him. Grupo Planeta is also the owner of the conglomerate Atresmedia. In 2020 it had a turnover of 1,500 million euros, and this year's results are expected to be better.
What many consider a war was unleashed with him Planet Award 2019, when the winner and finalist, Javier Cercas and Manuel Vilas, were two emblematic authors of PHR, and as a consequence they changed groups. History repeated itself with last year's award, a rare edition held at mid-throttle in the midst of the pandemic, and in which it was a finalist Sandra Barneda, the television host who was also a profitable author of Random.
Alfaguara and his group, PRH, have the consolation that they will publish the fourth novel of the already tetralogy of The gypsy bride, which will be titled The mothers, in the first half of next year. Still, therefore, there is an interesting amount to enter. Wars have their victims, but in this for now the two contenders are very much alive.