Where's the Netflix Marvel? | Ka Boom blog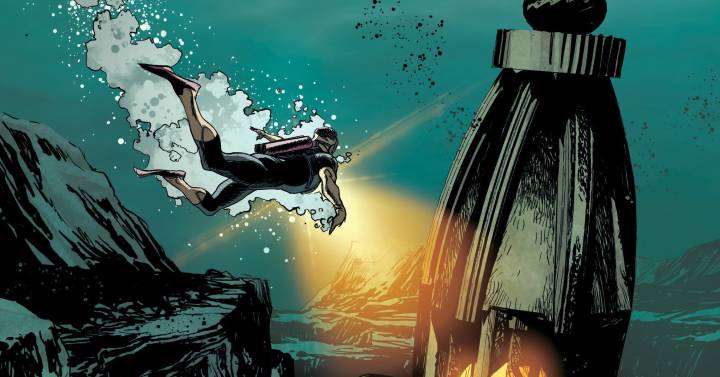 Of all the stories that circulate on Netflix and the pulse that is putting all industries in their kamikaze bet on cultural content, my favorite comes from an interview of Hollywood Reporter Ryan Murphy, pope of television, after his exclusive signing by Netflix for the astronomical figure of 269 million euros. To the key question, why? Murphy explained a curious anecdote.
"We want you to see what you mean to us," Ted Sarandos, the behind-the-scenes wizard of the Netflix miracle, told Murphy. That enigmatic phrase was followed by a two-hour meeting in which a group of analysts overwhelmed Murphy with an analysis of the 117 million people (now 167) exposed to their series through the platform. After the bombing, Murphy only had one sensation in his body: "I left the meeting with the feeling of having contemplated the future."
The other great beneficiary, and even before Murphy, of that future, was Mark Millar. Scottish, one more of that inexhaustible generation of Britons who emerged from the Judge Dredd from 2000 A.D. And then conquered by the greats, Marvel and DC, Mark Millar (50 years old) soon demonstrated a hunger for authorship similar to that of geniuses such as Alan Moore or Neil Gaiman and detached himself from the great characters to create his own Marvel: the Millarworld. From there came cinematographic balls like Kick-Ass, Wanted or the most recent series of films Kingsman.
But there was much, much more. And Netflix, back in August 2017, announced the pitch. The amount has never been made public, but Millar had literally sold his world, his entire creative universe, to the company of Reed Hastings. From then on, silence ... A couple of salvos - on December 8, 2018 Millar announces that the first series to arrive on Netflix will be Jupiter Legacy Y American Jesus and on March 11, 2019 that Supercrooks will adapt in format anime- and a little more. The same silence that surrounds, for the moment, what Shonda Rhimes is planning —there was a first dabble of the 8 series that she is preparing and, for the moment, only an announcement with a date, Bridgertown- Ryan Murphy himself - at the moment, only his Hollywood for May, that sounds fascinating- or the creators of Game of Thrones, David Benioff and David Weiss.
So what does Netflix play at signing and then forgetting? And where is your fiancé Marvel, the first of all this runaway orgy of exclusive transfers?
The case is that the fan of comics plays with advantage. Especially if you follow the news across the seas. In these same pages, I already reviewed the first comics of Millarworld under Netflix's baton: The Magic Order. In short: I was fascinated. Since then I have followed very carefully all the releases of new comics in this new phase of Millarworld. And you know what? They have fascinated me. Both for the content and for the continent.
I speak to you first of the second. How do you present the Millaworld your comics in the Netflix phase? Well, at the moment, in all cases, in the company's favorite format: miniseries. Exactly - except for the sequel to American Jesus and the special of Chrononauts— 26-page six-issue miniseries that require little reader engagement but are full of possibilities. It could be six or it could be 600 episodes; you choose. In all of them, in addition, the page was presented under this paragraph, making it very clear to the comic reader that Netflix thinks of the Millarworld like in his Marvel. All comics in the spotlight of the company for future series and movies.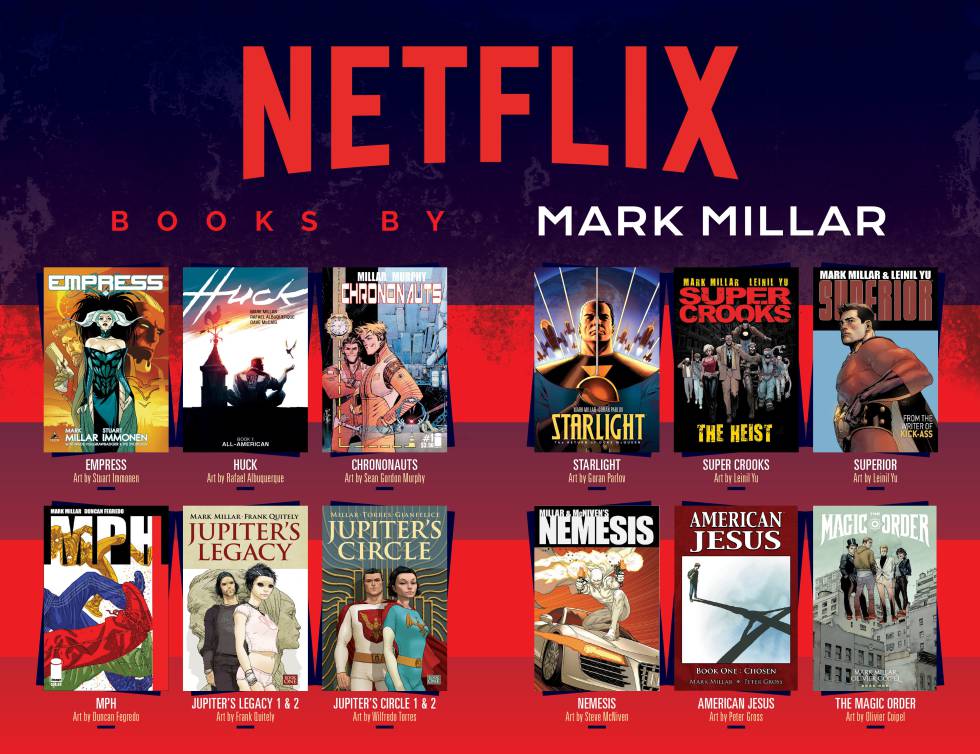 But it is in the content where someone like me, and I suppose that many, find it truly exciting. The truth is that it's the content that separates Netflix's Marvel from what Disney's Marvel can offer. Within Disney's Marvel, one knows that there are limits, thematic transgressions, that will never be crossed. In Netflix Marvel there is no sin or transgression to explore. It makes perfect sense, because Millar has always had as his greatest virtue (also, as his Achilles' heel usually does), an infinite capacity to provoke.
To give you an idea, in this first batch of comics we have a New Testament whose Jesus is black, adolescent and escaped from a religious sect created to protect her; will fight Antichrist when the series hits Netflix. We also have some Thelma & Louise of a future completely Andy Warhol, where planetary-sized crawfish are conceived as leisure centers, executing a bloody #Metoo on the males that ruined their lives. We have one of those males, a bounty hunter who travels through space in an ice cream cart (sic), run by a greenish kid as enthusiastic as he is heavy. We have a cocktail between James Bond and Lex Luthor, an African American who leads the series Prodigy and that he is the "smartest man in the world", living adventures against a group of white satanists who hunt children for sport. And we have that saga, between The Godfather Y Harry Potter, from famiglia of magicians fighting in Chicago.
Anyway, there are plenty of Molotov cocktails in that Netflix Marvel. Because this company, which has caused earthquakes in Hollywood as they are not remembered, seems to be clear that the space to occupy if one wants to confront Marvel is to get where she will never allow herself to go. Success or failure? Well, it remains to be seen. But, for the fan of good comics, and of the imaginary, the streaming wars they are, and will continue to be, if the coronavirus allows us, the Holy Grail of entertainment. And, do not hesitate, even though Netflix is ​​silent, machine silent.