When will Enrique Ponce make the intelligent decision to give way to bullfighting | Blog The bull, by the horns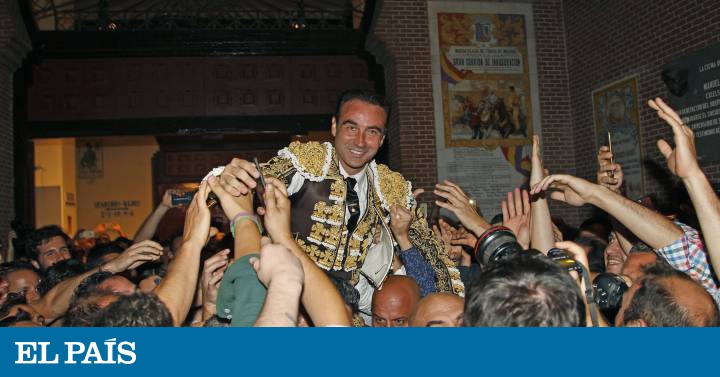 There are few fans who at some point in this unusual season have asked the following question:
– When will Enrique Ponce make the intelligent decision to give way to bullfighting?
But this is nothing more than the euphemism of another more direct:
– When will you make the smart decision to announce your retirement from the arena?
It is also true that more than one will put their hands to their heads before a supposedly heretical, crazy and insulting interpellation.
It could be an incomprehensible audacity, to throw such a thorny issue to a bullfighting figure, renowned professor in bullfighting, a bullfighter who has reached all records and enjoys the maximum prestige achieved with his effort late after afternoon.
Whoever thinks this is the irreverent attack of a declared antiponcist will be mistaken. It's not like that. The pages of this newspaper are faithful witnesses of the just recognition of the numerous merits that adorn Enrique Ponce as a bullfighter and person.
But when it is time for someone to say what many think and keep quiet out of politeness or modesty: Enrique Ponce must step forward and go home.
Said like that, it sounds very strong; above all, because he is a very beloved bullfighter, with a legion of supporters, and enjoys such good press that there are many journalists, even non-flattering ones, who have not found dithyrambs for a long time to refer to Chivas's teacher. He is also a popular character who has forged an image, undoubtedly, real, of a good, friendly, elegant, discreet, respectful, simple, Catholic …, lover of football, golf, hunting and an apprentice singer in their spare time.
Enrique Ponce is, above all, a historical figure of bullfighting who has starred in unforgettable deeds at the most important fairs in the world.
But his time is over; It ended several seasons ago, despite that strange and mysterious desire to fight even in the most distant towns of America for no apparent reason.
So much so that various rumors reached all the fans about the reasons that led Ponce to dress up in lights even in the most unknown third-party squares; and they were not then love gossip, but others related to supposed failed investments, according to some, and one more demonstration of the excessive fondness of the bullfighter, in the opinion of those closest to him.
It would be malicious to say that Enrique Ponce's dream bullfighting has allowed more than one to snore
And what this year draws profound attention: leader of the ranking with 16 runs, he has been present in all the soups, and he himself has declared on different occasions that he did it "to pull the car." What car? Weren't there more bullfighters willing to fight?
This season Ponce has confirmed what was already glimpsed some time ago: that the years do not pass in vain, that the jar of essences is empty, that everything has already been said, that the speech is over, that he speaks in front of the bull and it says nothing of interest.
Said in Spanish: he has shown that he is an amortized bullfighter, that he no longer contributes as before, that he fights more detached and advantageous than ever, and that the bull with which he really shines today is the dying one, the one that allows him to administer extreme unction in the midst of the hubbub of a festive and revelry public.
Doesn't Ponce have the freedom to fight until he wants to? Of course, there would be more, but if you are intelligent, that you must be very intelligent, you will know better than anyone that your time is past, and that you must not stop the opportunities of others. Pull the car It is to promote new values, facilitate the way for bullfighters who are worthy and cannot find an appointment in the offices, put their prestige at the service of the renewal of bullfighting, and take advantage of their media pull to defend the party with consistent arguments.
In the end, no one really knows why Ponce's personal determination to continue in the arena through thick and thin. And, perhaps, the reason is the least of it; the most important thing is that his stubbornness is not adding new merits to an impeccable career.
It is also true that his bullfighting has been devalued; from the epic he has moved on to the search for aesthetics, and from this to a kind of prudish dance that says very little about the image of a true figure of bullfighting.
He has been dreaming of bullfighting for years, and no one but the bullfighter knows the mystery of his words. Hopefully the famous phrase by Jardiel Poncela does not come true in him: "In life, few dreams come true; most of them snore ". It would be unfair and malicious to say that Enrique Ponce's dream bullfighting has allowed more than one to snore.
Getting to the top should not be easy; staying in it, an almost impossible feat, and knowing how to get down before the winds push you into the void, a display of supreme intelligence.
They say that now he wants to publish an album with the collaboration of Julio Iglesias, and it seems that he feels comfortable being the protagonist of the news of the social chronicle. Be careful, because from the sublime to the ridiculous there is only one step.
But there each one with their decisions.
That remains: from deep admiration and respect, although many do not think so, the best thing Ponce can do is make way for the new generations, greet the respectable, go home, enjoy what has been achieved and accept all the tributes that with his effort he has won in the square.
That is the fate of a great figure; everything else is a gross error; it is fighting and losing the battle against time and its circumstances; Against windmills that, in the end, will stumble you off the top.