When James Gray is measured with Mozart | Culture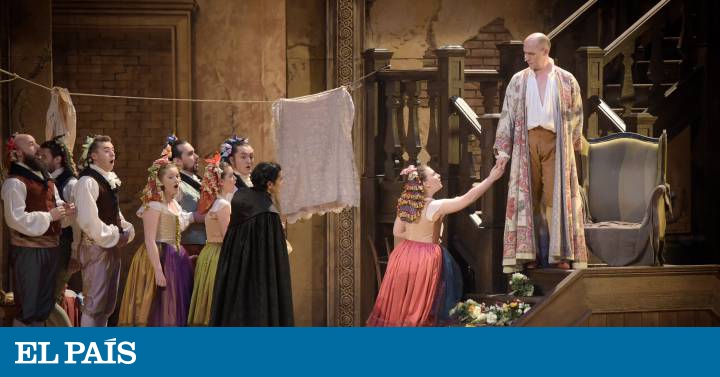 "And why me? I don't know how to do that… " The answer of James gray Those who offered to direct his first opera came by email and it was that categorical. The American director, responsible for films such as The night is ours, Two lovers or the recent Ad astra, he had no intention of entering this area. Despite being a fan of the lyric genre, cinema was his priority. And the proposed opera, Figaro's weddingHe was not particularly interested either. "From Mozart, I prefer Don Giovanni… ", The filmmaker admitted last Friday during a meeting in Paris, a few hours after the premiere of his version of that opera bufa at the Theater of the Champs Elysees, where it is represented until December 8 with all tickets sold out.
It was the insistence of those responsible for that Parisian scene that finally convinced him. Gray thus joined an assorted group of filmmakers who have made the leap to the lyric, which includes such disparate names as Luchino Visconti, Roman Polanski, David Cronenberg, Emir Kusturica, Michael Haneke or Werner Herzog. Nor did it hurt, in the company to persuade him, that this lavish production had an authentic dream team, led by great French voices such as the soprano Vannina Santoni or the baritone Stéphane Degout. And, in addition, the designer Christian Lacroix being in charge of the costumes, a veteran like Santo Loquasto, habitual in the productions of Broadway, in the sets, and Bertrand Couderc, collaborator of Patrice Chéreau, in front of the lighting.
Last Tuesday's premiere ended with enthusiastic cheers from the audience. The first criticisms have been, however, much more restrained. From the outset, by the surprising classicism that shows its staging, that some equate to a somewhat dusty and lazy conventionalism. "I could have disguised them as astronauts or plant a set of Fox News in the middle of the set, but it would have been a way of considering myself more important than music and material," Gray justifies. "Film directors are narcissistic and grotesque beings, to the point of believing that our visions are so important that people from all over the world must be locked in the dark to discover them. So, of course, you want to put your stamp on it, but you can't do that. There is no possible way to improve the original. My job was just to pay tribute. " The most difficult challenge was, he confesses, to becoming invisible.
It was the musical director of the play, Jérémie Rohrer, who had the idea of ​​making the proposal to Gray, having tried years ago, without success, with other filmmakers such as Woody Allen or Arnaud Desplechin. "The singers are accustomed to obey by contract to the director and to be placed in the place of the stage that asks them. James told them something else: "Interpret me." With him, film reality has infiltrated the world of opera, so full of conventions, "Rohrer considers. Actually, Gray's cinema is full of operatic references, despite having discovered the genre relatively late, being fascinated by Verdi's preludes during the assembly of his debut, Blood issue, in the mid-nineties.
Since then, opera has permeated almost all of his films. In Two lovers arias sounded of The elixir of love or Manon Lescaut. Ellis's dream It is a free and unfaithful adaptation of Puccini's plots, he confesses. And in his last movie, Ad astra, Gray mounted a key scene with the Parsifal Wagner as a backdrop, before cutting it into the final assembly. In the end, all his films speak of a subject as operatic as destiny. "And, despite everything, here I had to forget about cinema, because it is not the same type of art. In the opera there are no close-ups, you have to work less intimately, "says Gray. His method of accelerated learning consisted of going to see as many operas as he could. "Most were very bad, as is the case with movies too. But that is always a great help, because that way you know what you should not do. "
During the rehearsals, Gray used somewhat untimely documents, such as videos of Donald Trump or Pope Francis, to guide the interpretation of his admired protagonists. None of that is obvious in a production that is less ambitious than its cinematographic projects, but which is not devoid of flashes of genius. Especially, at work with their interpreters. Throughout the six weeks of rehearsal, Gray claims to have rediscovered the rudiments of actor direction. "When I asked them what a scene was about, they always answered me badly, because they recited the argument to me," he recalls. He decided to transmit the Actors Studio method to them. "When talking about the emotion that encapsulated a particular moment, his body language changed and became more subtle and clearer. What I have done differently, regarding an opera director, is to talk to them about movement when they already had that feeling clear, "Gray says.
The usual physical fitness that unites opera singers with their fictional roles – the mischievous Figaro, the melancholic countess or her authoritarian husband find perfect doubles in their performers – played in favor of the absolute identification that the director always pursues in his works . "I hate that interpreters look like beings other than their characters. It's not about observing a character saying, "Look at yourself, poor fool." It's about saying that we are all just as idiots as him. That's why I like movies like Chinatown or Red phone? We fly to Moscow: because they remind us, "says Gray. "The distance that can exist between an actor and his character, or between a director and his creation, is only cowardice. The goal of art, if you allow me to use that ugly word, is to show the complexity and ugliness that resides within us. "
. (tagsToTranslate) james gray (t) measure (t) mozart (t) cheer (t) American filmmaker (t) (t) release (t) opera (t) set (t) scene (t) the (t) wedding (t) figaro (t) amaze (t) unexpected (t) classicism



Source link