"When I saw myself walking I could not believe it, I was moved"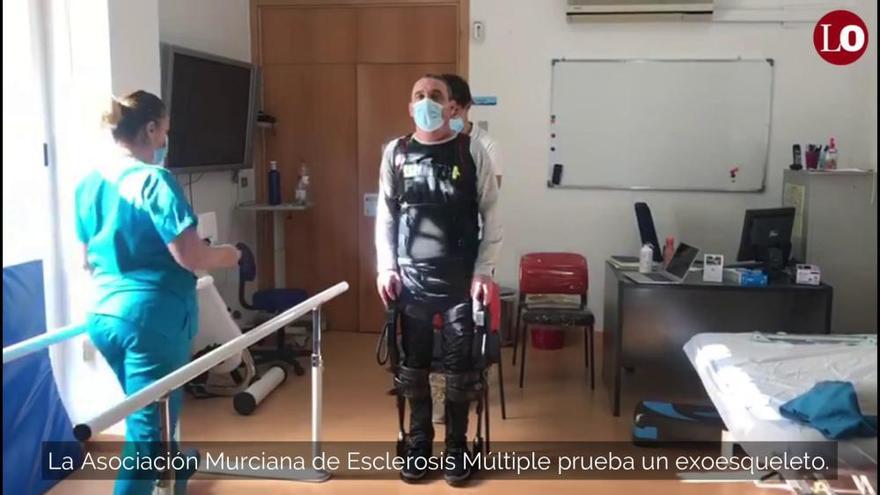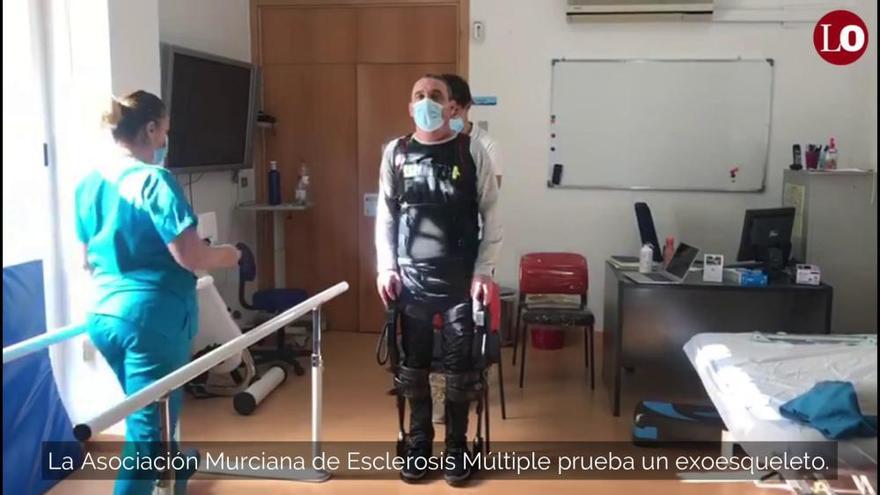 The Murcian Association of Multiple Sclerosis seeks funding for aacquire what would be the first exoskeleton in the Region, a therapeutic tool that is around 140,000 euros and that allows walking in users with partial or total paralysis of the lower limbs.
Manuel Jacobo Peñas, A 54-year-old resident of the municipality of Beniel, he was one of the first to test the exoskeleton on Thursday at the facilities of the Murcian Association of Multiple Sclerosis.
This Murcian patient was diagnosed with the disease three and a half years ago, after being operated on for a back hernia and verifying that the pain he suffered and the paralysis of one of his legs did not improve and did not have this origin. «After the operation they began to do tests and after several months he was diagnosed with multiple sclerosis ", explains his wife, Ana María Sánchez, who has had to stop working to be able to care for her husband.
Both left the exoskeleton test without giving credit to what they had just experienced. «When I saw myself walking I could not believe it, I was excited because I did not think I could do it, I saw it as something impossible ", affirms this Murcian, who admits that" at the beginning it was difficult, I was very nervous when taking the first steps, but later I have let go little by little ».
For him it has been quite an experience and an injection of energy, since he has seen that there is hope in being able to regain mobility in his right leg, which is the one that is most affected and the one that has him in a wheelchair for a year.
Ana María admits that Manuel was very nervous before trying this new tool for rehabilitation, "but it was very exciting, also for me that I had not seen him walk for so long. I didn't believe it.
They volunteered when they learned that the association was preparing these Conference on Health and Robotics in which the exoskeleton was going to be tested and after the experience they consider that "it would be very important to have it for the rehabilitation sessions", so they launched a message to ask for the help and financing that is needed.
Manuel Jacobo has more than 50 injuries between the brain and the spinal cord, according to his wife, and is currently in the secondary progressive phase of the disease. At 54 he has lost the mobility of one of his legs, his right, and now he is beginning to have problems also in his right arm and hand, since it is that side of the body that is most affected, which has him in a wheelchair for a year.
When he started with leg problems he had to leave your job in a warehouse of citrus waiting for the hernia operation, but has not been able to return. "It was very hard because he returned from work one day and has never been able to rejoin again. The change has been very great, "says Ana María, who insists that" a disease like multiple sclerosis changes your life, routines and economy. "
She has also had to stop working to take care of him after Manuel had several falls at home, so they live with the pension that he has and the help of the dependency, "In which it has not reached the maximum either." And they have the help of their daughters of 24 and 29 years old, who no longer live at home, and who come when they need them.
Both recognize the importance of the work they do from the association, to which they attend physiotherapy, neuropsychology and occupational therapy sessions once a week and with which they prevent the disease from progressing at a greater speed.