When going through the same door is a breakthrough for women | Society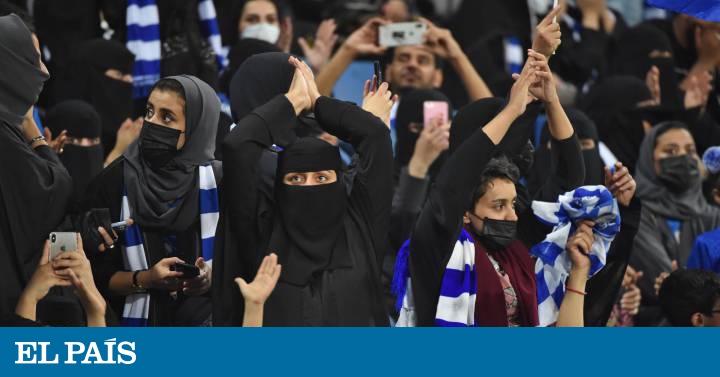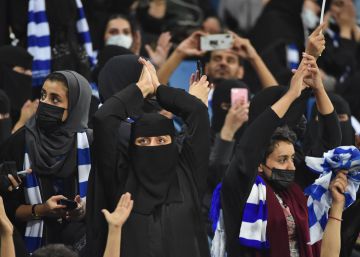 Saudi Arabia has abolished the obligation for coffee shops and restaurants to have separate entrances for men and women. The authorities have presented the measure as an update of municipal regulations that will make things easier for investors, citizens and entrepreneurs. In fact, in the big cities there were already establishments that skipped it. Although the decree does not mention segregation inside the premises, it represents another small advance for Saudis in public life.
Neither the Riad Accoustic nor Yedda's Overdose They have separate entrances. In recent years, some of the new cafés and restaurants have ignored this requirement in the face of the apparent fat eyes of the authorities. But even the youngest clients remember having been diverted to the "entry of families" when they accompanied their mothers and sisters to the lifelong premises. Because in Saudi Arabia, until recently one of the most segregated countries in the world, men accessed through the main gate and women through a side or secondary. And not only in coffee shops, but also in banks, hospitals and public offices.
"I was very happy, although I know there are other more important things. It is a change that indicates a new mentality, a new society, a new Saudi Arabia, "says Abeer, a 25-year-old girl in Jeddah, the country's second city, on the shores of the Red Sea.
The decision is the result of economic and social reforms undertaken by the crown prince, Mohamed Bin Salmán, with the aim of modernizing the country and making it more attractive to investors, and comes at a critical time for the image of the regime, which has just condemn five men to death for the murder of Jamal Khashoggi at the Saudi consulate in Istanbul in October 2018, after a much questioned process. For much of the new generations (75% of the 24 million Saudis are under 35 years old), the reforms were somewhat due and that made them hope for the future. Abeer is even reconsidering the plans to leave the country with those who fantasized in college. "Now I think I will be able to live the life I want here," he says.
This has contributed not only to the Desert Kingdom has finally allowed women to drive, but less sound changes but as much or more relevant as their full access to the labor market, which had very limited. In addition, divorce and child custody have become more equitable and restrictions on the movement of women have been removed. For four months, the adults they can get the passport and travel abroad without permission of the male householder, another step in the dismantling of the guardianship system. Abeer would have preferred that it be abolished altogether (he needs his father's permission to marry, for example). But he sees this gradual advance as a way of not angering the most conservative.
Hence, perhaps the Ministry of Municipal and Rural Affairs has included the announcement that ends the requirement of segregated entries in catering establishments among 103 standards that include the minimum distance between private schools. In addition, the new ordinance is not mandatory, which means that locals can keep double entry if their owners so wish. The text also does not clarify whether within them it is authorized that men and women (who are not family) can sit without separation; The usual thing so far was that there was a room for men and another for families, although mixed spaces have begun to emerge in the wake of liberalization in recent years.
"Is not sufficient. We remain in the grip of legal insecurity because only superficial and limited changes are made that do not go to the center of the problem: the patriarchal vision of women as a being inferior to the one that must be protected that predominates in our society, "laments Maha, an executive who He works in Riyadh.
Criticism in social networks
In fact, despite the limited reform, which does not reach hospitals or workplaces, you only have to look at social networks to find those who express their opposition to change. "Yes, this is development… the abdication of our principles and our religion. (…) We used to say that our religion and our water were the red line… ", a user writes on Twitter, who identifies himself as @ enginaar_12 and presents himself as a horse lover. Another is concerned about "going to eat with his wife and that someone he knows can see them," that is, that he can see his wife's face. Most Saudis cover themselves with the niqab, the veil that covers the face with a slit for the eyes.
"They do not see us as human beings, only as slaves. I don't know what's wrong with them, "says Abeer. "Many have become angry because they perceive it as a threat; they are people who live a very traditional life and do not want to change, "he adds without losing hope that they will eventually accept that society evolves.
It is difficult to know how representative are those complaints protected by the anonymity of social networks, since in parallel to social openness it has intensified the repression of critics. Dozens of intellectuals, clergy and activists have been detained since 2017, not only among those who reject the reforms, but even among those who campaigned by some like the right of women to drive.
Non-economic in addition to discriminatory
The double entry into cafes, restaurants and other public establishments is the result of sexual segregation that has prevailed in Saudi Arabia since the boom of the oil of the seventies. Beyond religious-cultural justifications, only wealth has allowed us to duplicate offices and services to serve men and women separately. It is an uneconomic measure that hospitals, despite having separate wings to admit patients of both sexes, rejected in operating rooms and consultations, so health professionals have been working together for decades.
"Sometimes I use the entrance of men," Sommaya Jabarti confided to me when the I interviewed after being appointed director of Saudi Gazette In 2014, the first Saudi to run a newspaper. But the most surprising thing, he explained, is that segregation was maintained due to women. "Many want their own entrance, work separately," he said despite the fact that she has always defended that men and women work together.
Many others, however, have experienced this section as discrimination. And not all have been as strong as Jabarti, today deputy director of the Arab News Such is the case of Iman al Qahtani, a young journalist who was outraged to be forced to use the back door to get to his office in the economic newspaper Al Eqtesadiah. "Why can't we work side by side with our colleagues?" He asked himself again and again without getting any convincing answer. His fight against injustice ended up taking a toll and his health suffered.