When efficiency and savings start at the roof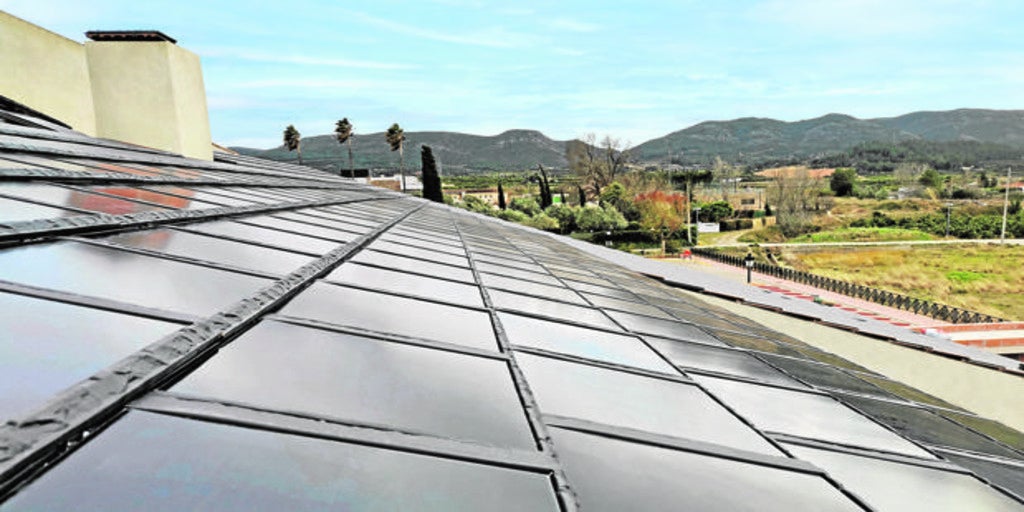 MADRID
Updated:
Keep
Save money on your electricity bill and being safe from future rises while protecting the planet by producing renewable energy is possible thanks to photovoltaics. Now, in addition, it becomes an architectural option both
for homes as for rehabilitation, even of historical buildings thanks to solar tiles, which can replace photovoltaic panels that are anchored on the roof of buildings.
"Solar roofs are based on the concept of the architectural integration of photovoltaic energy known as BIPV (Building Integrated Photovoltaics), where photovoltaic modules fulfill an energy function by generating electricity and architecture without aesthetic impact ", he explains Paula Santos, technical director of the Spanish Photovoltaic Union (UNEF), who specifies that «photovoltaic technology is already very mature, its costs have been reduced in the last ten years and self-consumption has taken off. Now they are looking for new applications to go further. Solar panels use silicon, but more flexible or semi-transparent photovoltaic cells can be inserted into the tiles. It is true that the costs associated with BIPV are higher than a conventional installation that is already profitable, but we must move towards new applications because the construction sector is one of those that generates the most greenhouse gases and we are obliged to move towards decarbonization and energy efficiency. Solar roofs are a perfect solution for large cities ", Santos points out.
But how much can we save with a solar shingle installation? In the case of a photovoltaic panel, it is estimated that for the 2.4 kW consumption of a residential, the investment would be about 4,500 euros and, although the savings will depend on the degree of consumption, it is estimated that it has a profitability of 13% and that the initial expense is amortized over six years.
Self-consumption
From Solar Roof tiles Santa Marta, Félix González, indicates that in the case of solar roofs, «For a house you need between 3.4 and 4 kW. To cover the 4 kW an investment of around 7,000 euros is necessary (in the case of slate tiles) and the savings are around 100 euros per month ". Solar tiles have photovoltaic modules incorporated that behave like small solar panels. «This is a novel bet in the field of renewable energies, favoring electricity self-consumption and there is interest. Queries and budget requests, especially from individuals, have skyrocketed. We receive about 300 visits to the page per day and they request between three and four daily estimates. Although, curiously, the majority come from Portuguese consumers and for installation on the roofs of small towns where the best solution we have is the classic Arab tile, which is curved. Others such as slate or rectangular tiles are more requested for single-family homes or farmhouses, "he explains. Félix and his son Ismael started this company a little over a year ago in a small town in Badajoz, and they did so under the name of Santa Marta because «I love my town, I am very aware of the environment and trying to stop the depopulation of the rural environment "and sentence: "It is time to take advantage of our main natural resource, solar energy. And what better way to do it than with the most avant-garde technology such as solar tiles ".
Vanguarda XL
And at the forefront is «Tejas Borja», located in Valencia, which manufactures the largest solar ceramic tile in the world. Its name: Solar Flat-5XL. In addition, they have the latest technology in the manufacture of photovoltaic products recognized as CIGS. "Through this technology we obtain high efficiency solar cells with high performance and are respectful with the environment as they are free of cadmium and lead, as well as being the most effective technology in terms of shading", he explains. Miguel Usach, research and development technician from Tejas Borja.
Regarding the photovoltaic installation with these solar tiles, he explains that «No additional structure is needed as it is laid at the same time as the ceramic tiles, leaving the entire installation hidden and protected. At the same time, the tightness of the roof is maintained, offering protection and energy efficiency of the home ". For its installation, which is simple and comfortable, the collaboration of the photovoltaic company and the tile installation company is necessary. Its maintenance is similar to that of solar panels, it is enough with an annual cleaning to guarantee the best performance. "Solar tiles stand out for integrating design and efficiency and provide added value to the home," says Usach.
.