When citizens resisted against terrorism | Culture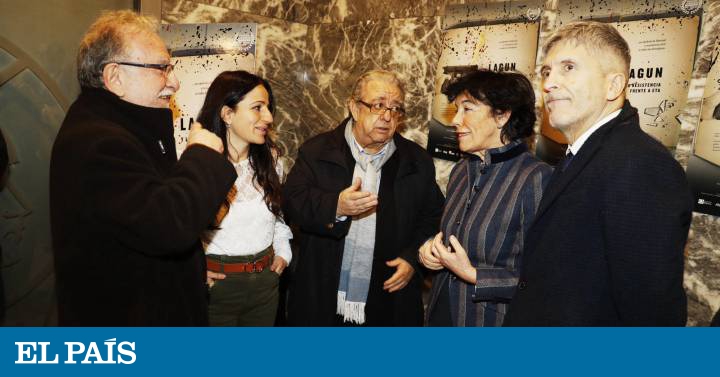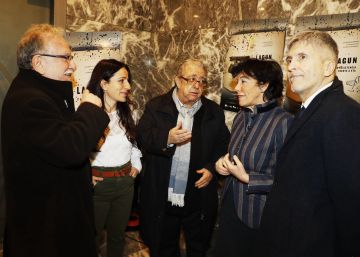 "This is a hero movie because life called them to be. No one looked for it, nor did it have that vocation." This is how José María Izquierdo, co-writer with Luis R. Aizpeolea presented last night, the documentary Lagun and resistance against ETA, directed by Belén Verdugo, which was screened in a special event, for friends, journalists and politicians, in the cinema of Madrid's Círculo de Bellas Artes. As Aizpeolea recalled, "when three years ago we finished our previous work, The end of ETA, we felt that we were missing an important part, and that was the social mobilization against terrorism. "Taking Lagun bookstore, founded in San Sebastián in May 1968 by Ignacio Latierro and the marriage José Ramón Rekalde and María Teresa Castells as the center of that courage , the documentary shows the courage of many Basques who opposed, first, "the attacks of the dictatorship, then those of ETA terrorism," said Aizpeolea.
For 83 minutes, protagonists and witnesses of a fight are heard that the co-writers decided to portray because "we had to tell the epic of these resistant, a story that had to be told." Because for both journalists "that leg of history was missing to tell." The people "who were not well seen" or by one side, that of the extreme right, nor by another, that of violent nationalism. Last night, in support of this film, three current government ministers were in the cinema: Interior Minister Fernando Grande-Marlaska, Minister of Education Isabel Celaá and Minister of Culture and Sports, José Manuel Rodríguez Uribes. In addition, politicians and politicians such as Ángel Gabilondo, Eduardo Madina, Jaime Lissavetzky, Joaquín Almunia, Francisca Sauquillo, and the director of Support for Victims of Terrorism, Montserrat Torija, and journalists such as José María Calleja, Jesús Ceberio, Álex Grijelmo, Xabier Fortes , Joaquín Estefanía, Iñaki Gabilondo or Mónica Ceberio. And writers and illustrators like José María Pérez, Peridis, Andrés Rábago and Manuel Vicent. Both Aizpeolea and Izquierdo thanked the presence of the two sons of Rekalde and Castells, and Consuelo Ordóñez, sister of Gregorio Ordóñez, councilor of the PP killed by ETA in 1995.
Lagun was nestled in the Old part of San Sebastián, a neighborhood that many of the testimonies that appear in the documentary define as an area that they felt until they were expelled by the violence of ETA and its acolytes. The premises suffered years of aggressions, fires, window breaks, graffiti, death threats and the attack on Rekalde. Izquierdo and Aizpeolea want today's Spain not to forget the "chosen number of men and women who never submitted to the dictatorship of liberticides. Lagun and resistance against ETA it was premiered at the Seminci, the Valladolid film festival, and Basque public television has already been broadcast on ETB. Now he is waiting for the broadcast of another collaborating television network, TVE.
The first time there was a rally against ETA violence, only about 250 people gathered. It happened in Portugalete, in June 1978, after the murder of journalist José María Portell. "We are fed up with violence and murders. Askatasuna eta bakea (freedom and peace) ", read the banner with which, silently, this group of citizens -" brave and daring ", underline the scriptwriters of the documentary – convened by the Communist Party of Euskadi toured the streets of the city Biscayne
All the immense later manifestations, the pain for murders like that of the councilman of Ermua, Michelangelo White, the beginning of Gesto por la Paz and its silent concentrations, and as journalist José María Calleja says, when it was achieved "that voice should be heard in the political and social discourse" is not understood without those initial protests.