"When a musician deceives the public with samples and effects, he loses all my credibility"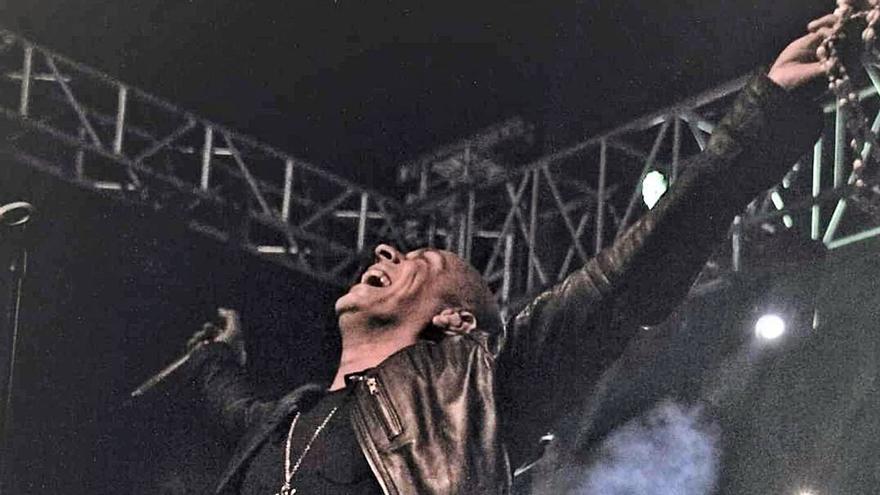 The Teatrotel concept is different from any other event as the audience watches the concerts from their rooms. How does the interaction between group and public take place?
You reserve the room, dinner is delivered to you, and from your balcony, sitting or standing, you are looking at the stage below you. But a huge and very good stage. Spectators are the ones who stay at the hotel and that is why there have been a huge number of reservations. It seems to me one of the events of the moment, very innovative and appropriate. And the responses it has had in the first four editions, let's hope it repeats itself now because I am all energy. Seeing the staff on the balconies after having their dinner in the room and enjoying the moment, has us excited. Groups with tradition have passed in previous editions and we are the first chicharreros.
You combine your own songs with versions of rock classics. In what aspect are they most comfortable?
We compose and record our own songs, but with what I pay the mortgage is with the covers.
And I prefer, of course, our songs,
otherwise it would be boring. We won the Hard Rock Rising de Canarias in 2015 and were finalists at the Heineken Campus Rock.
Their sound is based on the rock of Tenerife from the eighties.
I am the youngest of six siblings and I grew up with that music at home, from El Eructo del Bisonte to Palmera. We sucked a lot from the beginning of bands like Fire Explosion, Los Sombra, Los Misterioso and a huge fan was opened. There was a lot of good quality rock and roll that, of course, has marked us.
And they have collaborated with numerous established artists.
Yes, we have been lucky enough to get on a few stages with important people like Jarabe de Palo, Marea or Orishas. One of them was with Status Quo there in Las Palmas.
And how do you see current rock taking into account what young people demand?
I am here for the Fifth Amendment. Anything that is said can be used against me. And on the fifth album, which is all composed and we are going to record it, I have a song that is going to kill me because it is called Dame rock and I give a little reed to the new trends and the new semi-artist that there is, banal and cold . I'm from the Bruce Springsteen school and when an artist gets on stage and starts fooling the audience with recorded samplers, effects, vocals and choruses, etc., he loses all my credibility and respect.
Well, that's what almost all trap stars do.
It is the comfort of today. Before it was composed, and they would stick three or four months, a year, in recording it. Today no records are made, songs are made and video clips are made. And of the quality, forget it. There is a girl who filled the other day in Tenerife and I started to analyze the story, the lyrics, the sound and I didn't see anything. Today it is the image and the gold that you have hanging. For me, trap is a sound virus, it is not music. All done through buttons, there is no physical person, there is no human being behind.
«In the new album I include a song where I give a riff to that current banal and cold semi-artist»
And can you survive in that environment?
Yeah man I think we're the last bastion left Because 15 or 20 years from now it's over. It makes me sad to say it, but when we die the generation of the 70s, 80s and early 90s, what remains, who will go to the concerts. People who are 35, 40, 50 or 60 go to my concerts. But when the Rolling Stones, AC DC, Aerosmiths, Bon Jovi or Iron Maiden die, what remains. And there are young values ​​that sound like cannons. It makes me sad to say this, but the expectation and the reality is what it is. When today's humanity is glued to Tik Tok all day on mobile, what do you want to expect. I got off the bus a long time ago.
But they keep going.
And we are happy those of Ni 1 Pelo de Tonto composing ours and playing it in our concerts and feeling fulfilled. But we cannot complain. We have been selected for advertising campaigns and we have several hymns in the Canary Islands. Our first album is Simple and natural and that's how we are, I don't want to be a singer-songwriter or a prophet. I want to enjoy the stage and that's it, I don't want to think about things too much.
And the name of the group comes because they do not allow themselves to be manipulated by fashions?
Exactly. But also because of my alopecic image. The group's name was Galloping Alopecia Not a Fool's Hair, but I liked it better just the latter.
What do you think of the Gran Canaria scene?
We have many friends: Los Coquillos, Hacker. Corridor Effect, Screensavers, I-land, etc.