What to watch today on TV? | Wednesday, November 6, 2019 | Television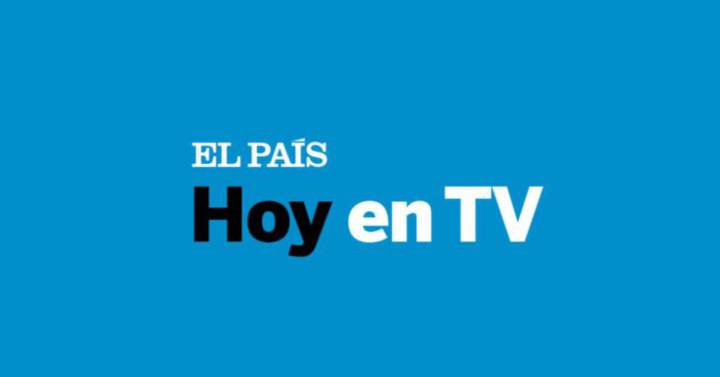 20.00 / The 2
Eloy Azorín visits 'Urban rhythm'
This week Urban rhythm welcomes Eloy Azorín, Spanish actor with a long career behind him. He became known in the Oscar-winning 'All about my mother', from Almodóvar, and since then he has not stopped working in film, theater and television. In addition, it has a close relationship with hip hop. In the seventh battle of these round of 16 of the 'Urban Rhythm Battle Edition' Hulee and Flash face. In the graffiti section, a couple of talented writers visit the program: Leim and Emak. The program will be completed with the musical section that will feature Suzanna. A singer and guitarist from Barcelona who has all the flow and that he has also collaborated with heavyweights of Spanish rap.
21.00 / Movistar Champions League
Madrid day in the Champions League
The Madrid teams that play this edition of the Champions They have two complicated commitments on this fourth day of the Group Phase. The men of Cholo Simeone, who comes from LaLiga against Sevilla, visit the last of the group, Bayer Leverkusen, a classic of the German league that does not go through its best moments. An Atlético who fights for the first place of the group he leads alongside Juventus. At the same time, Real Madrid receives the Galatasaray at the Santiago Bernabéu with the obligation to achieve victory so as not to leave the PSG trail permanently.
21.45 / Antenna 3
'The anthill' receive Pablo Alborán and Ava Max
The anthill lives a premiere night to receive two great music: Pablo Alborán and Ava Max. Both will present for the first time on a television set, Taboo, their new theme together that they release this same day. With them they will talk about how this collaboration of Alborán arises with an international artist like Ava Max.
22.00 / The 2
'From here to eternity'
From here to eternity. United States, 1953 (113 minutes). Director: Fred Zinnemann. Interpreters: Burt Lancaster, Deborah Kerr, Frank Sinatra, Montgomery Clift.
The military life jumps back to the scene in this classic, beautifully directed by Fred Zinnemann (Story of a nun) and starring an immeasurable Burt Lancaster, accompanied for the occasion, in a supporting role, by a Frank Sinatra who thus obtained one of his best works. In addition, she was awarded the negligible figure of eight oscars. Essential.
22.00 / Movistar Drama
'Gangs of New York'
United States, 2002 (166 minutes). Director: Martin Scorsese. Interpreters: Leonardo DiCaprio, Daniel Day-Lewis, Cameron Díaz, Liam Neeson.
Martin Scorsese pays the final tribute to his beloved New York. And he does it with a large budget that allowed him, among other things, to perfectly recreate the atmosphere of the time (1860) and have a great cast. A brilliant study of the historical identity of New York that highlights Daniel Day-Lewis's impressive work, embroidering the role of the bloodthirsty gangster leader Bill, The butcher. Incomprehensibly, he did not take any of the 10 Oscars he was a candidate.
22.05 / The 1
Lifelong dishes in 'MasterChef'
This week, MasterChef Celebrity 4 he will pay homage to his mothers' kitchen with popular dishes from the seventies. Aleix Puig, winner of MasterChef 7, will demonstrate his good hand with the stoves participating in this test. Raquel Sánchez Silva and Gonzalo Miró or singers Alfred García, Blas Cantó and María Villalón, among other friends of the candidates, will blindly taste the creations. At stake will be the golden apron. In the emblematic park of the Retiro in Madrid are the Florida Retiro kiosks, a small food market where you can enjoy the high cuisine in tapas and portions. The applicants will be responsible for preparing and selling salty and sweet tapas designed by Josetxo and Esther, winners of the last two editions of Junior MasterChef. Waffle-shaped white potatoes, cod confit with roasted peppers and torreznos, grilled foie with spicy peaches or chocolate with churros, will be some of the creations that will serve the 60 people.
22.30 / The Sixth
Is it possible to escape Internet control?
La Sexta releases a new report of Special delivery, 'The country of des (connection)', a report that demonstrates whether digital disconnection is possible. Jalis de la Serna returns in his third season with 7.9% and 1,176,000 spectators, improving the start of his previous stage. In its two issues in October, it averages 7.3% and 1,067,000 followers, a leader against its competitor. The program travels to the United States tomorrow following the trail of the data we generate daily. And discover that, the country that connected and hooked us, now advocates digital disconnection in the most daily acts of our lives. Neoprene bags, with a similar closure to clothing alarms, have worked the miracle at a public institute in the San Francisco Bay.
22.40 / Antenna 3
Nothing is what it seems in 'Toy Boy'
New episode, the seventh, of Toy boy, the series starring Jesús Mosquera, Cristina Castaño and María Pedraza. In this episode, again in the spotlight, Hugo intends to remember what exactly happened the night of seven years ago. The last thing he remembers before waking up on his ship next to Álvaro's body on fire is being in an orgy with Macarena. Hypnosis is not enough, so ask Macarena to take you back to one of those parties. There he does not find the answer he was looking for, but he discovers that Álvaro was a pimp who prostituted teenagers for wealthy entrepreneurs, including Philip. Meanwhile, after the failure of the identification of the burned corpse, and pressed by his superiors, Zapata looks for a blow of effect. His idea is to seize the drug that Ivan hides and sign up somewhat. For this, he needs Claudia's collaboration, which is seen in the dilemma of betraying his brother-in-law or not.
22.45 / Four
Illegal houses 'In the spotlight'
Commercial premises converted into homes; houses that do not comply with the Coastal Law, urbanizations built in protected areas that are now luxury resorts, houses without habitability certificates … It is estimated that in Spain there are hundreds of thousands of illegal houses, many with demolition orders, without the majority of their owners even know it. This new report of In the spotlight, entitled 'Illegal houses' and made by Pablo de Miguel and Boro Barber, will investigate an unprecedented phenomenon that could be spread throughout the country.
23.05 / Movistar CinÑ
'Viridiana'
Spain, 1961 (86 minutes). Director: Luis Buñuel. Interpreters: Silvia Pinal, Fernando Rey, Francisco Rabal, Margarita Lozano, Lola Gaos.
After several years outside Spain for his exile in Mexico after the Civil War, Luis Buñuel returned to shoot what would eventually be his international consecration, Viridiana, with which he obtained the Golden Palm of Cannes. But again the prevailing regime denied nationality to one of the most devastating and praised dramas that world cinema has given. A dream cast (with the intense interpretations of Silvia Pinal, Francisco Rabal and Fernando Rey) and a script, by Buñuel and Julio Alejandro, full of irreverence, naturalism, surrealism, black humor and tragedy for an unforgettable story and a must-see .
23.15 / Telecinco
'Ladies of (h) AMPA' closes season
The Ladies of (h) AMPA they face Carmona, in the last episode of their first season. Carmona has gone too far and Mayte, Lourdes, Amparo and Virginia are not willing to continue living under threats and putting their respective families at risk. With the help of Anabel and Juani, they devise a revenge plan to end once and for all with the constant harassment of Carmona and her minions, especially when they learn that the band is planning an attack on a performance by the children of the school in tribute to the victims of the shooting in Happylandia. In addition, Vicente, meanwhile, missed by the behavior of Inspector Ramos, manages to gather his entire police file and begins an investigation together with Remedios to unmask him.
23.58 / SyFy
'The orphanage'
Spain, 2006 (101 minutes). Director: Juan Antonio Bayona. Interpreters: Belén Rueda, Geraldine Chaplin, Fernando Cayo.
Laura returns with her husband and son to the orphanage where she was raised, now abandoned, with the intention of opening a residence for disabled children. But the house is full of secrets and ghosts. This is the starting point of an outstanding horror delivery, produced by Guillermo del Toro and perfectly starring Belén Rueda, which marked the premiere of Juan Antonio Bayona in the feature film.
(tagsToTranslate) watch (t) tv (t) Wednesday, November 6, 2019 (t) European (t) duels (t) Atlético de Madrid (t) Real Madrid (t) classic (t) of (t) eternity



Source link