What to watch today on TV? | Friday, January 31, 2020 | TV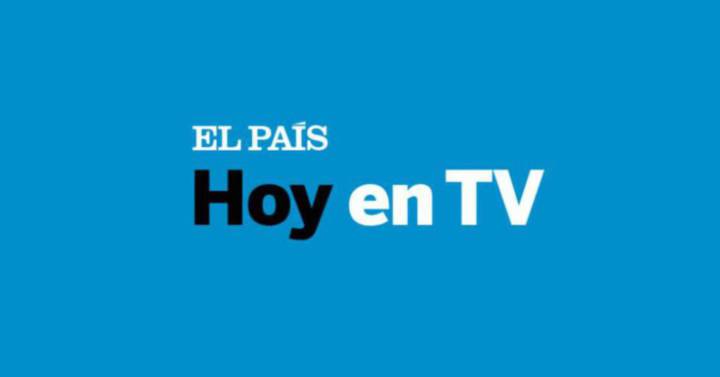 18.35 / TCM
The beast of my girl
Bringing up Baby. United States, 1938 (103 minutes). Director: Howard Hawks. Interpreters: Katharine Hepburn, Cary Grant, May Robson, Charles Ruggles.
In classic Hollywood, the concept of total filmmaker is associated with Howard Hawks, capable of teaching black film master classes in The eternal dream, to enlarge the western with Bravo River and to offer an unprecedented review of all the comedy springs in the beast of my girl. Cary Grant, a brave paleontologist of placid life, will see chaos appear as a woman. If that woman is Katharine Hepburn, everything is encouraged even more. The most hilarious gags that can be imagined follow each other at such a frantic pace that the thing seems to be on the verge of madness, but both the script and the staging achieve pinpoint accuracy. Matchless
20.30 / The 2
Antonia San Juan, godmother of 'Cinema Days'
Actress Antonia San Juan acts as godmother of Movie days in this week's delivery, where he will review some of his favorite movies. The program will include his second report, of the four planned, in memory of Federico Fellini. And, of course, will review the billboard releases, among which stand out Judy, the movie centered on the last stretch of Judy Garland's life, Ether, of Polish director Krzysztof Zanussi, who will be interviewed by the program, and the Spanish Adú, directed by Salvador Calvo and interpreted by Luis Tosar, Anna Castillo and Álvaro Cervantes.
21.00 / Sundance
Good night and good luck
Good Night and Good Luck. USA, 2005 (93 minutes). Director: George Clooney. Interpreters: David Strathairn, Robert Downey Jr., George Clooney.
The second film as director of George Clooney is a resounding plea for freedom of expression, as well as a call to journalistic responsibility in difficult times. The contrasted images of Good night and good luck, filmed in a sober black and white, they approach the figure of Ed Murrow, a CBS television journalist who challenged Senator McCarthy, trigger of the execrable witch hunt. Clooney invites reflection and debate, and builds an exemplary film in which nonconformism is buzzing, a work that makes concise stylistic emblem and defends the essential critical and independent position of the media. A marvel.
22.00 / Antenna 3
Javi Cantero goes to 'Your face sounds to me'
Singer and composer Javi Cantero is the guest of the fourth gala of Your face is familiar to me, where he will imitate Peret. For their part, the contestants of the program will face different challenges: among others, El Monaguillo will become Fortu, Obús, Cristina Ramos will play Shakira, Gemeliers will be Ed Sheeran and Justin Bieber, and Jorge González will imitate Mika.
22.00 / Telecinco
Bertín Osborne talks with Antonio Resines
In this week's delivery of My house is yours, Bertín Osborne talks with one of the most popular Spanish actors: Antonio Resines. In addition to remembering his beginnings in the world of interpretation, he will talk about his university time and his short presidency at the Academy of Motion Picture Arts and Sciences of Spain. His partner, the producer Ana Pérez-Lorente, and the actor Jesús Bonilla will be some of the participants in the meeting. They also participate in the meeting.
22.15 / The 2
The days of the past
Spain, 1977 (104 minutes). Director: Mario Camus. Interpreters: Marisol, Antonio Gades, Gustavo Berges, Antonio Iranzo.
In the forties, a teacher travels to a town in northern Spain with the hope of finding her husband, hidden in the mountains next to the maquis. The love tear and the vital despair act as narrative keys of a film of bitter ground that creates live and accurate characters. Mario Camus' camera accompanies them, modestly, far from ornaments or fuss.
22.30 / The Sixth
'Research Team' offers a report on Scientology
The program directed and presented by Gloria Serra, who is nine years old, offers tonight a report on Scientology, recognized as a religion in Spain since 2007. Space reporters show the difficulty of finding testimonies of people who have passed by Scientology, founded by the science fiction novel writer L. Ron Hubbard. However, the president of Scientology in Spain and spokesman in Europe, Iván Arjona, will answer the questions of the program.
23.45 / The 1
Rocky
USA, 1976 (113 minutes). Director: John G. Avildsen. Interpreters: Sylvester Stallone, Talia Shire, Burgess Meredith.
As the rest of the films in the series were degenerating, almost nobody remembers that the first film about the Italian Colt was not bad at all. He even managed three Oscars (although above Taxi driver Y All the president's men, which results in an exaggeration). Rocky It is held on great dialogues, written by Stallone himself. It is convenient to see it with nostalgia of adolescent spectator.